I am so excited today to welcome author Matthew Pearl to Raging Bibilomania. Matthew is the author of the three blockbuster books
The Last Dickens
, T
he Poe Shadow
, and
The Dante Club
. Matthew has agreed to guest post here today, and has written a very interesting post about the differences between hosting a book tour back in 1867 during Charles Dickens' time versus hosting one today in 2009.
---
The Charles Dickens Book Tour
In 1867, Charles Dickens came to the United States and embarked on an enormously successful reading tour. Reading tours were not unique, but the way Dickens did it, and the reception he received, was.
Approximately 115,000 people saw Dickens perform in about 75 engagements around the country. I use the word "perform" because Dickens wouldn't just read in a monotone way, as was usual then, but would act out the various characters in each excerpt. At every engagement, Dickens would read from two specially prepared excerpts, each from a different novel. Tickets were one dollar, though scalpers or "speculators" (as Dickens called them) sold them for five dollars, ten dollars or more. Dickens knew he could have charged more, but refused.
One of the very fun parts of writing my novel The Last Dickens was to recreate the behind-the-scenes operation of the Dickens tour. It was a big operation. Dickens's manager had gone to America months in advance from England to choose venues. In addition to his theatrical manager, Dickens also brought with him his own entourage: a private dresser, a ticket agent, and even a gas lighting expert to ensure the lighting in each venue was optimally flattering. Thousands of people would pack the theaters.
Dickens left the U.S. with about $150,000, which would constitute about a 1/3 of his estate when he died about two and a half years later.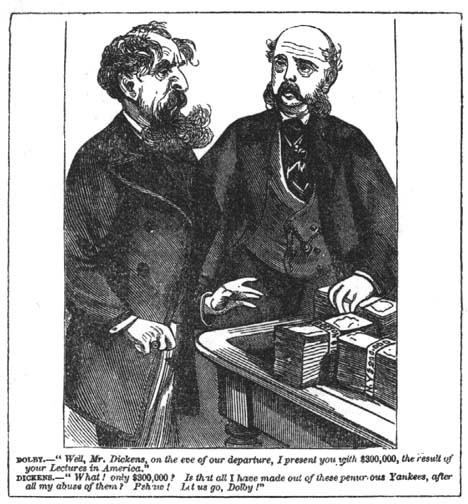 We still do book tours today, though for the most part authors do not get paid. Dickens was trying to make up for the fact that he received no royalties from American book sales because there were not yet international copyright laws. Book tours today also don't come with entourages. Sometimes, we do get assigned what's called an author escort or
media escort
. The media escort shuttles you around to hotels, airports, readings, and interviews. If you're really nice, sometimes they'll gossip about authors who aren't. My lips are sealed on stories I've heard, or I'd get them in trouble.
Once, I was giving a talk about being a writer to a fourth grade class, while the media escort, a tall rugged man in a dark leather jacket, waited outside the room. The students asked if he was my bodyguard.
Dickens actually did need a bodyguard at times while on his tour. Someone was always stationed in front of his hotel room door.
Today, we also can promote books online through our own sites or what they call a blog tour--appearing as a guest in an interview or post on different blogs (like I'm doing right now).
I think Dickens would have appreciated connecting to readers this way. On the one hand, he was thrilled by the crowds and the adulation. On the other hand, he was left debilitated by each strenuous performance combined with general health problems. "On Monday night, after the reading," Dickens wrote home a month into his six month American tour, "I was laid upon a bed, in a very faint and shady state; and on Tuesday I did not get up till the afternoon."
There can never be another Dickens (which is part of the meaning of my title The Last Dickens, in addition to referring most directly to his last, unfinished book). But that aside, book tours now have to compete with a slew of entertainment that has much heavier promotion and visibility. More difficult than that, people have busy schedules and the 7pm weeknight reading is more likely to conflict with work or family than not. Online promotion can invite readers to connect with an author, through a blog or podcast, on their own time.
At one point during the Dickens tour, several women threw themselves on stage at the end of the performance to collect the flower petals that had fallen from Dickens's buttonhole. One thing that can't happen online!
---
The publishers of the book have generously provided me with 2 copies of The Last Dickens to give away to two lucky winners. All you have to do is leave an e-mail address in the comments section of this post where I can get in touch with you should you win. The contest is open to everyone, so good luck to all entrants. Winners will be announced October 17th.
Many thanks to Matthew Pearl for being here today and
TLC Book Tours
for including me in this book tour. If you would like more information on Matthew or his books, please stop by his website:
www.matthewpearl.com
Other tour stops for
The Last Dickens
: