This is the story of Suzie Gilbert and her astounding love for wild birds. From childhood, Suzie has loved and cared for many wild creatures but has been attracted mainly to wild birds. After working as a volunteer at an animal hospital near her home, Suzie begins to come home with abused and unwanted birds that she happily adopts into her family. Deciding that this is not enough, she makes a decision to run a wild bird rehabilitation center from her house. Building space for the birds and setting up shop on the slope of her large yard are only the early steps, and for Suzie, the easiest. Soon she is receiving wounded birds from all over the area and her phone is ringing non-stop. The idyllic job she envisioned is soon wearing thin and she spends a good deal her time agonizing over the fates of even the smallest of her patients and the worries that the birds are eating most of the attention that should be going to her young children. As she relates miraculous stories of survival and terrible stories of loss, Suzie not only bonds with the birds that she has decided to give her life to, but bonds as well with a large network of animal rehabbers all over the world. But after five long years, the losses begin to outweigh the saves and Suzie is headed toward an emotionally harrowing cliff. She must decide if giving up the bird rescue will save her fragile emotional health, and that of her family, or if she should continue doing the work she loves. As she lovingly demonstrates in her attention to the sick and injured birds she deals with daily, sometimes you just have to "bring them back and let them go," a fate that she must also painfully adhere to. Both amazingly tender and heart-rendingly sad, the story of Suzie and her avian companions will bring its readers both joyous smiles and sorrowful tears.
I love reading real-life stories about animals and their caregivers. I usually learn a great deal about what it takes for these animals to survive and the impact they have on their human handler's lives. This story was no exception. By peeking into the life and psyche of Suzie Gilbert, I discovered an amazing plethora of bird facts and myths and was fully able to see the sacrifices that Suzie made in her life in order to help save these wondrous creatures.
This book was unique among the animal tales that I have read for several reasons. One of the first differences that I noticed was the strident attitude that Suzie had about the careless and negligent humans who put these beautiful animals at risk every day. As she explains, about 99 percent of the accidents that befall wild birds can be directly attributed to humans. From your basic garden variety cruelty to the attempts of developers to clear inhabited land for building projects to negligent cat owners who let their animals roam freely outdoors, Suzie explains it all. Far from being beseeching, her anger at these people and situations comes shooting off the page in her vitriolic sentiments. And as I was to discover while I was reading, her anger is completely justified. The birds that make their way into her refuge are scared, confused and sometimes gravely injured. Suzie does the best she can to provide care for the birds but often there is nothing she can do for them but let them die with dignity. Each death seems to take a piece of her soul.
The second way that this book was different than most was the very candid way that Suzie related her mental frailties and fears concerning the birds. When she first begins to have thoughts of running a bird rehab from her home, her heart is light and she harbors dreams and visions of a fulfilling and successful operation in which she will finally be able to do the work she was born to do. But as the rehab becomes a reality, Suzie becomes ever more nervous about the birds that she will be caring for. Is she giving them the right care? Has she made a mistake in taking all types and species of birds instead of specializing? Is she a horrible mother for spending more time with her birds than her children? Will her children grow up scarred from having to help their mother take care of the injured animals? These things weigh heavily on her mind, and although she does some amazing things with her facility, she can never outrun her demons and spends a lot of time being anxious, angry and afraid. These sections of the book were filled with pathos and pain, and it was like looking directly into the brain of someone who was torn to bits by the decisions that she had to make. While I championed the work she was doing, I felt very sorry that there was so much turmoil going on inside her heart.
The amount of information that Suzie supplied about the birds was one of my favorite aspects of the book. It was never overwhelming and always interesting, and I found myself not only learning about different species of bird, but also general facts that are common among all birds. I had no idea that baby birds had to eat every fifteen minutes from sunup to sundown, or that vultures regurgitate the contents of their stomachs when they are distressed. I also didn't know that most birds should not be socialized to accept humans and was surprised to learn that birds will not neglect a baby bird that has fallen from its nest and has been touched by human hands. Suzy is clear and informative with her facts about the birds, debunking myths and making these wild creatures and their habits seem astounding.
There is also a lot of humor in the book. These are the tales of a freezer full of frozen rats being accidentally discovered by her husband; stories of birds that seem almost human; and the parrot who resides in her house screaming out the word "WAR" when one of the wild birds gets loose in the house. She speaks about the baby duck that happily watches television with her children, and George, the raven who touched her heart and healed her aching spirit. Her birds do the unthinkable and their well-being is the reason she strives against the grain to provide them with a safe haven and a loving touch. They are creatures who amaze and startle. Suzie never loses respect for the birds she cares for, despite the long hours and inconvenience that they bring into her life.
This is definitely a book that is worth reading. If you are a lover of animal stories, the book is a must read. I think the book says a lot about the difference that even one dedicated person can make in the world surrounding them, and it is not only a love story about birds, but a story that will touch even the most hardened reader. The information that is imparted is not in the least overwhelming, but instead delightful and thought-provoking. In a world where people are usually only out for themselves, Suzy Gilbert does the unthinkable and transforms the lives of all the creatures she touches, and she is a very admirable woman. An amazingly worthwhile read. Recommended.
---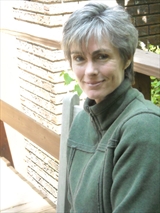 About Suzie Gilbert

I grew up in Oyster Bay, New York, on Long Island. I went to local elementary and middle schools, and then to boarding school in Connecticut. I attended a number of colleges (eventually graduating from Columbia University, School of General Studies, in 1983) and had many different jobs, but the only ones that ever really clicked for me were working with animals. After my husband and I were married, we moved from New York City to the Hudson Valley, where I found work at an animal hospital, began bringing home unwanted parrots, and started volunteering at a rehabilitation center for birds of prey. I had two children, Mac and Skye. I wrote a children's book, Hawk Hill (Chronicle Books, 1996), and for two years wrote an environmental column for a small chain of upstate New York newspapers. After 11 years at the raptor center, I decided to rehab injured birds at home, and still do today.
---
A warm thanks to TLC Book Tours for providing this book for me to read and review. Please continue to follow the tour by visiting these other blogs:



Monday, March 22nd:
Seens from the backs of my eyelids
Wednesday, March 24th:
A Little Piece of Me
Thursday, March 25th:
The Road to Here
Tuesday, March 30th:
A Gardener in Progress
Wednesday, March 31st:
Bookfoolery and Babble
Wednesday, April 7th:
Red and the Peanut
Thursday, April 8th:
Rambling Woods ~ The Road Less Traveled
Wednesday, April 14th:
Raging Bibliomania
Thursday, April 15th:
Regular Rumination
Tuesday, April 20th:
Farmgirl Fare
Wednesday, April 21st:
Sycamore Canyon
---
This book was provided as a complimentary review copy.