In this inventive prelude to Shakespeare's classic
Hamlet
, the reader is introduced to a young Horatio, an ever doubting divinity student at Wittenberg University. Horatio lives the life of an impoverished scholarship student, preferring to spend his days fashioning poetry rather than delving into his studies and is finding that his lifestyle is far outstripping his pocket. In order to replenish his finances, Horatio agrees to undertake a commission from a baron to translate a work of romance, but upon accepting the position finds that the baron's true desires are far more weighty than first suspected. What the man really wants is for Horatio to fashion an elaborate stage play from the paltry writings that his wife has been collecting. Though Horatio feels that he is being herded beyond his will and talent, he agrees to the commission and sets about writing the fanciful play. Caught up in his conundrum, Horatio one day happens upon Hamlet, the Prince of Denmark, in a compromising situation. Smitten with the young prince's otherworldly beauty, Horatio makes friendly overtures towards the prince, who happily accepts Horatio's friendship and admiration. The two are soon inseparable, caught up in a strange and intense attraction that leaves little time for other concerns and acquaintances. Soon Horatio is lost in the dreams and schemes of a prince, never truly knowing if the love between the two men is reciprocal or one-sided. When Hamlet catches the eye of the baron's manipulative wife, Lady Adriane, she hatches a scheme to ensnare both Horatio and the prince, hoping to play each man's loyalty against one another, and aids her cause by enlisting the help of a rival poet named William "Shake-spear". This boldly imaginative tale takes its readers on a precarious journey through the passion, jealousy and intimacy of the ill-fated Prince Hamlet and his most constant companion, the loyal Horatio.
Sometimes when reading a book, it becomes apparent very early on that is going to be a tremendous reading experience. Such was the case with this book. I had a very hard time peeling myself away from it for even a moment and was very saddened to have to finally turn the last page. Although I have not read an abundance of Shakespeare's works, it was not hard for me to pick out a lot of of the threads of his plots, lines and witticisms that were woven into the narrative. The story that Hermes has created in this book defies imagination and is written with a style and artistry that I have seldom come across. It was funny and tender and sad, full of the recriminations and rejoicings of its characters. I got completely lost in the beauty of this book and often could scarcely believe the wit and effervescence that ran through the narrative. It was as close as I have come to reading perfection in a long, long time. The heady language used in the book was lush and rich, while the characters were cleverly full of mischief and passion; and the story told was one that defied all my expectations and made me giddy with excitement. A grander tale I could not imagine, and Hermes balanced it all with artistry and wit to spare.
Through the use of humor, bawdiness and lyricism, Hermes creates a tale full of life and passion that sucked me in with one great rush. In her elaborate imaginings of these well-loved characters, Hermes spins a deeply woven tale that that will delight even the most picky reader. Many of the characters from the well known play pop their heads up in the book, including the spies Rosencrantz and Guildenstern, who are portrayed here as sycophantic and lugubrious parasites to the young prince. They are a smarmy duo, obsessed with the prince, and spend most of their time flattering and cajoling Hamlet in a most irritating manner. Prince Hamlet, for his part, is ever trying to deceive and escape them, much preferring to spend his time with Horatio, which makes the two even more ruthless and obsequious. As the prince assiduously tries to avoid the two, he becomes increasingly dependent and enamored with Horatio, a fact that delights the young scholar.
Hamlet himself is an interesting invention: a man-child filled with warring emotions and an increasing fear of madness. His love for Horatio is very mercurial, a fact that Horatio can never understand, and that pains him greatly. Though at times Hamlet can be very foppish and foolish, he harbors some very deep-rooted passions, and these, at times, make him appear very careworn and aged. He never understands the spell he casts over people and the way others treat him often bothers and disheartens him. His desires to love and be loved outweigh all other concerns, a fact which lands him in spot after spot of trouble and keeps Horatio perpetually on his toes. It is interesting to see just how Hermes has fleshed out these characters, imbuing them with deep-seated fears, strange motivations and conflicting desires. They all seem full of breath and alive and I think that is one reason why it was so easy for me to become attached to them so quickly.
The strange relationship between Horatio and his patroness, the Lady Adriane, was one of the most compelling but mystifying sections of the book. Horatio's love for the prince is absolute and all-encompassing, but his unbidden desire for Adriane unnerves him and forces him into the fool's role often. The desires of his flesh are at war with the desires of his heart and soul, and though he wishes to remain true to his prince, he finds himself struggling mightily to do so. Lady Adriane does not help matters in this instance, for she is a great deceiver and finds ways to inveigle her way into the hearts and minds of both men, to their great consternation. She is not a beautiful woman but she is able to cast a spell on all those around her and makes the men she is conspiring with dance like puppets on her string. Despite her conniving behavior, I was strangely enamored of her and thought that her furtive actions were cleverly calculated. Although I did not understand the reasoning and basis of her actions, I knew that when she came on the scene that something unexpected was going to happen. I did feel saddened that she chose to make Horatio suffer so horribly, because he was by far the most winning character in the story, but I do admit that her sections in the narrative were the most gratifying and inventive.
This was a novel of frustration and obsession, and through its intricate swirls of plot and lyrically stylized writing it managed to tell a story that bordered on debauchery. The tale itself was filled with some very clever double entendres and there was a delicate balance of perversity vs. emotional purity throughout its pages. It was also raucously funny at times, in a very unexpected way. I think most of the humor came into play via Horatio's hilarious inner monologue, which was a constant backdrop in the story. When Will Shakespeare makes his entrance, the story delves further into a strange and wonderful direction that is sure to keep the reader guessing. There were also times that the narrative took a beautiful turn into poetry, and much of Horatio's reminiscences of the prince had a beautiful tension of language and emotion that made my heart swell with shared frustration and pain.
I can't recommend this book heartily enough. The mirth and jocularity of the writing, coupled with the surprisingly tender and poetic story it tells was a really beautiful thing to behold. This story stands wonderfully well on its own, so even if you haven't read Hamlet, there is much to discover and exclaim over in this book. Anyone who loves a well written story with clever dialogue would do tremendously well in picking this book up, and I think most would get a lot from the cleverly re-engineered ending that Hermes works into her tale. A witty, adept and beautiful read, highly recommended!
---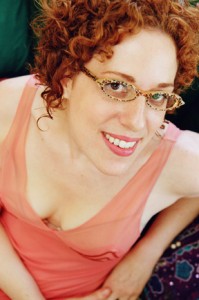 About Myrlin A. Hermes

Myrlin Ambrosia Hermes (yes, that is her real name) was born in 1975 to a pair of eccentric world-travellers who met in a '60s San Francisco avant-garde theatre troupe and took their daughter to live for a year on a commune in India before landing on the island of Maui, Hawaii, where she was raised.

She has a degree in English Literature and Theatre from Reed College and studied Creative Writing at Royal Holloway, University of London.

She is the author of the novel Careful What You Wish For, and has received grants and awards from the Arch & Bruce Brown Foundation, the Institute for Humane Studies, and the Arts Council England. Her non-literary creative projects include an original collage-art Tarot deck, and she is a two-time challenge winner at Craftster.org.

She currently lives in Portland, Oregon, where she is working on a historical novel about 17th-century playwright, spy, and proto-feminist rabble-rouser Aphra Behn.

Check out Myrlin's website and also her blog.
---
A warm thanks to TLC Book Tours for providing this book for me to read and review. Please continue to follow the tour by visiting these other blogs:



| | |
| --- | --- |
| Wednesday, March 24th: | Regular Rumination |
| Thursday, March 25th: | Book Addiction |
| Monday, March 29th: | Life in the Thumb |
| Thursday, April 1st: | Steph and Tony Investigate |
| Monday, April 5th: | Raging Bibliomania |
| Tuesday, April 6th: | Wordsmithonia |
| Wednesday, April 7th: | BookNAround |
| Thursday, April 8th: | Laughing Stars |
| Monday, April 12th: | Eclectic/Eccentric |
| Tuesday, April 13th: | Books for Breakfast |
| Wednesday, April 14th: | Worducopia |
| Thursday, April 15th: | Write Meg |
---
This book was provided as a complimentary review copy.