Holly Miller, a victim of dissociative disorder, has five separate personalities living inside her head. They are known as the committee, and from the maniacally egotistical Betty Jane to the Silent One who spends his days in prayer and meditation, Holly has learned to live with those populating her skull. Though Holly has very frayed family ties, she is managing to live on her own in New York and works as a waitress, supplementing her income with the emergency credit card her mother gave her when she went away to college. But Betty Jane has different plans for Holly and finagles a job as a voice-over artist for a cartoon. The only catch is that each of the committee must participate in the voice-over work for Holly to be successful. This proves to be a major problem, as Betty Jane's ego is growing out of control and she is quickly developing into a diva. Meanwhile, Holly is working with her therapist Milton to finally discover the hidden trauma that has caused her mind to fragment into the committee. Though Holly doggedly tries to ignore both her burgeoning memories and Betty Jane's behavior, the situations in her life are quickly becoming unmanageable. It will be up to Holly to finally integrate the five personalities in her head and uncover the memory that brought them all to her in the first place. Irreverent and at times very moving,
Sounds Like Crazy
is an unusual tale of one woman's quest to become whole.
I have to admit that for the first fifty pages of this book, I wondered if I would be able to finish it and write a review. I wasn't sure just what the author was doing with the story and I felt that creating a humorous novel whose main character had a serious mental disorder might be a touch offensive. I also thought that the way that the author chose to portray the illness (the personalities living inside Holly actually had an apartment inside her head) and the fact that they were all so flamboyant was going to totally ruin the book for me. I decided to read further and maybe suspend a little bit of my sense of disbelief, and I actually managed to enjoy the book and come understand what the author was trying to do.
Though I initially had some problems with the ways that the personalities were dealt with, they were very interesting to read about. As figments of Holly's imagination, each had a quality that she decidedly lacked and each was able to handle various parts of her life very well. I did get very tired of Betty Jane though, and almost groaned aloud every time she showed up on the page. I think the book would have benefited a bit by using less of her, and although I did understand that she was the main motivator of the novel, I would have liked to have seen a bit more exploration of the others personalities and a little less of Betty Jane. I wondered while I was reading this book just how accurate the author's interpretation of dissociative disorder was. Certain things seemed believable but there were things that seemed very far-fetched to me. It would be interesting to read up on the subject and try to figure out if the portrayal was on the mark.
During the later sections of the book, Holly begins to explore the traumas of her life. With her therapist's help, Holly is able to reflect back to her childhood and some of the things that have shaped her into the person she has become. I found these scenes to be incredibly sad and angering. Both her father and mother were very abusive to her. They called her names, beat her and ignored her. There were scenes where the confusion and terror of a young Holly just bounced off the page, and at times it was a bit too much for me to handle. I felt that both of her parents were terrible and demeaning to all of their children and it was clear to me why Holly's mind had splintered so viciously. The self-hate and despondency that Holly felt was what saddened me the most and made me really turn a lot of anger towards her parents. I can't imagine what it must have been like to live with those kinds of people and thought that they bore a lot of the responsibility for Holly's condition.
I did end up liking the sections dealing with the voice-over work. I always find it interesting to learn about a new subject in my reading, and the way that the author cleverly tucked her tutelage into the story was wonderful. I hadn't imagined the kind of time that goes into voice-over work or the cramped quarters where it takes place. I also thought that it was very clever to have a character with multiple personalities find a job doing cartoon voices. It seemed to be one of the plot points that I most admired and it clearly sweetened the narrative. The voice-over job was a catalyst for Holly in several scenes and really enabled the reader to see more of the other personalities that were stuck in her head.
Though I had my share of problems with this book, I do think that there were some things about it that were very thought provoking and moving. I think that had I been able to suspend my disbelief earlier on, it might have been a smoother read for me. The book drew a lot of curiosity from me because I tend to like stories that explore mental illness, but I do feel that there are some areas that I just couldn't connect to. I think that readers who enjoy unusual stories might like this book, as well as those who like a good mixture of plot and character. A very different kind of read, but ultimately enjoyable.
---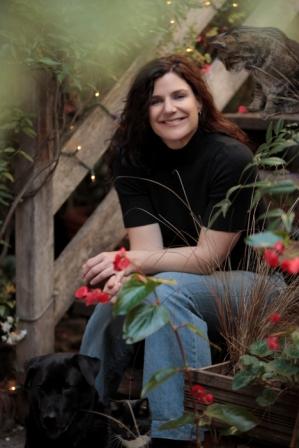 About Shana Mahaffey

Mahaffey lives in San Francisco, California, in part of an Edwardian compound that she shares with an informal cooperative of family, friends, and five cats. She's a survivor of catechism and cat scratch fever, and is a member of the Sanchez Grotto Annex, a writers' co-op. Her novel, Sounds Like Crazy was named a notable book for Fall 2009 by the San Francisco Chronicle; and her work has appeared in publications such as Sunset Magazine, SoMa Literary Review, Spectrum Literary Journal, Reflections Literary Journal, and assorted literary blogs. In addition to writing fiction, Shana has contributed articles, white papers, and product reviews to various technology publications. She welcomes all visitors to her website and is happy to meet with book groups in-person or in cyberspace (phone/webcam/the works). Her cat blogs for her at www.shanamahaffey.com.
---
A warm thanks to TLC Book Tours for providing this book for me to read and review. Please continue to follow the tour by visiting these other blogs:



| | |
| --- | --- |
| Monday, April 5th: | A Blog of Her Own |
| Tuesday, April 6th: | The Scholastic Scribe |
| Thursday, April 8th: | Chefdruck Musings |
| Tuesday, April 13th: | Life in the Thumb |
| Thursday, April 15th: | Heart 2 Heart |
| Wednesday, April 21st: | Knowing the Difference |
| Monday, April 26th: | Rundpinne |
| Tuesday, April 27th: | Raging Bibliomania |
| Wednesday, April 28th: | Jenn's Bookshelves |
| Thursday, April 29th: | Bibliofreak |
---
This book was provided as a complimentary review copy.