Leo King, known also as the Toad, is a young man who's seen his share of trouble. Years ago he was the one to find his brother Steve's lifeless body in the family's bathtub, a trauma that he has never been able to get over. Things didn't immediately get better for him, as he then had a run-in with the law and the parole board. Though Leo is a loyal and intelligent young man with an impeccable set of morals and a gift of putting people at ease, he is a lonely boy, seemingly on the outskirts of everything and everyone. As he approaches his senior year of high school, Leo's luck is about to turn around. Unexpectedly, Leo finds his way to the center of a mismatched group of teenagers, each more distinct than the last. There are the twins, Sheba and Trevor Poe, both strangely glamorous but haunted by a dark secret. There is Ike Jefferson, one of the first black students to grace the halls of Peninsula High, and the three mysterious residents of the local orphanage, Betty, Starla, and Niles. Lastly, there are Molly and Chad, the blue-blooded and aristocratic couple from the upper crust of Charleston society. The friendships that begin between the nine young men and women during the fall of 1969 winds it way through the years and becomes stronger and deeper as time crawls forward. Now, years later, news comes that one of the group is in serious trouble. Gathering the friends together, Sheba sets them on a search for her missing brother Trevor, who is rumored to be dying of AIDS in San Francisco. As the friends amass to locate Trevor, they discover that a dangerous man from the twins' past is also hunting them. Will the trials that the group face splinter their incredible friendship or only strengthen and refine it? Weaving backwards and forwards in time, Pat Conroy delivers his readers a tale of friendship and heartbreak set amidst the gorgeous backdrop of Charleston, South Carolina.
I have read quite a few of Pat Conroy's books. I think I even saved a few of them for my keeper shelf, so when I was offered the chance to review this book through TLC Book Tours, I immediately accepted, knowing that I was in for a great reading experience. What I found while reading was a surprise to me, for either I have become a very different kind of reader or Conroy has become a very different kind of writer.
From the outset, I felt that the story in this book was one that was completely engaging. Like all of Conroy's work, it was filled with a magical and wonderful sense of plot and I had no problem getting caught up in its coils very early on. I think that part of the reason for this is that Conroy's style is so disarming and conspiratorial. Reading his books is like being let in on a secret that no one else knows, and the technique really has a way of drawing the reader into the folds of the narrative. That being said, I had some difficulty with this book in other regards because at times the writing felt a bit overblown and sensationalized. I wasn't really expecting that. For the most part, his other books have never crossed the line into romanticized and sentimental language as this one did. It made me a little uncomfortable, and I was wondering if I was being too critical or if the prose in this book was slightly too dramatic.
Another thing that grated on me was the dialogue in the book. At times while reading, I felt like the nerd sitting on the sidelines of the cool kid's conversations. All the inside jokes and verbal familiarities between the characters left me feeling very detached from them. I got the fact that they were very close; in fact it was one of the best aspects of the book, but the way they talked to each other felt alienating to the reader and at times it was really off-putting. I had to repeatedly reread lines because I was so annoyed by this. It felt as if the group's friendship was trying to be sold by telling, not showing, and that is something that has always bothered me when I come across it.
On the other hand, there were some really remarkable twists of plot and language in the book that it would be silly to ignore. The book is almost a love letter to Charleston, and as such, it examines the microcosm of that society in a delicious and wonderful way. There is plenty of meat to sink your teeth into in this story, and as it twists itself into its various permutations, it's very hard not to get caught up in all that Conroy so wonderfully relates. The setting, characters and situations are top-notch, and though I had other problems with the book, I never felt that it wasn't a worthwhile reading experience. I especially liked Leo's connection to his hometown. As we are seeing thing through his eyes, Charleston takes on a colorful and wonderful shroud of life, filled with eccentrics and oddballs, both within Leo's family and in the wider city.
I also think that revolving this story around Leo was a brilliant touch. I really liked him and felt that he was the glue that held both the story and the characters together. He was modest and circumspect, emotional yet rational. I found that wherever he was and whatever he was doing, I followed along like a loyal dog, waiting to see what his next move was. It was very smart to tell this story from Leo's angle because he was the everyman and was very easy to relate to. At times he played the star and at times the audience, but I was glad that as readers, we were in
his
head, rather than any of the others. If this book had been narrated by, say, Sheba, the story would have been a completely different affair.
I had a hard time managing the emotion in this book. At times, the situations and the characters' reactions to them felt spot on. But other times it was like Conroy got carried away with the melodrama and sentimentalism. I never knew what was coming next and the circumstances of the plot gave me no insight as to how I should feel. For example, a character's death might bring subdued reaction from all the characters in the book, while a smaller and less intense incident would draw out a more prolonged suffering from the bunch. I think this might have been because the plot was very densely packed with shocking and emotional scenes, and it might have been difficult to transmute the characters emotions to fit the particular incidents that they were facing at the time.
Though I had some problems with this story and found it to be a tad over-dramatic, I still think it was a solid read. It's not my favorite Conroy book by far, and for first time readers of this author, I would recommend trying
Beach Music
. For those who are already fans of Conroy, I think this would make for an interesting read, even if only to compare to his earlier work. I would recommend this book to those who love books about deep friendships that mature through the years and for fans of the city of Charleston. Not a perfect book, but an interesting read nevertheless.
---
Giveaway!

The publishers of this book have generously offered my readers one copy of this book for giveaway! If you would like to win, please leave a comment at the end of this post that includes your e-mail address.
You must leave a valid e-mail address to be entered in this giveaway!
I will draw a winner randomly with the help of random.org and will announce the winner on April 30th 2010. Good luck to all entrants, and thanks for entering!
---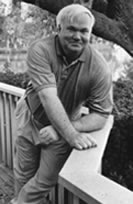 About Pat Conroy

Pat Conroy is the bestselling author of nine books: The Boo, The Water is Wide, The Great Santini, The Lords of Discipline, The Prince of Tides, Beach Music, My Losing Season, The Pat Conroy Cookbook: Recipes of My Life and South of Broad. He lives in Fripp Island, South Carolina.

Visit Pat Conroy's website for more info about his work.
---
A warm thanks to TLC Book Tours for providing this book for me to read and review. Please continue to follow the tour by visiting these other blogs:



| | |
| --- | --- |
| Thursday, April 1st: | Jen's Book Thoughts |
| Monday, April 5th: | Lit and Life |
| Tuesday, April 6th: | Rundpinne |
| Wednesday, April 7th: | Meanderings and Muses |
| Friday, April 9th: | Luxury Reading |
| Monday, April 12th: | Books and Cooks |
| Tuesday, April 13th: | The Brain Lair |
| Wednesday, April 14th: | Po(sey) Sessions |
| Thursday, April 15th: | Raging Bibliomania |
| Monday, April 19th: | Life in the Thumb |
| Tuesday, April 20th: | Maggie Reads |
| Thursday, April 22nd: | Stephanie's Written Word |
| Friday, April 23rd: | Sherri's Jubilee |
| Monday, April 26th: | The Literate Housewife |
| Tuesday, April 27th: | Peeking Between the Pages |
| Wednesday, April 28th: | Library Queue |
| Thursday, April 29th: | Lakeside Musing |
| Friday, April 30th: | A Circle of Books |
---
This book was provided as a complimentary review copy.