The Lacuna
is the story of the life of Harrison Shepard and, perhaps more importantly, the story of the lives that he touches as he winds his way along the dubious path of his life. Harrison was born to a Mexican mother and an American father and spent most of his childhood living in Mexico after his mother relocated to pursue other romantic interests. Growing up in Mexico, Harrison is left mainly to his own devices but he learns at an early age to love the Mexican half of his heritage and the land he calls home. When his mother's circumstances change, Harrison is sent back to America, ostensibly to live with his father, but he is quickly placed in a prestigious boarding school where he finishes the second half of his education. Returning to Mexico, Harrison finds himself working as a plaster mixer, cook and typist for the famous Diego Rivera and his volatile wife, the unflappable Frida Khalo. Frida and Diego are not only caught up in a life of art, they are also inextricably entwined in the communist cause, which Harrison also comes to be unwittingly involved in. When Leon Trotsky, fleeing a death sentence from Stalin, makes an appearance at the Rivera's secluded ranch, Harrison quickly becomes embroiled in a complicated web of the complicities of communism and admiration for the man and his assistants. After a terrible betrayal ends in murder and dissension, Harrison makes his final escape back to the States where he longs for a different kind of life. Reinventing himself as an author of wildly successful Mexican epics, Harrison believes that the drama of his past is behind him. But soon the House Un-American Activities Committee has its sights on him and it's all Harrison can do to bury the details of his past and get on with the business of leading a quiet life in small town America. In this epic journey through Mexico and America and back again, the life of an artist and sometimes conspirator is dissected and divulged, its small pieces becoming a dazzling whole.
I must say I've been excited about this book since first hearing about it and learning about all the accolades heaped upon it. My previous experience with Kingsolver's work was not very broad, being that I've only read one of her books. The book I read was
The Poisonwood Bible
, but the fact that I read it
twice
should say something about what I think of her work. When I was asked if I wanted the chance to review this book, I had to to a little dance of excitement because I had long wanted the chance to revel again in the kinds of worlds that Kinglsolver is known to create. And while there are parts of this book that were really beautiful, for the most part I didn't really feel like this book was a good fit for me, or really an accurate reflection of the type of books that I think make Kingsolver such a good author.
First of all, I found it difficult to connect with Harrison as a character. He seemed very insubstantial and almost completely absent emotionally as well as physically from the page. His physical attributes and mental states were never defined, and the longer I read about him, the more I felt I knew nothing about his character. Harrison exists only in the reflections of other people and much of this book is predicated on the fact that these reflections can piece together a portrait of the protagonist, which I feel was not very successful. It's hard to read such a lengthy book when you have no real idea of the motivations and behaviors of its main character. It's even harder, I think, to let the secondary characters in a work this expansive do the job of defining this character's subtle nuances. Though the story around Harrison was fast flowing and compelling, Harrison himself was just sort of a void to me. He never took on the life that the tale needed in order for me to find it successful.
I also felt that Kingsolver had overreached in her storytelling. The issues she tackles were rather serious but I think the book failed in its approach and construction. Maybe it's just that I'm not really interested in art, communism and the ways they intersect, but for me, most of the story moved very slowly and it was an effort not to skim. Kingsolver has a lot to say about communism, un-American activities, blacklisting and a whole host of other issues, but to me the way she said them felt almost as preachy as a five hundred page lecture. I am aware that these were dark times for America and its citizens and that there was a lot of drama made over nothing at all, but I really felt like a lot of this book was excessively pedantic. There were too many messages for me to be able to sit back and enjoy the ride, and though the book was indeed very complex, I felt like the whole house of cards balanced very precariously on Kingsolvers ideals.
I am also wary of books that weave in real historical characters, unless the book centers around these very well-known characters themselves. I think the success of books like this hinge on the fictional portrayal of real-life people, and in this case, I wasn't impressed with what I found. Most of the well-known people in this book felt like caricatures to me and were painted in broad strokes instead of the tiny defining ones that I had been hoping for. They seemed larger than life but did not bear close scrutiny. Another the reason that this bothered me so much is because the very nature of this book was to tell a personal story, but to me, the story felt anything but personal. Populated as it was by real-life figures, it became a sprawling historical novel. And knowing that my knowledge of these particular people and times was lacking, I just couldn't lose the feeling that this book may or may not be pulling the wool over my eyes in terms of its characters motivations and actions. I think this particular problem had more to do with me as a reader and my lack of information, but it was bothersome to me nevertheless.
There were moments in this book when Kingsolver turned a phrase or reflection that was effortlessly beautiful, and I found myself hoarding these moments and marking them in my book. After countless pages of things that were of lesser interest to me, all of a sudden, a passage would shine out like a beacon, drawing my admiration and awe in a way that captivated me. It is for these small reflections and really for the tight construction of the story as a whole that I have to admit that this book was not a total loss for me. I am fully prepared to admit that my intellectual inexperience may be the stumbling block that kept me from fully enjoying this story, but my reactions to it remain the same nonetheless.
I am not sure where next to go with Kingsolver. I think she's a brilliant storyteller but I also think her specialty lies in the smaller and less complex stories she tells. While I had a hard time with this book, I am glad to have experienced it and think that those readers who like highbrow and political fiction would probably have a very different reaction than I had. This is a big book with big ideas, but it was not what I had been expecting.
---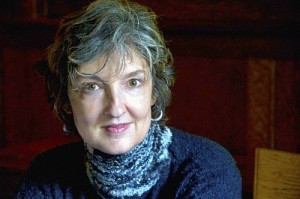 About the Author

Barbara Kingsolver is the author of seven works of fiction, including the novels The Lacuna, The Poisonwood Bible, Animal Dreams and The Bean Trees, as well as books of poetry, essays, and creative nonfiction. Her most recent work of nonfiction is the enormously influential bestseller Animal, Vegetable, Miracle: A Year of Food Life. Kingsolver's work has been translated into more than twenty languages and has earned literary awards and a devoted readership at home and abroad. In 2000, she was awarded the National Humanities Medal, our country's highest honor for service through the arts. She lives with her family on a farm in southern Appalachia.

Learn more about Barbara Kingsolver at her website.
---
A warm thanks to TLC Book Tours for providing this book for me to read and review. Please continue to follow the tour by visiting these other blogs:



| | |
| --- | --- |
| Tuesday, September 7th: | Literate Housewife (The Poisonwood Bible) |
| Wednesday, September 8th: | Lit and Life (The Lacuna) |
| Thursday, September 9th: | Bibliofreak (The Bean Trees) |
| Monday, September 13th: | Presenting Lenore (The Lacuna) |
| Tuesday, September 14th: | Fyrefly's Book Blog (Animal, Vegetable, Miracle) |
| Wednesday, September 15th: | Eleanor's Trousers (The Bean Trees) |
| Friday, September 17th: | My Two Blessings (The Poisonwood Bible) |
| Monday, September 20th: | Til We Read Again (The Lacuna) |
| Thursday, September 23rd: | Rundpinne (The Bean Trees) |
| Tuesday, September 28th: | Raging Bibliomania (The Lacuna) |
| Tuesday, September 28th: | The Lost Entwife (The Lacuna) |
| Wednesday, September 29th: | Steph and Tony Investigate (The Poisonwood Bible) |
| Thursday, September 30th: | Wordsmithonia (Animal, Vegetable, Miracle) |
| Friday, October 1st: | In the Next Room (The Lacuna) |
| Monday, October 4th: | Caribousmom (Prodigal Summer) |
| Tuesday, October 5th: | Bookworm's Dinner (The Lacuna) |
| Thursday, October 7th: | she reads and reads (The Lacuna) |
| Monday, October 11th: | Book Chatter (Animal, Vegetable, Miracle) |
| Wednesday, October 13th: | Jenn's Bookshelves (Prodigal Summer) |
---
This book was provided as a complimentary review copy.