After traveling from Atlanta to Miami for a friend's wedding, twenty-six year old Frances is introduced to Dennis, a handsome and charming Miami native. Francis and Dennis have a slow and steady courtship, and are married. They spend the next thirty years coming close and drifting apart and sharing their lives with one another within the tropical climate of Miami. The couple welcomes a much-loved daughter into their lives whose heartaches and joys become their own, and Dennis leaves his career after many unhappy years as a lawyer resulting in his family struggling through months of unemployment. Frances, though in love with Dennis, has a few moments of weakness with other men and learns that by giving herself to Dennis, she has shut the door to other possibilities and directions that her life could have taken. As Frances and Dennis develop close relationships with Dennis' family and friends, they discover that these relationships are put to the test when the unthinkable happens and the couple's marriage is tested by ravaging disease and infirmity. In this thirty year chronicle of a marriage, the uplifting joys and devastating sadness of two people are examined through the intense and compassionate lens of Francis' eyes.
I had a really hard time with this book; although I wanted to love it, I found that, at best, my reaction to it was neutral. I think it may have been a case of expecting too much. All I really knew going in was that this book was essentially about a couple who lives out their entire marriage in the South Florida area, and as I lived in Miami for 28 years, I thought that that would be enough for me to really be able to enjoy the book. While I do think that Miami was portrayed beautifully in this novel and I recognized every place that the characters visited, the book left a lot to be desired in its execution of character and narrative.
First of all, I couldn't help but feel that there was a curious emotional disconnect in the characters of this story. Francis, while being very nice and mild-mannered, seemed to have no strong feelings about anything whatsoever. A lot of the time, this made her reactions to things seem oddly stale. I just didn't get the impression that Francis was really emotionally invested in anything and it was hard for me to take her seriously. She seemed to be the type of character who watches quietly as life passes her by and she never seemed to be moved by strong emotions on either end of the spectrum. The way that Francis dealt with the world around her both bothered and puzzled me, and I grew to dislike the flatness of her character. Some of the things that happened to Francis and Dennis were very serious but I felt that the writing didn't give the proper gravity to their situations or reactions. Towards the end of the book, I felt that things were beginning to become a little more balanced but it still felt like the author was holding back a lot. I don't typically enjoy melodrama in my writing but I also don't like it when everything seems devoid of emotion and sensitivity. The narrator just felt too removed for me to be able to invest in her story.
I also felt that the pacing of the novel was a little off; it was hard to know which parts of the book were intended to be focus points. The author had a habit of interspersing trivial stories among the more meaty drama in what I can only describe as a strangely tangled and circular way, and everything lacked the emotional punch that I have come to expect in this kind of book. There seemed to be a lot of inconsequential things happening in the story, and as anecdotes they were not all that successful. It felt like a lot of the book was just an effort to fill pages until the final climax, almost as if the book was written around the ending. The anecdotes that made up most of the plot seemed to have no meaning or agenda, whereas the more drama-laden sections seemed to exist in a vacuum devoid of emotional intensity. I just got the feeling that things were not balanced and that a lot of the action in this book was strung together haphazardly.
Another thing that bothered me was the way Dennis was portrayed. He seemed very generic and one-dimensional. I didn't get the feeling that he was a very complex character at all, and most of his dialogue was made in the form of pithy asides. In portraying a marriage, I think it's really important to have both halves represented fully, which is something I didn't feel this book did well. It was hard to care about Dennis because he seemed like a cardboard cutout and I never really felt like I knew him at all. He had no depth. He wasn't jealous, angry or abrupt when he should have been, and just existed in a sort of sterile bubble that I could never seem to permeate. Dennis was too bland to have any resonance to me, which made me feel heartless towards the end of the book when I couldn't manage to scare up a lot of genuine sympathy for him. He just didn't touch me as I thought he would.
The one area where I think this book excelled was in the portrayal of South Florida, both in its history and its attributes. A lot of the scenes around the towns, marshes and beaches felt very vivid and genuine. You could almost feel the sun soaking in your skin and the salt water on your lips. I've visited a lot of these places and it felt like the author really did her homework in her descriptions of Miami. This gave the book a very tropical feel, and I felt that the author got not only the area right but the people populating it as well. Miami came off as inviting and charming, somewhat insular yet diverse. In reading this book, I felt a lot of nostalgia for the home I left behind, and although I don't visit often, the book made me want to journey back and check out some of my familiar haunts.
Though this book was not as pleasing as I had hoped it would be, there were some things that I really liked about it. At the top of the list was the setting and the way the characters were enveloped by it. I also liked that the book managed to encapsulate a huge space of time very neatly and concisely. Though I didn't feel like the plot and characters were all that well rendered, I feel like others may enjoy the low-key and quiet approach a lot more than I did. Though bits of this book were frustrating to me, there were other parts that felt more authentic and I enjoyed those bits quite a lot. If you are looking for a book that really has the shape, feel and flavor of Miami, then this book would be of interest to you.
---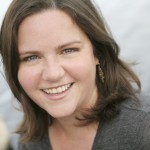 About the Author

Susanna Daniel was born and raised in Miami, Florida, where she spent much of her childhood at her family's stilt house in Biscayne Bay. She is a graduate of Columbia University and the University of Iowa Writers' Workshop, and was a Carl Djerassi Fiction Fellow at the University of Wisconsin Institute for Creative Writing.

Susanna lives with her husband and son in Madison, Wisconsin, where during the long winter she dreams of the sun and the sea, and of jumping off the stilt house porch at high tide. She is at work on a second novel.

Connect with Susanna:

---
A warm thanks to TLC Book Tours for providing this book for me to read and review. Please continue to follow the tour by visiting these other blogs:



| | |
| --- | --- |
| Monday, September 13th: | Joyfully Retired |
| Wednesday, September 15th: | Simply Stacie |
| Friday, September 17th: | Reading at the Beach |
| Monday, September 20th: | Books and Cooks |
| Wednesday, September 22nd: | Raging Bibliomania |
| Thursday, September 23rd: | Bermuda Onion |
| Monday, September 27th: | The Book Faery Reviews |
| Tuesday, September 28th: | Book Club Classics! |
| Wednesday, September 29th: | My Random Acts of Reading |
| Thursday, September 30th: | Devourer of Books |
| Monday, October 4th: | Pudgy Penguin Perusals |
| Wednesday, October 6th: | A Bookish Way of Life |
| Thursday, October 7th: | Luxury Reading |
| Monday, October 11th: | Mockingbird Hill Cottage |
---
This book was provided as a complimentary review copy.