Tillie has just gone into early labor. With her husband away on business, a new home to be organized and no working telephone, Tillie is ill-prepared for the turns her life is taking. When she phones her estranged father for help, she begins to travel backward in her mind to the summer of her seventh year, when life was just as unpredictable as it is today. Tillie reminisces about her time living on a military base with her no-nonsense father, straitlaced brother and emotionally unstable mother. Though Tillie tries not to be difficult and demanding, she finds it increasingly hard to do so amidst her mother's deteriorating mental condition, and her father's iron sternness. As Tillie winds her way from the past to the present, a shocking picture of her family dynamic is revealed, and no matter how hard she tries to avoid it, she begins to discover the secrets of her family that have been buried for so long. Both harrowing and revelatory, Up From the Blue shares the journey of a fragile and damaged little girl, who is trying desperately to understand her world and to maintain some semblance of order in her life and heart.
This book was a tough customer, and not for the reasons you might expect. There are a lot of books out there right now that deal with the repercussions of having a mentally ill parent, and frankly, I would like to read them all. There's just something about this subject that fascinates me and I think part of it is the myriad ways that a child can interpret and internalizes these situations. For these and many other reasons, I was really excited to start this book and see what the author had in store for me. What I found was a story that was incredibly painful to read and think about, and one that brought out a lot of conflicting emotions out in me.
Reading about things from Tilly's perspective was at times too much to bear. As a seven-year-old, Tilly sees the world in black and white and it's very hard for her to understand her mother's mental blips and frailties. She takes a lot of blame on herself and finds herself constantly wondering which of her actions is the cause of her mother's strange behavior. Added to this is the fact that she feels responsible for her mother in some ways and seeks to defend her from her father's stern and lengthy reprisals. Tilly is caught in the middle of a lot of things that she can't possibly understand, and because of that she's very confused most of the time. She has strong feelings of loyalty to her mother and often tries to find excuses for her mother's bizarre and alienating behavior. I was saddened reading about Tilly's life. It was obvious she was struggling very deeply with what was going on, but the adults in her life failed to see this and react to it, leaving Tilly twisting in the winds of shame and abandonment.
I also thought it was heartbreaking that most of the ancillary adults in Tilly's life repeatedly called her a pest and a nuisance and seemed to feel that Tilly exacerbated her family's problems. As a reader, I could see that Tilly's manifestations of troublesome behavior were a direct offshoot of her mother's disability and her father's mismanagement of it. Sadly, those who dealt with her preferred to focus on her negative behavior in unhelpful and castigating ways. This caused Tilly to feel misunderstood and actually made her behavior worse. It was clear that this was a self-perpetuating cycle, and one that was never fully resolved in the book. It was angering but it did help me to be more in touch with and understanding of Tilly's character and to wish that she had someone in her life to love her unconditionally. Her mother simply wasn't capable and her father and brother were unwilling.
The book's dual narrative leaned more heavily towards the past, but what was presented in the more recent sections was also raw and painful to read about. It appeared that Tilly was never able to pull out of the tailspin of her past, and the strained relationship she had with her father proved that her childhood crippled her in ways that were hard to understand. Though it seemed her father wanted to be there for in this new and uncharted stage of her life, it was clear that his previous actions as a father and husband left both Tillie and her brother scarred. It wasn't as if Tillie was holding a grudge but more like she was unable to process the things that had happened to her, leaving her incapable of forming a continuing relationship with her father.
The sections that related the life of Mara, Tillie's mother, were more difficult to pinpoint. It was never clear which mental disorder she suffered from, and because of the sense that the symptoms morphed and shifted, it was hard to me to figure out just what kind of help she needed. It was obvious she could be incredibly selfish and immature at times, which both angered her husband and drew the children's confidences away from her, but her disease was a shadowy enigma in the story that I never fully understood. Though this was a bit troublesome to me, the overall message of the story remained clear and inarguable.
Though this book was an incredibly painful read, I think there was a magnificent direction and candor in the plot and that the story of Tillie was explored in a way that a lot of readers will understand and sympathize with. It wasn't a book with a unified and happy ending, but so few of these stories really do end in that fashion. This a book I had a hard time peeling myself away from and one that made me think very hard about the plight of children whose parents deal with mental illness. A very focused and introspective read. Recommended.
---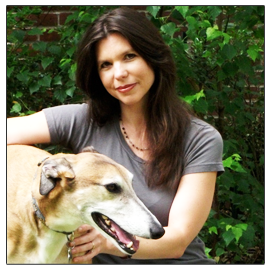 About the Author

Susan Henderson is a two-time Pushcart Prize nominee and the founder of the literary blog LitPark: Where Writers Come to Play. Her work has appeared in Zoetrope: All-Story, the Pittsburgh Quarterly, North Atlantic Review, Opium, and many other publications. Henderson lives in New York, and Up from the Blue is her first novel.

Connect with Susan:

---
A warm thanks to TLC Book Tours for providing this book for me to read and review. Please continue to follow the tour by visiting these other blogs:



| | |
| --- | --- |
| Monday, September 27th: | The Zen Leaf |
| Monday, September 27th: | Sara's Organized Chaos |
| Tuesday, September 28th: | Literary Feline |
| Wednesday, September 29th: | Reviews from the Heart |
| Wednesday, September 29th: | The Dumbest Smart Girl You Know |
| Thursday, September 30th: | Rundpinne |
| Monday, October 4th: | Books Like Breathing |
| Thursday, October 7th: | Eleanor's Trousers |
| Thursday, October 7th: | In the Next Room |
| Tuesday, October 12th: | Cozy Little House |
| Wednesday, October 13th: | Raging Bibliomania |
| Thursday, October 14th: | she reads and reads |
| Monday, October 18th: | Life In Review |
| Tuesday, October 19th: | Peeking Between the Pages |
| Wednesday, October 20th: | lit*chick |
| Thursday, October 21st: | Booksie's Blog |
---
---
This book was provided as a complimentary review copy.