Elizabeth Stuart is a precocious young woman who must live by the whims of her father, King James I of England. Early in her adolescence, when a stranger attempts to kidnap her and force her to take the throne and overthrow the king, Elizabeth is more than shaken and fears that her knowledge of this plot will constitute treason in her father's severe opinion. Though she has a close relationship with her brother Henry, the heir to the throne, Elizabeth is kept mostly secluded with only her ladies in waiting to entertain and inform her. Though she's still very young, her father is constantly reminding her of her duties to the throne and repeatedly dangles her hand to foreign powers to solidify relations between England and other countries. Though Elizabeth frets and chafes under her enforced ignorance, little by little she learns the ways of the English court and gleans information about her ersatz suitors. But King James, having taken the throne by the murder of his own mother, fears his children and worries they will one day usurp his position. This is why both must stay locked away, powerless, and live a life suspiciously regarded by the king. When Elizabeth finally meets a suitor who pleases her, she must fight with all her might to get her father to agree to the match and enlist the help of a very dangerous man in the court to press her suit. Filled with the intrigue of King James' court,
The King's Daughter
follows the life of Elizabeth Stuart, from her early days as a willful child of the king to her final triumph in the throes of royal romance.
I've read a lot of historical fiction in the past few years, and one thing I love most about this genre is the books that are devoted to royal intrigue. There's something exciting about reading about the furtive movements of those in court and the grandiosity of kings and queens. I love to read the tales of those noble and not so noble, living in a time so far removed from me, and often find myself helplessly caught up within these kinds of books. This was a particularly good example of the genre, and though it did have some of the hallmarks of Philippa Gregory, there was far less bodice ripping going on within it, which is something I was really thankful for.
From the outset, it was easy to see that Elizabeth was nothing but a pawn of her father. Though she was growing into womanhood and had desires and wishes of her own, her father looked at her in one of two lights: as a dangerous possible usurper to the throne, or as a brooding mare to trade off to another country. Elizabeth had every right to be upset with her fate, but what bothered her most is that she was kept in the dark about almost everything for a good part of her life. It wasn't until she began to send spies out, who learned about everything from her father's alleged trysts with young male courtiers to the arrangements of her marriage, that Elizabeth began to have some power and control in her own life. She was very willful like her father, but much softer and kinder, in a way that impressed and endeared her to me.
The portrayal of King James in this novel was not at all flattering. Coming as he did from Scotland, he spoke with a thick Scottish brogue, and was largely a very crude and corpulent man. He drank to excess and was nearly always in a vile and threatening temper. He maintained a suspicious air around not only his children, but his wife and his advisers as well. As I mentioned before, he spent most of his time wooing the male courtiers and was jealously attached to a few, who used this favor to procure titles and lands. I didn't like James. He was crude, improper and scarcely able to run even the smallest of households with grace.
The relationship between Elizabeth and her brother Henry was a touching reminder that all things in the king's realm were not perverse and diabolical. The two were often separated, but until the final act that drove them apart in the novel's closing, they remained each other's confidantes and playmates, earnestly giving each other the love and support they could not get anywhere else. I liked this relationship most of all and felt they both deserved to rest in each other's company. One of the things Henry did for his sister was to try to arrange a marriage for her that she would find suitable, and to this end, he succeeded, helping Elizabeth to fall in love with and marry a man who was more than a chess-piece for her father. I was disheartened by how marginalized women were in this society and felt that, but for her power as a bargaining chip, Elizabeth was virtually useless to everyone in the realm. So sad that this was the reality of the day, and also sad that these women were aware of their non-status as well.
I really liked this book and had no trouble flying through its pages with Elizabeth. I think Dickason did a great job of making this young woman sympathetic and believable, and her story was one that not only attracted me, but kept me invested in seeing how the princess would finally escape the prison her father put her into. If you are a lover of royal intrigue or are interested in well written and enticing historical fiction, this is definitely the book for you!
---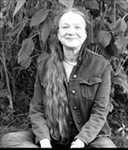 About the Author

Christie Dickason, Harvard-educated, is a former theater director and choreographer with the Royal Shakespeare Company. She is the author of The Firemaster's Mistress and lives in London with her family.

Find out more about Christie and her other books at her website.
---
A warm thanks to TLC Book Tours for providing this book for me to read and review. Please continue to follow the tour by visiting these other blogs:



| | |
| --- | --- |
| Monday, December 6th: | Scandalous Women |
| Wednesday, December 8th: | excess baggage |
| Thursday, December 9th: | Rundpinne |
| Monday, December 13th: | Bookalicio.us |
| Tuesday, December 14th: | Devourer of Books |
| Wednesday, December 15th: | The Lost Entwife |
| Thursday, December 16th: | Raging Bibliomania |
| Monday, December 20th: | Peeking Between the Pages |
| Tuesday, December 21st: | Shhh I'm Reading |
| Wednesday, December 22nd: | Thoughts From an Evil Overlord |
| Monday, December 27th: | Bookworm's Dinner |
| Tuesday, December 28th: | Life In Review |
| Wednesday, December 29th: | Book Reviews by Molly |
| Thursday, December 30th: | Calico Critic |
---
This book was provided as a complimentary review copy.