Quinn Braverman is struggling. The thirty-something beloved wife and mother of a six year old boy, Quinn has just found out the child she's carrying has a severe birth defect. She's also not quite past the despair of having lost her mother to suicide many years before, a fact that Quinn blames on herself. Her homosexual brother, also the recipient of the mental illness that robbed Quinn of her mother, is involved with a man who may or may not be totally wrong for him, and under the pressures of her life, Quinn is mildly despondent.
But there's something special about Quinn: She has the ability to access special portals that will enable her to squeeze back into the life she left behind, and this, more than anything she is going through right now, is a constant pressure in her life. When she finally can't resist the temptation to flee her everyday life anymore, Quinn steps into the portal to see just what would have happened if she hadn't married her husband or had her son. This other life is more glamorous but also has its drawbacks, as she is confronted with Eugene, the neurotic and dependant radio-star boyfriend whom she left behind and who totally monopolizes her time and attention. But the thing that really excites Quinn about this alternate reality is that, in this world, her mother is still alive.
As the stress and pressure begin to mount for Quinn in her everyday life, she begins to cross over more and more frequently, exploring her other life in intimate detail. Crossing back and forth between her two lives through the portal, Quinn discovers that she can choose to stay in either life but that there are stiff consequences to staying in either. But time is running out, and as Quinn grapples with returning to Eugene and her mother or staying put in a life with a very damaged infant on the way, the choice to flit between worlds might be something that doesn't rest in her hands alone. In this mystical and heart-wrenching tale of a woman and her two very different lives, Ellen Meister explores the what-ifs of of woman who is struggling with more than she alone can bear.
When I was first approached to participate in this tour, I took a look at the book that was being featured and began to be very excited. Who hasn't wished they could look into the abyss and discover the secrets of the road not taken? For me, the road probably would have looked a lot like a tragedy, but I can imagine other people, women in particular, might have some feelings of excitement and longing to discover what could have happened had they made different choices. I have to admit I was really rather excited about this book because I felt it would be vicariously thrilling to discover what Quinn found on the other side, and if she would feel a pull to stay there after all the trauma began to come down on her in her everyday life.
Quinn was an excellent character to be able to get invested with. She was very different from most women in fiction because she admitted to herself and those surrounding her that to feel complete, she had to feel needed and essential. This was one of the stumbling blocks she had in her marriage to her husband Lewis. He felt the need to coddle and protect her, and her role in his life was much like the role she played in Eugene's life all those years ago. When Quinn discovers her portal back into Eugene's life, this force of being needed was one of the things that drew her in. Of course it wasn't the only factor because after Quinn learned of her daughter's birth defect, it seemed that the portal was her escape and her refuge. The choices Quinn had to make regarding her daughter were gut-wrenching to read about and the way Meister explored them was very realistic. She was fraught with the idea of terminating the pregnancy and had to weigh that against raising a child that may or may not survive at all. That alone would have pushed me through the portal, but Quinn was made of very solid stuff and had the ability to manage one crisis after the other with grace and fortitude. One can certainly argue that Quinn's frequent passage through the portal was her way of escaping and coping, not merely satisfying her curiosity about a life she left behind.
One of the main cruxes of the book was the relationship that Quinn had with her mother. As a mentally ill woman, Nan was torn in her ability to raise her children lovingly and in her ability to deal with the crippling depression that eventually forced her to take her own life. Like a lot of children who survive after a parent's suicide, Quinn harbored a lot of guilt over Nan's fate and somehow felt that her mother's ultimate action was a direct effect of Quinn's decision to marry Lewis. When she steps through the portal for the first time and discovers that Nan is indeed alive in this world, the stakes go up for Quinn tremendously. How can she go back to a world where her mother doesn't exist and where she's going to have to cope with life-altering changes? The problem with this is that by staying in her alternate universe, she would lose her son, essentially doing the same thing to her child that her mother had done to her. I imagine the choices Quinn had to make were more than unnerving and very frightening, and the way that Meister captures Quinn's uncertainty over these convolutions of her fate were rather thought-provoking.
The reality and science behind these portals were never explained in any detail other than the fact of how they were thought to come into existence, and to me this wasn't bothersome. The story sort of blended a mix of women's fiction with a light touch of science fiction, and the effect was a bit mystical. The existence of the portals was something that elevated this story beyond the scope of women's fiction, though if I was pressed, I would have to stick to that description of the book's genre. The tension of this pseudo-duel storyline was palpable, and as Quinn made more and more trips over to the other side, I became nervous for her safety and mental stability. In the end, the story leaves a little to the reader's imagination in regards to what will eventually happen with Quinn and her choice, but overall, the lessons imparted and the conclusion of Quinn's fate were handled with a lot of sensitivity and what I felt to be courage.
I ended up liking this book a great deal and felt it had some of the hallmarks of the film
Sliding Doors
. It was emotional and intriguing in a very vivid and unique way, and by creating tension and believability in both story lines, I think that Meister hit a sweet spot with this book. If you're the sort of person who enjoys something a little more unique and moving in your women's fiction choices, I would have to say this book would probably be a great fit for you. Its impact and scope really impressed me, and it's a book that I would definitely recommend.
---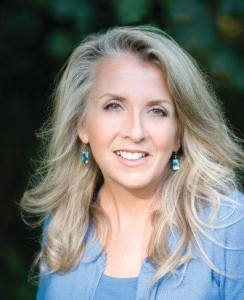 About the Author

Ellen Meister lives on Long Island with her husband and three children.

You can find out more about Ellen at her website, and you can also follow her blog and on Twitter: @EllenMeister.
---
A warm thanks to TLC Book Tours for providing this book for me to read and review. Please continue to follow the tour by visiting these other blogs:



| | |
| --- | --- |
| Tuesday, February 15th: | The Lost Entwife |
| Wednesday, February 16th: | Rundpinne |
| Thursday, February 17th: | Jenn's Bookshelves |
| Monday, February 21st: | Sara's Organized Chaos |
| Friday, February 25th: | Colloquium |
| Monday, February 28th: | In the Next Room |
| Wednesday, March 2nd: | Chefdruck Musings |
| Thursday, March 3rd: | Savvy Verse & Wit |
| Friday, March 4th: | Raging Bibliomania |
| Monday, March 7th: | Stephanie's Written Word |
| Tuesday, March 8th: | That's What She Read |
| Wednesday, March 9th: | Reviews from the Heart |
| Thursday, March 10th: | BookNAround |
| Monday, March 14th: | Teresa's Reading Corner |
| Tuesday, March 15th: | Debbie's Book Bag |
| Tuesday, March 15th: | Book Chatter |
| Wednesday, March 16th: | The Book Faery Reviews |
| Thursday, March 17th: | Peeking Between the Pages |
| Friday, March 18th: | Tina's Book Reviews |
---
This book was provided as a complimentary review copy.