Catherine de Valois is just a disheveled and neglected child in the crumbling French court of her father, the mad King Charles VI, when she first meets Owain Tudor, messenger for the king of England, Henry V. Though the two are very fond of each other, Catherine is still just a child, and of royal blood, while Owain is a disgraced Welshman working off years of servitude in the English court. Soon fate tears them in opposite directions. Through the ruination of her royal family and the fall of France to England's forces, Catherine is dangled in front of Henry V as a proposed bride to unite both kingdoms. But Catherine's brother Charles is still fighting against the English crown and will not let France go lightly. With the help of the scheming Queen Isebeau, Catherine makes her move against Charles and becomes Henry's new bride, Queen of England. But life as a queen of England is not what Catherine thought it would be, and after much grief she finds herself in the middle of a royal uprising when Henry dies, leaving her infant son crowned the King of England. Though Catherine must brave these waters alone, it's the constant presence of Owain that helps guide Catherine through her most turbulent times, and whose steadfastness and loyalty finally help her consolidate England and France into one kingdom. But it's Catherine's journey of the heart from caretaker of the mad King Charles to the queen who holds the heart of Owain Tudor that will leave readers restless for more in this solid and tight historical drama.
In the past few months, I've had the very pleasurable opportunity to read two historical novels by Vanora Bennett. The first was called
Figures in Silk
, and dealt with the War of the Roses, and was actually a very entertaining and thoughtful read, though I do think it suffered a bit from having a rather loose beginning. This book, however, was much more to my tastes, and I grew quickly absorbed within the pages for many reasons. I won't attempt to compare the two books, as I think they're totally different vehicles with very different aims, but I'm happy to say that this book was historical fiction at its very best.
Catherine was one of the most interesting characters to have read about in this incarnation, not only because the story of her life was most surprising and interesting, but because this Catherine was written with an emotional core that resonated with me personally and gave the story vivid life. She was no doubt a troubled woman. From her very early childhood, she and her brother Charles were neglected almost to the point of starvation while their wily mother kept to her rooms caught up in schemes against her older sons. Catherine's father suffered with bouts of mental illness so debilitating that he was often shut up in private quarters, raving and tearing off his clothes. As Catherine grows older, she finally realizes just what her father is going through when she becomes his only protector and caretaker, fully realizing that France is in ruins due to the mismanagement and infighting of the royal family. Though these all sound like horrible and troublesome circumstances, Catherine remains solid, courageous and caring to the people around her. She doesn't blame her parents for their neglect but does come to resent and accuse Charles when he goes against his royal blood. Though she is frightened, her core beliefs and resoluteness never waver.
When she meets Owain, the attraction is instant and reciprocated, but Owian, the elder of the two and to my mind, the much more pragmatic, knows they will never find themselves together. Because of the care and attention that Owian gives her, he becomes Catherine's hero, and she doesn't understand that he is unattainable to her. When the issue comes to a painful head, it's Owain who turns Catherine away and directly into the path of his master, Henry V, a fact that grieves his spirit mercilessly. Though Owain goes far from her and sets a different path for his life, Catherine is his north star from beginning to end. Eventually he comes to her when she needs him most and covertly rearranges a future for her in which she can be secure and unafraid. The love between Catherine and Owain was, for me, a strong motivating force in the book. Though it was often painful and fraught with tension, there was no doubt in my mind that Owain brought to Catherine the peace and gentleness that she so desperately needed amidst a court filled with danger and trickery.
Much was made about the fall of France, not only to the hands of the dominating English, but their self-ruination at the hands of the vicious Duke of Burgundy and other opposing forces. This comes into play intently when Catherine agrees to marry King Henry V and unite the two kingdoms. It troubles her to no end that the royal blood, which she believes to be sacred and holy, will be tainted and that she will be leading her country to ruin and enslavement by the English. Catherine views the English court as very different than the French court in its heyday. The idea of a French court that was the most holy and sacred in Christendom was interesting to me because I'm mostly a reader of English history and have never really pursued France in my studies. There's no doubt from Bennett's descriptions that the court of France was once elegant and urbane, beautiful and blessed, but I came to see that although the English did much to damage the country and bloodline, it really started long ago in the French court's power plays and political manipulations. It was a very insightful and instructive narrative that fully revealed the weaknesses and the strengths of each side and player.
When historical fiction is this good, it leaves me hungering for more opportunity to relish and revel in it. I think Bennet's take on this story and her ability to capture all the fragility and strength of each of the major players was not only expert, but damn entertaining as well. This is the kind of book I love to read because it's not only overtly and tightly suspenseful but tender and touching as well. If you think the very unusual story of Catherine de Valois sounds interesting, I would urge you to give yourself some time to read Bennett's excellent and expert rendering of the life of a very human and regal queen and the man she raised from far below to stand beside her.
---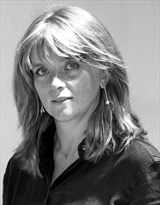 About the Author

An award-winning journalist, Vanora Bennett is the author of Portrait of an Unknown Woman and Figures in Silk. She lives in North London with her husband and two children.

Find out more about Vanora at her website.
---
A warm thanks to TLC Book Tours for providing this book for me to read and review. Please continue to follow the tour by visiting these other blogs:



| | |
| --- | --- |
| Tuesday, March 8th: | Unputdownables |
| Wednesday, March 9th: | Books Like Breathing |
| Thursday, March 10th: | Rundpinne |
| Tuesday, March 15th: | The Lost Entwife |
| Wednesday, March 16th: | Luxury Reading |
| Monday, March 21st: | Raging Bibliomania |
| Wednesday, March 23rd: | Life In Review |
| Thursday, March 24th: | Book Reviews by Molly |
| Tuesday, March 29th: | Hospitable Pursuits |
| Wednesday, March 30th: | Peeking Between the Pages |
| Thursday, March 31st: | Katie's Nesting Spot |
---
This book was provided as a complimentary review copy.