In this historical fiction novel, the life of a young girl who is enigmatically crowned Queen to rule beside Henry VIII is explored through the eyes of her girlhood companion turned Lady-in-Waiting. When Cat Tilney is sent to the estate of the dowager Duchess of York to be tutored in the ways of nobility,, she has no idea that Katherine, one of the most savvy and headstrong girls in residence with her, will one day become the Queen of England. As the narrative flashes forward and backward, the reader comes to know the irascible Katherine and follows her throughout her juvenile escapades with the men of the manor to her time as a queen who notoriously cuckolds her husband, the fearsome King Henry. As Katherine and Cat's stars rise, Katherine becomes ever more secretive and wily, while Cat remains true to her young lover Francis, who was once one of Katherine's playthings. But when it's discovered that Katherine took the throne belying her status as a virgin, things become dangerous for both the queen and her serving women, leaving Cat in the position of harboring a horrible secret from the rest of the world. At once suspenseful and evocative, The Confessions of Katherine Howard tells the sordid story of the fifth wife of Henry VIII.

I have to say I thought this book was dreadfully mistitiled. The title would lead you to believe that the book was told from the viewpoint of Katherine Howard when the reality is that the book is told from the viewpoint of Cat Tilney, and most of the action and dialog revolves around her. It makes me a little irritated that every historical fiction author out there wants to write a book about Henry VIII and his ill-fated wives, but what makes me even more frustrated is when a book's title infers that it'll cover one subject but really is aiming to cover another. Though I did enjoy most of the book, this nit-pick I had with the title really hampered my enjoyment and suspended my ability to read without prejudice. The book should have been called The Confessions of Katherine's Howard's Handmaid.

One of the things I liked about the book was that it revealed a great deal that was previously unknown about Katherine Howard. I had known for some time that she hailed from a politically ambitious family of sycophants, but Katherine's origins and early history remained opaque to me until I read this book. All I really knew was that she was considered a man-eater, and that she had several affairs throughout both her teenage years and into her days as Queen to Henry. Katherine was portrayed as a rather cold and calculating person who never gave much thought to propriety or appearances. She rather shamelessly strung many men along, and in the end, it was her voracious appetite for carnal pleasures that was her undoing. I can't say I liked her very much, as she had none of the spunk of Anne Boleyn or the spiritual long-suffering as Henry's first queen, Catherine. As the book was mainly a bystander's account of her life, I felt more invested in the story of Cat Tilney and her budding relationship with Francis. Cat seemed much more of an everyday person who just happened to be in the wrong place at the wrong time. I don't think she wanted to be tied up in Katherine's fate, but circumstances left those things out of her control, and because of that, she became the final piece in Katherine's undoing.

Though it first it didn't really bother me, as the book progressed, the management of the flashbacks became a little obstructive to a smooth reading experience. I never really knew just what period I was reading about, which caused a lot of confusion during certain sections. I would have liked to see some kind of separation by date in the mingling sections, because as it was, whenever I began a new chapter, I was initially lost as to where it fit in in the timeline. I also had a problem with the fact that a lot of the characters' thoughts were interspersed within the dialog in a rather clumsy way. Someone would be talking, and all of a sudden, quotation marks would be dropped and text would be italicized, with another set of quotations marks picking up right behind it. It was a little irksome to read and I thought it could have been handled in a different and more orderly fashion.

Though I had some obvious problems with this book, I still have to confess that I rather enjoyed the story it told. The writing was simple and direct, which made the intricacies of the plot stand out fully. The crucial information it provided on the early life of Katherine Howard was hugely satisfying and filled in what scant information I had come across regarding this ill-fated queen's rise to fame. I think those readers who enjoy historical fiction set in early 16th century, and those who like to gobble up anything about Henry VIII's illustrious wives, would do very well in giving this book a try. Though I do warn there are some caveats, it was still a very interesting read.
---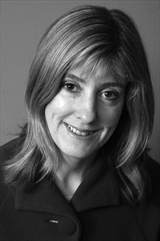 About the Author

Suzannah Dunn is the author of ten previous novels, all of which have been critically acclaimed. She has written three historical novels: The Queen of Subtleties, The Sixth Wife and The Queen's Sorrow. Visit Suzannah at her website.
---
A warm thanks to TLC Book Tours for providing this book for me to read and review. Please continue to follow the tour by visiting these other blogs:



| | |
| --- | --- |
| Tuesday, April 5th: | Debbie's Book Bag |
| Thursday, April 7th: | Book Reviews by Molly |
| Tuesday, April 12th: | Luxury Reading |
| Thursday, April 14th: | Life In Review |
| Monday, April 18th: | Raging Bibliomania |
| Tuesday, April 19th: | Rundpinne |
| Thursday, April 21st: | Unputdownables |
| Tuesday, April 26th: | Books Like Breathing |
| Wednesday, April 27th: | Peeking Between the Pages |
| Wednesday, April 27th: | Katie's Nesting Spot |
| Thursday, April 28th: | Bookworm's Dinner |
---
This book was provided as a complimentary review copy.