Father Samuel Whiting is head of Pastoral Care at a St. Louis hospital. Filled with anxiety and indecision, Whiting is finding it harder and harder to be the man he's supposed to be. He has unexplained feelings for Sarah James, the media consultant at the hospital, and fears that his secretary thinks she is superior to him. He's also dealing with a mother whose constant demands are offset by her creeping decline into infirmity, and when he gets the news that a good friend from seminary is suffering from cancer, Whiting is barely able to hang on. Whiting goes through his days providing an ear and a shoulder to the sick and wounded, but his heart is not really engaged with the work he does, and his troubles begin to weigh him down significantly. When a traveling circus that was bequeathed to the hospital by a reclusive millionaire comes to the hospital grounds, Whiting's life begins to take an unusual turn. At first he's asked to provide a blessing over the circus and later to perform Mass and provide pastoral care to the circus performers. Suddenly Whiting is expectant and hopeful, full of the life and vigor that he once had so abundantly. But there are dark secrets swirling around the circus and their mission, and before long, Whiting is engaged in a very strange and surreal relationship with the enigmatic Nikolai, the trapeze artist. To complicate things further, Whiting's relationship with Sarah begins to take on a strange cast as well, and it becomes obvious that in Whiting's heart both the circus and its performers are vying with God for a place in Whiting's heart. In this curious and remarkable novel, a man of God undergoes a series of humbling and unsettling changes that will leave him markedly changed, defying not only his expectations of himself, but of others as well.

Despite its odd premise, this book was actually a rather successful read for me, and most of that hinged on the fact that Samuel Whiting was such a genuine character who was easy to relate to. He was bumbling. He was anxious and had all sorts of mental proclivities that I wouldn't exactly call healthy. Above all, it was his insecurity and indecisiveness that really made me take notice of him. Above all things, I think Samuel wanted to love and be loved, but the strictures of his calling placed severe limitations on his ability to both give and receive the kind of love most of us take for granted. He talked to himself and tried to assuage his nervous feelings by engaging in self-therapy, but this did little besides making him more anxious and unsure of himself. Samuel was an odd duck whom I could relate to more than I expected. In his efforts to give himself completely to his work and calling, he somehow disastrously lost his way, and the consequences were dire. One reason he was such a compelling character was that he was constantly growing as the narrative spun its web. His reluctance to be confrontational became a desire for conflict and his heart was ever on his sleeve in some alarming ways. He took chances and risked a hell of a lot, even when it wasn't in his best interest to do so.

I also really ended up disliking Sarah, whose relationship to Whiting was integral to the book. I found her to be foppish and narcissistic and quickly grew to hate her long before Whiting ever began to reevaluate his opinions of her. She was so involved with her own self-promotion that it was easy to see she really didn't understand or reflect on Samuel at all. With all of her being, she desired to be loved just as much as Samuel did, but in a more selfish and egocentric way. Positioning herself as some strange rival to Whiting was the last straw, and I was glad when she got her comeuppance. In addition, I was glad that Whiting's passion for her seemed to abate after a confession was revealed. Whiting, being a priest and having taken vows of chastity, was not free to love her, but it made sense and it was very human that he did so anyway. I enjoyed his revelation that she was not what he thought her to be, and even though his affections roved to an even more inappropriate target, I was glad that the blinders finally came off when they did.

Another thing I greatly enjoyed was the behind the scenes view it gave of the circus. It's rare for a book to provide a look at this type of lifestyle and entertainment from such a perspective, and by imbuing the circus with a dark secret, as was done here, the level of intrigue was increased exponentially. Whiting's eventual preoccupation with the circus was something that developed over time, but as it did, it began to change the man in some startling ways. He began to experience uncomfortable jealousy and intense passion, and the reserve that usually accompanies the clergy began to drop away. This only made him more human in my eyes and heightened the effect of Whiting's desire to lose himself in some ways. This strange attraction began to shape the book in some very diverting directions and changed what was once a staid and sensible narrative into something that was more wild and uninhibited.

I know this book hasn't gotten a lot of press, but I think it moves so far beyond its boundaries that many readers would find something special about the story and the gravity with which Tressler tells it (no pun intended). It was remarkable not only for the story it told but for the intense focus on a character that many of us will see a resemblance to, and I do recommend it heartily to those who are looking for something that is just far enough out of the box to be unusual and compelling. A very robust and emotionally astute read.
---
Great news! Anene Tressler has generously offered one copy of Dancing with Gravity to one lucky reader of my blog. To enter, all you have to do is fill out the entry form at the bottom of this page. Giveaway is open to to those in the U.S. and Canada only. Good Luck to all entrants!
---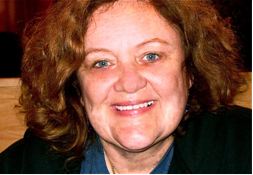 About the Author

Anene is an award-winning fiction and poetry writer whose work has appeared in Best of Writers at Work anthology, The Distillery, Treasure House, Currents, River Blossoms Lit Mag and Word Wright's. While at UMSL, she won the English Department's annual prizes for fiction and for poetry and she has studied with Richard Bausch at Johns Hopkins, Nicholas Delbanco at Breadloaf, Claire Messud at Sewanee, Lorrie Moore at Vermont Studio Center, and Robert Olmstead at Rappahannnock. She also attended two workshops at the University of Iowa's summer program and spent a month at Wellspring House in Massachusetts. Most recently, she has taken two semester-long poetry classes with David Clewell, poet laureate of Missouri. She holds undergraduate degrees in Communications and Nursing from Saint Louis University, Masters Degrees from Washington University and the University of Missouri, St. Louis, and she teaches scriptwriting and media writing as an adjunct professor in the School of Communications at Webster University. After making a change in focus from fiction and poetry to running a successful company specializing in corporate communications, print and film/video production and meetings, she is back hard at work in the world of literature.
---
A warm thanks to TLC Book Tours for providing this book for me to read and review. Please continue to follow the tour by visiting these other blogs:



| | |
| --- | --- |
| Monday, April 4th: | Well Read Wife |
| Wednesday, April 6th: | This That and the Other Thing |
| Thursday, April 7th: | Suko's Notebook |
| Monday, April 11th: | Raging Bibliomania |
| Wednesday, April 13th: | Rundpinne |
| Monday, April 18th: | Life is Short. Read Fast. |
| Tuesday, April 19th: | Simply Stacie |
| Wednesday, April 20th: | Day by Day in Our World |
| Thursday, April 21st: | Overstuffed |
| Monday, April 25th: | Book Club Classics! |
| Wednesday, April 27th: | Musings of an All Purpose Monkey |
| Thursday, April 28th: | Book Addiction |
---
---
This book was provided as a complimentary review copy.