In the 1970s Larry Ott, also known as "Scary Larry" to the residents of his small Mississippi town, was accused of raping and murdering a local girl after taking her out on a date and returning home without her. Because no evidence or body was ever found to convict him, Larry was never charged with the murder but has had to live with the stigma all these years. Larry, a working class white man, is somewhat asocial and was considered strange even before the disappearance of the girl, and is now ostracized by the community. Now, many years later, another local girl has gone missing and Larry is the prime suspect. The small town is also home to the African-American constable, Silas Jones, who was once a boyhood friend of Scary Larry. Silas fled the small town after high school to play college ball but eventually returned to Mississippi, not having been able to forget the years and memories he collected there. Now estranged, the two men will come together over the unlikely circumstances surrounding the missing girl's whereabouts, and the past between Silas and Larry will be uncovered for the whole community to witness. Both tense and perfectly paced,
Crooked Letter, Crooked Letter
is a masterpiece of suspense that sheds its secrets in onion-like layers as the story weaves between the present and the past.
One of the things I liked best about this story was how atmospheric and evocative it was. I could feel the damp heat of the small Mississippi town and hear the insects buzzing around the characters' ears as I read, and I felt that Franklin did a lot to pull his readers into the story with his descriptive prowess. As the narrative moved forward, I began to see the town's insolvency and corrosion as physical forces in the story, and from the first, it was these things that made indelible marks upon my mind as I read and experienced the tale that Franklin so expertly tells. He also used a technique that I found very effective, which was that his sentence style was abbreviated, giving the story a conversational and convivial feeling despite the dark undercurrents of the narrative.
As Silas Jones, nicknamed "32," goes about his business as constable, there was an undercurrent to his observations of the town. He and the others in his community are living in a dead-end town, and they all know it. Silas does his best to keep his memories about Larry out of his mind, but as things begin to escalate and Larry is put into danger, Silas begins to display some strange regard for this man and his property. Since not much is revealed about the history between the two at this point in the book, I began to speculate over what had gone on between them and why Silas went out of his way to ignore Larry yet still harbored curiosity and concern for him. As things progressed, I began to see that the altruistic Silas was not who I thought he was, and that the secrets he kept had more to do with protecting his image and status than being malicious.
Though he was a little strange and asocial, for most of the book I felt sorry for Larry because, for one reason or another, he was always the underdog and was constantly being slighted, maltreated and teased. It was heartbreaking to consider the realities of Larry's existence, and what made it worse was that he was so trusting and naïve. Larry had a tough row to hoe because when he was growing up he was very lonely and was ignored by the other white children around him. This was why he eventually made a bid for Silas' friendship. Larry also had to deal with a father who was cold and unresponsive and who could be very cruel to the boy. When Larry's father uses his ire to separate Silas and Larry, the boys, once friends, become combatants. Larry's life only gets more complicated after his date goes missing and he takes on the town's hatred.
There was a lot of chronicling of racial prejudice in this book and the n-word was used liberally. These scenes, uncensored as they were, were hard to read and digest, and they made me a little uncomfortable, but they did give the story plausibility and credibility. Franklin's style of writing was very evocative and beautiful while still being tense and suspenseful. Though there was not a lot of mystery to the identity of the kidnapper and murderer of the second girl, the fact that Franklin balanced what amounted to two suspense plot lines in addition to the story of Larry and Silas' past really impressed me. It was the kind of story that kept me pushing through the pages, and this was not only because the story was compelling, but because Franklin uses his ability to craft narrative and dialogue expertly. The book provoked a lot of uncomfortable emotions in me, and in Franklin's vacillation between the past and the present there was regret, sorrow and shame, but ultimately, hope as well.
This was not your typical suspense/thriller, and though it had all the components of books of that genre, it was far more literary and dense. There has been a lot said about this book, and I'm not sure if I've added anything new to the discussion, but I will echo others and say this was an extremely worthy read and one that shouldn't be missed. Franklin does an excellent job not only with his characters, but with the braiding of the stories he creates. An excellent and compelling read. Recommended.
---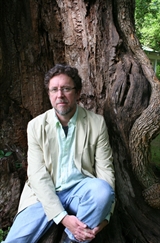 About the Author
Tom Franklin is the author of Poachers, Hell at the Breech and Smonk. Winner of a 2001 Guggenheim Fellowship, he teaches in the University of Mississippi's MFA program and lives in Oxford, Mississippi, with his wife, the poet Beth Ann Fennelly, and their children.
---
A warm thanks to TLC Book Tours for providing this book for me to read and review. Please continue to follow the tour by visiting these other blogs:



| | |
| --- | --- |
| Tuesday, May 17th: | Eclectic/Eccentric |
| Wednesday, May 18th: | Book Journey |
| Thursday, May 19th: | Jenn's Bookshelves |
| Monday, May 23rd: | That's What She Read |
| Tuesday, May 24th: | Chronicles of a Country Girl |
| Wednesday, May 25th: | Lit and Life |
| Wednesday, May 25th: | Helen's Book Blog |
| Thursday, May 26th: | Life In Review |
| Tuesday, May 31st: | Raging Bibliomania |
| Wednesday, June 1st: | Life in the Thumb |
| Thursday, June 2nd: | Diary of a Stay at Home Mom |
| Tuesday, June 7th: | Jo-Jo Loves to Read! |
| Wednesday, June 8th: | Debbie's Book Bag |
| Thursday, June 9th: | Books and Movies |
| Friday, June 10th: | My Reading Room |
| Monday, June 13th: | Wordsmithonia |
| Tuesday, June 14th: | Crazy for Books |
| Wednesday, June 15th: | Teresa's Reading Corner |
| Thursday, June 16th: | Unputdownables |
| Friday, June 17th: | Rundpinne |
---
This book was provided as a complimentary review copy.