Bess Gray is a thirty-something folklorist living in Washington, D.C. Though she has a great career and the love and support of good friends and family, what Bess really hungers for is a serious relationship that will one day lead to marriage and a family. Through the urging of a friend, she decides to throw a singles mixer in her large apartment one evening, inviting a group of random strangers over to find a potential mate. It's on this evening that she meets Rory, a handsome Irish expatriate who plays the fiddle and is disarmingly funny. Before Bess really realizes what's happening, Rory is a main fixture in her life and the two are inching their way towards the kind of commitment Bess craves. But Rory has a secret, because although he seems to be the perfect man, he has actually been married eight times previously. When he finally comes clean to Bess about this, their relationship goes from harmonious to troubled in the blink of an eye.
Now Bess is on a quest to meet and interview all of Rory's ex-wives to find out just what kind of man marries and divorces eight women, and ultimately discover if Rory is the right man for her. Taking advantage of a trip to relocate her beloved grandparents to their new home, Bess takes off across the country to discover all that she can about Rory. Along the way she must confront not only the difficult and frightening situation between her grandparents but must also help as the friend she is traveling confronts his own demons from the past. In this incredibly involving and heartfelt tale, Amy Stolls gives us the unlikely romance between a man who compulsively says "I do" and the woman who has lately come to love him.
From the very first, I was drawn into this story that alternated between chapters that chronicle Rory's eight marriages and the opposite story of Bess' everyday struggle through singledom and her eventual love affair with Rory. The dual narrative had the effect of letting me in on certain aspects of the tale while keeping a good portion hidden, and it really ratcheted up the intrigue as I was constantly wondering when and where the two stories would finally intersect. The book was also filled with crisp and witty dialog that kept my mind entertained my eyebrows raised.
Rory was a very interesting character, and I would have to say, a perfect match for Bess. He was a sensitive and caring man who longed to have a committed and stable relationship but for whom things had never quite worked out. Stolls does an amazing job of summarizing Rory's past relationships, making each of the eight plausible and credible and not just the result of his being addicted to women, or marriage for that matter. A lot of Rory's experiences in marriage and subsequent divorces were not solely his fault, and it was easy to see that some of the women he had married had other priorities that weighed more heavily on them. Of course, there were a few times that Rory completely dropped the ball and had in fact ended things for peculiar reasons. These failed relationships shouldn't have been marriages, but Rory's romantic nature kept leading him to walk these women down the isle instead of just dating them.
When Bess discovers Rory's secret she is understandably overwhelmed and begins to pull away from him incrementally. It's not so hard to understand that she would do this, as I think it was a realistic reaction on her part. How can she be with a man who thinks so lightly of an institution that she herself has such great respect for? She eventually decides that it might be better to do a little investigation and meet as many of the wives Rory left behind as she can find. Throughout Bess' search, and through the other subplots of the narrative, Stolls explores marriage in all its complexities and asks piercing questions about the bonds that we form before, during and after marriage, and about identity in the singular and plural sense of coupledom. Stolls' ability to get her readers pondering and asking questions, not only about her characters but about themselves, was done with a deftness and sensitivity that I found truly refreshing.
But meeting the women doesn't go exactly as she planned, and aside from her mission, Bess comes to discover a very frightening and dangerous secret about the relationship between her grandparents that may change not only her future, but theirs as well. Blended expertly into the mix of this very eclectic story are some of the most interesting and compelling characters you will find within the pages of any book. From Bess' homosexual neighbor Cricket, who finagles his way on the cross-country trip, to the grandparents' mentally challenged neighbor Gerald, a man-boy who may be more important to Bess than she could ever realize, to the irrepressible couple that Bess knows as her gram and gramps, Stolls fills her story with unique people, proving that she's not only creative, but socially aware as well. Stolls has a gift in creating characters that are not only full of depth and nuance, but quirky and ingenious in their own right.
I loved this book and read compulsively all the way to the end, wondering what was to become of Rory, Bess, and the cast of colorful characters that populated the pages. This is a book to get lost in and savor, and Stolls' ability to tell an uncommon and extraordinary story will please any reader who loves to get caught up in the absurd and yet somehow commonplace. A great read that kept me turning pages. Recommended heartily.
---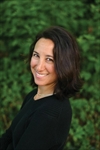 About the Author

Amy Stolls's young adult novel Palms to the Ground was published in 2005 to critical acclaim and a Parents' Choice Gold Award. She spent years as a journalist covering the Exxon Valdez oil spill in Alaska before she received an MFA in creative writing from American University. Currently, she is the literature program officer for the National Endowment for the Arts, where she has worked since 1998, advising and collaborating with thousands of writers, translators, editors, booksellers, publishers, educators, and presenters nationwide to keep literature a vital part of American society. She lives in Washington, D.C., with her husband and two-year-old son.

Follow Amy on Facebook.
Amy Stolls Discusses
The Ninth Wife
on
Blog Talk Radio
.
---
A warm thanks to TLC Book Tours for providing this book for me to read and review. Please continue to follow the tour by visiting these other blogs:



| | |
| --- | --- |
| Tuesday, May 10th: | Sara's Organized Chaos |
| Wednesday, May 11th: | Acting Balanced |
| Tuesday, May 17th: | The Bodacious Pen |
| Wednesday, May 18th: | Bloggin' 'Bout Books |
| Thursday, May 19th: | Raging Bibliomania |
| Monday, May 23rd: | Colloquium |
| Tuesday, May 24th: | Good Girl Gone Redneck |
| Thursday, May 26th: | Rundpinne |
| Friday, May 27th: | Books Like Breathing |
| Tuesday, May 31st: | Book Club Classics! |
| Wednesday, June 1st: | Reading Through Life |
---
This book was provided as a complimentary review copy.