When Ruby Donaldson learns she is afflicted by Alzheimer's, or Big Al as she calls it, she decides she's not going to hang around in limbo as she becomes a shell of her former self. As she organizes and reorganizes her life to leave her family safe and well taken care of after her eventual succumbing to the inevitable, Ruby is consumed with creating a future that she will likely not be a part of for those she loves.
Although Ruby is working overtime to cobble together a future for her family, she still has a lot to concern herself with in day-to-day life. Ruby runs a salon out of the home she shares with her daughter Grace, a woman who is mildly learning disabled and whose past is burdened by a secret that has torn her family apart. Then there is Liz, Ruby's other daughter who lives far from the island and who despises and vilifies her mother. Ruby is also surrounded by her lover of many years, Mark, and his preteen daughter, Jocelyn.
As she tries to keep the secret of her Alzheimer's to herself, her family life begins to spill out of control. For Liz, it's an addiction to alcohol that has taken away her career and potential for friendships. For Mark and Jocelyn, it's a father-daughter tug-of-war for independence and dominance; and for Grace, it's the resurfacing of memories that have been locked away for too long. When Ruby's disease begins to advance, the time to make family reparations grows short, and it's only when both Ruby and the people surrounding her learn to forgive that there's a chance for the healing and restoration of her family. But it all needs to happen quickly, as Big Al is working overtime on Ruby's mind and pushing her toward an inexorable decision that will change her life and the lives of those in her family forever.
This book was a tough customer emotionally. I've read books about terminal illness and the pathos it creates before, but Simmons really outdid herself when it came to portraying the potency and fire of these situations. Never before have I seen such emotional conflict or been witness to such destructive and flawed characters. Though each character had their own reasons for their anger and their actions, a lot of the time their actions seemed ultra caustic and spine-numbingly cruel. Needless to say, this made for a most intriguing reading experience and left me scanning the pages with my mouth hanging open in awe most of the time. These characters were far from PC and they didn't care who knew it. I liked them and hated them at the same time, but what I really admired was Simmons' ability to keep the emotional stakes high and tingling at all times.
Ruby is a resourceful and energetic woman, which is one of the reasons her diagnosis is so hard for her to swallow. She has issues with control, and I think part of the problem she had with accepting the Alzheimer's was that she would have to slowly cede all control over to the illness, despite her efforts to hang on. But Ruby's quest for control could be damaging at times, especially in her relationship with her daughter Grace. Using her disability as an excuse, Ruby becomes an iron fist of dominance in Grace's life. She spies on her computer habits, forbids her from contacting her sister, and keeps her close to home at all times. But this is not the only flaw in Ruby's character, because she has volatile relationships with all the people around her, from her other daughter Liz, to her lover Mark and his daughter. I found it interesting that I could care about Ruby's prognosis and degeneration because, frankly, she was a witch. She ran roughshod over everyone and took over whenever she got a toehold in someone's life. She was not a nice or loving person, and at times she was supremely selfish, but Simmons made her so real and human that I couldn't help but get invested in her plight.
The two sisters, Liz and Grace, were as different as night and day. Liz, an unrepentant and belligerent drunk, had basically washed out of her career as a lawyer and was harboring some deep-seated issues with her mother. When Liz is compelled to help a friend, she comes to realize that she does indeed still have potential and she can heal from the wounds she's inflicted upon herself. Grace, on the other hand, was an innocent who was domineered by her mother. It was sad to watch her being limited in every sense of the word by a mother who felt she needed protection from herself and the world around her. Though Grace had difficulties in her past, she is loving, kind and is able to manage her life far more capably than anyone in her family suspects. As the sisters deal with life and their mother in their own ways, they prove to be just as persistent and unstoppable as Ruby in their own fashion and time.
Thematically this book dealt with a lot of issues and it made me ask myself a lot of questions. What is the ultimate end of control, and who does it benefit when a life is restricted by the overarching domination of another? Who's to say when infirmity trumps quality of life, and is forgiveness of past transgressions always possible? Though this book attempts to solve these and many other issues, the outcome is not always what's expected, and the road to restoration can be brutal and indelicate as the characters twist and contort themselves into a semblance of normality. it was a brave story, and for all its abruptness and ugliness, it felt true and realistic. In asking these questions and creating this rich drama for her characters to fight their way through, Simmons slices her way down to the nucleus of what it means to be alive and to fight for that life. As many have probably said before, the ending was rather shocking and sad, but it also had the hallmark of plausibility and credibility and it made the book all the more poignant and heartbreaking
If you're the type of reader who likes a meaty story that will suck you into the pages, and relishes characters whom you can love and hate at the same time, you'll doubtlessly love this book. Island Girl is not only a timely story, it's one that's imbued with some of the toughest emotions and situations that I've ever come across in a fictional work, and it's a story I won't soon forget. Both taut and psychologically penetrating, this is a book that will get people talking and will live on in your mind long after the final page is turned. Highly recommended.
Great news! Lynda Simmons has graciously offered to give two copies of Island Girl to two of my readers. If you're interested in winning a copy for yourself, please fill out the form below and good luck! This contest is open to residents of the US and Canada only.
---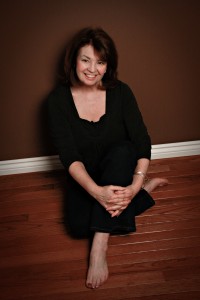 About the Author

Lynda Simmons is a writer by day, college instructor by night and a late sleeper on weekends. She grew up in Toronto reading Greek mythology, bringing home stray cats and making up stories about bodies in the basement. From an early age, her family knew she would either end up as a writer or the old lady with a hundred cats. As luck would have it, she married a man with allergies so writing it was.

With two daughters to raise, Lynda and her husband moved into a lovely two story mortgage in Burlington, a small city on the water just outside Toronto. While the girls are grown and gone, Lynda and her husband are still there. And yes, there is a cat – a beautiful, if spoiled, Birman.

When she's not writing or teaching, Lynda gives serious thought to using the treadmill in her basement. Fortunately, she's found that if she waits long enough, something urgent will pop up and save her – like a phone call or an e-mail or a whistling kettle. Or even that cat just looking for a little more attention!

To learn more about Lynda and her work, visit her website or check her out on Facebook.
---
A warm thanks to TLC Book Tours for providing this book for me to read and review. Please continue to follow the tour by visiting these other blogs:



Monday, May 16th:
Lit and Life
Tuesday, May 17th:
A Library of My Own - author interview
Tuesday, May 17th:
A Library of My Own - review
Wednesday, May 18th:
Book Reviews by Molly
Thursday, May 19th:
Acting Balanced
Friday, May 20th:
Knowing the Difference
Monday, May 23rd:
Life in Review
Tuesday, May 24th:
Rundpinne
Wednesday, May 25th:
Reviews from the Heart
Friday, May 27th:
BookNAround
Tuesday, May 31st:
Teresa's Reading Corner
Author Guest Post: "Writer's Block"
Tuesday, May 31st:
Teresa's Reading Corner - review
Wednesday, June 1st:
Book Club Classics!
Monday, June 6th:
A Cozy Reader's Corner
Tuesday, June 7th:
Book Bird Dog
Wednesday, June 8th:
Raging Bibliomania
Thursday, June 9th:
Hey, I Want to Read That
Monday, June 13th:
Peeking Between the Pages
Date TBD:
Colloquium
---
This book was provided as a complimentary review copy.