In this novel of vignettes, six women gather to celebrate their friend Kate's remission from breast cancer. As they gather for a wonderful night of shared conversation and good food, Kate levels a challenge to each of the women assembled. Each woman is going through a rough patch in her life and Kate's task for each of them is designed to make them take stock of their life and help propel them forward from their static situations. Both lyrical and wise, Bauermeister's second novel of stories touches on the resiliency and wonder of womanhood, and expounds on the remarkable journeys that each woman must take to become whole and sound.
One of the things I found unique about this book was the fact that it was a group of interconnected stories held together by tiny threads that reverberated throughout the shared narrative. It was a lot like
Olive Kitteridge
in this way, and each woman got the chance to have her moment in the spotlight and her eventual reckoning when it came to performing her task. Each woman was unique and all were at very different stages in their lives, but there was something about them that made them all seem familiar. I think it was easy for me to single out particular character traits from all the women and morph them into a semblance of who I was, which enabled me to sympathize with even the colder and more remote characters.
As each woman's life is uncovered, they are all tasked with the kinds of things that will help them see life from another angle: whether striking out independently and doing something entirely for and by themselves, or pruning the solitude of their lives and making room for happiness in their hearts, or making an irreversible decision that one particular woman has been avoiding for years, Kate hits on the exact formula for each woman that will help them erase their bonds from the past and present and send them spiraling into a fresh and unknown future. Kate even sets a challenge for herself and finds herself reclaiming her life and diving into adventure after her remission from cancer. She, like all the other women, discovers that she can once again hold her future in her hands.
Bauermeister does a great job incorporating all sorts of elements into her story, and fans of her first book will be excited to hear that there are a lot of delicious foodie moments in this book as well. There are also some great passages about the love of books, and that, going hand in hand with the foodie portions, made me a very happy reader indeed. This book both delicately and resoundingly shares the viewpoints and experiences of women who are stuck in the everyday conundrums and difficulties that life forces on them, and in their struggles to complete their challenges and change their fates, each woman learns to become the center of her own joy and fulfillment. It was a heady message, and one that Bauermeister effortlessly crafts between each of her female leads and their plights. I thought there was a lot here that fully embodied the experiences of being a woman and that highlighted some of the difficulties and joys that reverberate through the lives of women everywhere. Bauermeister does a wonderful job of making these women realistic and sympathetic, and though there really isn't a cogent narrative thread running throughout, there was never a lack of emotion, feeling or urgency to the story she tells. Each woman has her moment in the sun and steps forward, changed and renewed, giving Kate's challenge meaning and portent.
Though I think I enjoyed
The School of Essential Ingredients
just a tad more than I did this book, I found the story to be very cleverly put together and liked what Bauermeister was able to create with this collage of women and women's issues. It was a book that was easy to relate to, and I'm confident that each female reader will find her counterpart within these pages. A very melodious and comfortable read that had a lot to say about the realities of being a woman. Recommended.
Great news! The publisher of
Joy for Beginners
is offering one copy of the book to one lucky reader. If you're interested in winning a copy for yourself, please fill out the form below and good luck! This contest is open to residents of the US and Canada only.
---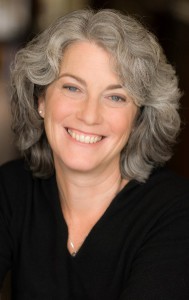 About the Author
Erica Bauermeister is the author of the national bestseller The School of Essential Ingredients. She lives in Seattle with her family.

Connect with Erica on her website and on her Facebook page.

---
A warm thanks to TLC Book Tours for providing this book for me to read and review. Please continue to follow the tour by visiting these other blogs:



| | |
| --- | --- |
| Monday, June 6th: | Peeking Between the Pages |
| Tuesday, June 7th: | Raging Bibliomania |
| Wednesday, June 8th: | Books, Movies, and Chinese Food |
| Thursday, June 9th: | Jenny Loves to Read |
| Friday, June 10th: | Amusing Reviews |
| Monday, June 13th: | Book Club Classics! |
| Tuesday, June 14th: | 2 Kids and Tired |
| Wednesday, June 15th: | Books and Movies |
| Thursday, June 16th: | Joyfully Retired |
| Friday, June 17th: | Redlady's Reading Room |
| Monday, June 20th: | Luxury Reading |
| Tuesday, June 21st: | Teresa's Reading Corner |
| Wednesday, June 22nd: | Rundpinne |
| Thursday, June 23rd: | Lit and Life |
| Friday, June 24th: | Lori's Reading Corner |
| Monday, June 27th: | The Brain Lair |
| Tuesday,June 28th: | Library of Clean Reads |
| Wednesday, June 29th: | Life in Review |
| Thursday, June 30th: | POOF…books. |
| Date TBD: | Bookish Ruth |
---
This book was provided as a complimentary review copy.