When young Charulata Apte is sent to Miss Timmins' School for Girls as a new teacher, she is sheltered, shy and reclusive. Believing herself to be disfigured by a birthmark on her face, Charu spends a lot of her time fading into the background and observing the world from behind her dark curtain of hair. Navigating her way among the other teachers and students, Charu is suddenly swept up into a curious relationship with one of the more unconventional and wayward teachers, Ms. Moira Prince, and this relationship begins to change the reserved and quiet Charu in ways that no one can imagine. But when Moira is murdered and rumors fly through the school, Charu finds herself at the center of a controversy regarding Ms. Prince. Added to this mysterious murder is Charu's new and unpredictable relationship with a man named Merch and the wayward drifters he spends time with, and Charu's increasingly difficult relationship with her parents, whose hidden secrets have finally burst forth in destructive and powerful ways. In this novel of India during the 1970s, one year of boarding school mayhem and an unexpected murder is examined through the myopic lens of those who reside inside Miss Timmins' School for Girls and the surrounding area.
I have to admit that I had a really hard time with this book for a lot of reasons. Normally I love books set in and around India, and the time period the book took place in was also a boon for me. But for some reason, the amalgamation of all these elements coupled with the plot and characters just didn't work for me. It all came across as sort of a jumble, and I was glad to have finally turned the last page and called it quits. Stylistically, I felt this book had a lot in common with The God of Small Things, which is another read that although beloved by others, just didn't work for me.
One of the main problems I had with the book was the sheer overabundance of characters. Each was given a brief description and then sort of disappeared from view for a while until they would make their second and third appearance and I would have forgotten every description I had read earlier. They were all just so amorphous and fuzzy, these many characters, and for some reason even the characters that weren't given short shrift lacked subtle definition. The one character I felt that I got to know well was the protagonist, Charu, and what I knew of her, I liked. I thought her moral and mental indecision was very realistic and I grew invested in finding out what would eventually happen to her. Unfortunately, the other characters just didn't stick with me and I was unable to form any type of connection with them, which made me feel curiously detached from the story.
I also had a problem with the plot, or really, the lack of it. I can only assume this book was meant to be a character study of Charu, because the murder of Ms. Prince was literally the only thing that happened here, and it was examined from so many angles and garnished with so many rumors that I quickly became exhausted with it. How many times can you go around and around about the same plot point without it becoming tedious? I grew to resent the fact that this crime was so all-inclusive and important to the story, and felt that the author was beating the reader over the head with the significance, repercussions and nuances of the murder. At a certain point, I didn't care anymore, and the more it was harped on, the more I felt like I just wanted to close the book and be done with it. One significant plot point does not a book make, and though the writing was elegant and lush, I found myself becoming ever more frustrated with the way the book kept circling the same events over and over again. This is not to say that the murder was the only thing that happened in the book, but that it was the focal point for too long in in too many ways. I would have liked to have learned more about Charu and her family, or possibly have seen more information about the townsfolk that populated the area.
There were some aspects of the book that I did like even though most of it didn't work for me. I liked the atmosphere of 1970s India during the monsoons and felt that the book drew a lot of tension and ambiance from the setting, which was pitch perfect. I also really adored the protagonist, Charu, and felt her fears and worries were very credible and understandable. The prose was tightly and expertly crafted, and I found certain sections of the book to be written with a very solid and artistic style. If not for the other problems I had with the plot and characters, this probably would have made for a tremendous reading experience for me. I can imagine that I'm probably going to be in the minority with my opinions on this book, which is fine with me, but I feel like the book could have been so much more with just a little bit of careful editing and trimming of fat.
Though I wasn't overly fond of this book, it did have its moments and I can imagine that there are many readers out there who might like it. In spite of the difficulties I had with it, there are some scenes that stick in my mind and that I know will be hard to forget. I think this book will end up being very polarizing, with two camps forming between love and hate, and while I wouldn't exactly say I hated it, I can say that it wasn't at all what I had been expecting. A dark and mysterious read that although uneven was still haunting.
---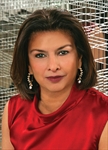 About the Author

Nayana Currimbhoy was raised in India where she attended an all-girls boarding school in a fairly remote hill station. She moved to the U.S. in the early eighties, and has been a businesswoman and a freelance writer. She has written books, film scripts, and articles about many things, including architecture and design, and a biography of India Gandhi. Miss Timmins' School for Girls is her first novel. Nayana lives in New York City with her husband, an architect, and their teenage daughter.
---
A warm thanks to TLC Book Tours for providing this book for me to read and review. Please continue to follow the tour by visiting these other blogs:



| | |
| --- | --- |
| Tuesday, June 21st: | Dolce Bellezza |
| Wednesday, June 22nd: | The Lost Entwife |
| Thursday, June 23rd: | Bookworm's Dinner |
| Monday, June 27th: | Raging Bibliomania |
| Tuesday, June 28th: | Steph and Tony Investigate |
| Wednesday, June 29th: | Book Journey |
| Tuesday, July 5th: | Life In Review |
| Wednesday, July 6th: | Reading Through Life |
| Thursday, July 7th: | Rundpinne |
| Monday, July 11th: | Alison's Book Marks |
| Tuesday, July 12th: | The House of the Seven Tails |
| Wednesday, July 13th: | Unabridged Chick |
---
This book was provided as a complimentary review copy.