Cam Lightsey is confused about what's going on with her seventeen year old daughter, Aubrey. Though the two had been very close virtually Aubrey's whole life, these days Aubrey is moody, secretive and just plain recalcitrant. Cam, a lactation consultant that some call "the boob whisperer" is not only dealing with Aubrey's recent shift in behavior but also the resentment she still feels for her ex-husband, Martin. While Cam is running herself into the ground trying to get Aubrey ready to board a plane that will take her to college, Aubrey herself is learning that she isn't exactly who she once thought she was and is undergoing a complete personality change. Although Cam and Aubrey are caught in the middle of a ferocious tug-of-war over control and expectations, neither can deny that they are both changing and moving away from each other. After an unexpected contact occurs between Martin and Aubrey, things begin to shift into overdrive between Cam and Aubrey. How can Cam make Aubrey see that college and breaking away are the most important things that will ever happen in her life when Aubrey refuses to speak to her? And how can Aubrey ever explain to her mother that she isn't the girl she used to be and that her passions and interests have been dramatically altered? In this tale of a mother and daughter who can't see eye to eye, Sarah Bird captures the struggle of a mother's need to release her daughter to her own future and a daughter's need to realistically assert her independence. At times sharp and always funny, Bird gives us a peek into the lives of a very headstrong pair of women and shows us that life can't always be coordinated and prescribed as many think it can.
Essentially this book is about the deep chasm that forms between a mother and daughter who have very different ideas about what the future should hold for them. For mothers of teenage daughters, a lot of the fights and conundrums will feel very familiar, perhaps as though Bird has been spying on us! But what was different about this book was that while it had some very serious and frightening underpinnings, it was also raucously funny and witty. Just when the tension between mother and daughter seemed to reach astronomical levels, Bird would pull out her most engaging and hilarious material and set that in place to diffuse what would have otherwise been a very uncomfortable book. It was quite a feat to manage because, while one half of this book was tense and conflicted, the other half had me snorting with glee, which is something that doesn't often happen with books that deal with a teenage girl's rebellion.
And rebellion it was. Though Cam tries to be calm about what her daughter is doing and saying, it's clear that Aubrey's disregard and disrespect have cut her to the quick. Cam can't understand where all this deliberate mutiny is coming from, but as readers, we can not only understand but even sympathize. Though a lot of her new behavior centers around a boy she discovers she's crazy about, a lot of it also reflects her desire to break out of the mold that has kept her captive for so long. One couldn't help but think that things might have gone a little more smoothly had Aubrey even given the merest hint to Cam about her changing feelings, but the fact that she didn't seemed extremely realistic, and often very sad.
When Martin edges back into the picture, Cam is legitimately angry and even more confused than she's ever been before. Now Cam has to deal not only with Aubrey and her outrageous behavior, but with the man who left them all those years ago as well. The pitting of mother against daughter is always at center stage, but soon other acts begin to crowd for the limelight as well. In addition to the back and forth between Aubrey and Cam's perspective, there are also questions as to the logistics of raising a child as single working parent and issues of neighborhood snobbery. What's most realistic about this story is the way that the relationship between Cam and Aubrey seems to morph overnight. Many a mother will understand this on a deep and visceral level, and I think part of what Bird is trying to reflect back to her readers is that it's okay. This is normal and it's what happens, despite mothers all over the world who wish to will it away.
The only small niggle I had with this book was Bird's puzzling decision to eschew contractions in her writing, but other than that, this book rocked my sock off. It was wise and funny, and while it was honest, it was also sometimes sad. Bird seems to completely understand mothers and daughters and the rifts that can happen even in the strongest relationships. I didn't expect to like this one as much as I did, and while there was a lot here to wring my hands over, the ultimate message was uplifting and hopeful. I was fully engaged with this book and would speculate that even those readers who don't have daughters would be moved and enthralled with this tale that is both unusual and commonplace. Highly recommended.
---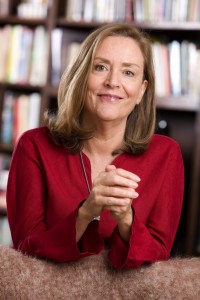 About the Author

Sarah Bird is the author of seven previous novels. She is a columnist for Texas Monthly and has contributed to many other magazines including O, The Oprah Magazine, The New York Times Magazine, Real Simple and Good Housekeeping. Sarah, the 2010 Johnston Dobie Paisano Fellow, makes her empty nest in Austin, Texas.

Connect with Sarah on her website, www.sarahbirdbooks.com, on Facebook, and on Twitter.
---
A warm thanks to TLC Book Tours for providing this book for me to read and review. Please continue to follow the tour by visiting these other blogs:



Monday, August 1st:
Raging Bibliomania
Tuesday, August 2nd:
The Singleton in the Kitchen
Wednesday, August 3rd:
Lit and Life
Thursday, August 4th:
Suko's Notebook
Monday, August 8th:
Lakeside Musings
Tuesday, August 9th:
My Random Acts of Reading
Wednesday, August 10th:
She is Too Fond of Books
(Spotlight on Bookstores Guest Post)
Thursday, August 11th:
Life in Review
Monday, August 15th:
Juggling Life
Wednesday, August 17th:
Books Distilled
Friday, August 19th:
BookNAround
Monday, August 22nd:
A Musing Reviews
Wednesday, August 24th:
All About {n}
Thursday, August 25th:
girlichef
---