Ellie Flaherty is a young woman living in a small town in Ireland who, after a series of small inconveniences, has just married her childhood sweetheart, John. But when John is seriously injured fighting in the Irish resistance against England, his injuries force Ellie to take some drastic measures. Due to their financial insolvency, there's no money for the operation that John needs to fully recover. Soon Ellie finds herself on a ship to America to begin working as a ladies' maid, with plans to send her pay home to John for his needs. But America is nothing like what Ellie had been expecting, and soon she's caught up in its siren song. Leapfrogging out of her job as a maid and on to bigger and better things, Ellie reinvents herself as a young cosmopolitan woman about the city and finds the freedom and elegance she never had in Ireland. Years pass when an unexpected event threatens to send her home to her life back on the farm, but Ellie isn't sure she's ready to leave behind the land of opportunity for a small backwater, despite the fact that she loves John deeply. In this country mouse/city mouse tale, Kate Kerrigan shares the story of a woman whose loyalties and heart are torn in two opposing directions, and the choices she must make to finally bring everything together.
Having recently read
Brooklyn
by Colm Toibin, I was eager to read another Irish immigrant story to see how the two tales were similar and how they differed. Generally, I enjoy these types of stories and find that I always learn a lot about history when I indulge myself with one of them. One of the key differences in this story from
Brooklyn
was its historical focus on the struggles Ireland had with England to win the freedom of their country. Though the plot wasn't totally centered around this conflict, there were a few pertinent pieces that hinged on this plot element, and through John's injury, Ellie gains the impetus to travel to America, where the bulk of this story really takes place.
Ellie was a wonderful character, and very human. Though she wasn't overly selfish, she was pragmatic about how much easier life was for her in America. She was sensitive to her family back home and knew that they also would fare better in America, but she never became pushy and overbearing with them. Ellie also had the kind of attitude that lent itself to the enjoyment of her new surroundings without ever becoming frivolous. The crux of her conundrum came when she discovered that she simply could not lead two very different lives, and that the life she wanted for herself might not be the life she had to settle for. This was a very hard choice for her to make, and her reactions and behavior upon making it were not only realistic, but potent. Though Ellie found a way to navigate America and make her situation work for her, in reality, her heart was at odds with itself over her separation from John. The situation was even more complex because Ellie and John had been in love since their childhood, and John's absence left a huge hole in Ellie's life.
Ellie's time in America was drawn with large strokes, and instead of minute detail, there was more of an overall encompassing of the large period of time she spent away from Ireland. I particularly enjoyed her first few American discoveries, such as indoor plumbing, telephones and electricity. What was interesting is that Kerrigan never seemed to mention that life in Ireland lacked all of these benefit but instead filled in that gap by showing Ellie's first reactions to these strange accouterments of life in the States. Her gradual immersion into an American lifestyle changed her in ways that made it hard for her to ever be that humble girl that left the farm, but it didn't taint her in ways that made it impossible for her to ever return. Most of the time I was reading, it was like looking through the eyes of a foreign stranger who was constantly surprised and delighted by the things that most Americans take for granted.
I must say a lot of this book surprised me, because it's not your typical immigrant tale. Sometimes I find that these stories have set patterns that they never stray away from. This tale wasn't like that. People didn't do the things that you expected them to do, and many of the issues were not handled in the way I had expected them to be. I enjoyed this because it made for a rather unpredictable and organic feeling story that intrigued me. Though I had been expecting the last third of the book to unravel in a very orderly and predictable way, Kerrigan mixed it up for her readers and gave them something other than the usual to chew on. From top to tail it was a bittersweet story, and it was such a pleasant read that I had a hard time putting it down.
Though there are other books out there that are similar to this one, I believe that Kerrigan's offering is a cut above due to the advanced character creation and narrative. Each section of this story seemed to build upon the last, creating a brilliant melange of a tale that readers who enjoy immigrant stories will love. It was a gentle tale, told with style, and I found that as I turned the last page, I wished I could continue on the journey with Ellie. I'm hopeful that the next time Kate Kerrigan plys her pen, she creates a heroine as delicious as Ellie Flaherty.
---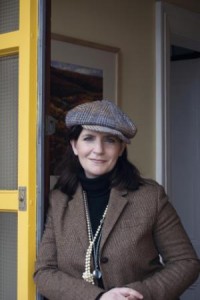 About the Author

Kate Kerrigan is the author of two previous novels in the United Kingdom. She lives in Ireland with her husband and their two sons.

Visit Kate's website at www.katekerrigan.ie and follow her on Twitter: @katekerrigan.
---
A warm thanks to TLC Book Tours for providing this book for me to read and review. Please continue to follow the tour by visiting these other blogs:



| | |
| --- | --- |
| Tuesday, June 28th: | 2 Kids and Tired Book Reviews |
| Wednesday, June 29th: | Life In Review |
| Tuesday, July 5th: | Dolce Bellezza |
| Wednesday, July 6th: | Rundpinne |
| Thursday, July 7th: | Reviews from the Heart |
| Monday, July 11th: | Book Addiction |
| Tuesday, July 12th: | Tina's Book Reviews |
| Wednesday, July 13th: | Colloquium |
| Tuesday, July 19th: | Raging Bibliomania |
| Thursday, July 21st: | A Cozy Reader's Corner |
| Wednesday, July 27th: | Peeking Between the Pages |
---
This book was provided as a complimentary review copy.