In this haunting and penetrating novel that explores the lives of a handful of Holocaust survivors, strangers and family alike become enmeshed in remembering a brutal history and creating a new and more peaceful future. For Pavel, a man who escaped a concentration camp, his new life as a displaced person in Germany is aided by his blatant opportunism. He's also taken in a woman named Fela and a boy much like himself named Chaim, who have both lost their families. As the three learn to live in a war-torn country, their hope is to one day emigrate to America, but after failure and betrayal, it's many years before they finally land in New York. Even then, things aren't what they had hoped. As the three start a new life, with Fela and Pavel marrying, and Chaim relocating to Palestine before coming to America, the lives they lead are drenched in the difficulties of assimilation. As three generations of the family recount their lives from the moment the Allies arrive in Germany to the year 2000, when lives have been altered and different circumstances lived, Displaced Persons shares the hopeful, yet at times grave circumstances of those in-between people who somehow survived the unthinkable.
One of the things I found most interesting about this book was that it examined the Holocaust form a very different perspective than most other books about WWII. In my opinion, the stories of survivors have the potential to be one of the most potent types of stories from this period. In Schwarz's portrayal of the difficulties these survivors faced, there was an elegant sorrow and a pervasive uphill climb for them to ever regain a sense of normalcy. The book opens just as the Allies are coming to the rescue of the Jews, so in fact, there aren't many details about the Holocaust in the pages. Instead the book focuses on the way these displaced persons deal with their circumstances, which are strangely more hopeful, yet also understandably reduced. While it's obvious they are grateful for their lives, at the same time they are broken and dispirited by their tremendous losses and the things they've experienced.
Part of the focus of the book was on Pavel and the makeshift family he surrounded himself with. Though he still has a few living relatives after these terrible circumstances have been wrought, he decides to provide a home for Fela and Chaim, and by providing both for them and himself, he regains a modicum of his stolen manhood. His love for Fela is something that grows over time, and after an inexplicable betrayal by a fellow survivor, he and Fela decide to unify and they eventually escape to America. Here they're met by Chaim and his new family, and even others who have immigrated to form a small pocket of survivors living in the States. As the book moves through time, Pavel and Chaim's families grow, but no matter how far into the future they reach, they cannot leave their shared past behind.
As survivors of a tragedy like this, they are of course resilient, but also suspicious and fretful. At times they fade into the background, afraid to make their grievances known, afraid to trust fully in their new circumstances. As I was reading, it was hard for me not to feel the waves of discomfort coming from these people. To feel their heartache like a stone in my throat. In a way they maintained a sense of innocence and incredulity, due to their inability to fully process what had been done to them and taken from them. In their grief they sometimes become emotionally closed off to each other and to the world around them. It was chilling and saddening to realize that many years later, they would still question new acquaintances about possible survivors. I can't even imagine the hope and terror that lives at the heart of a question like that. Sometimes it even seemed that they lived on the brink of an insidious paranoia, with all their joys tinged with a darkness that subtly revealed itself as they moved through their new lives.
At its heart, this was a book that, while enlightening, was also sometimes painful to read. It was a story that was steeped in the tragedy of the past but also in the ephemeral hope for the future. The characters in this tale maintained a passion for life but also harbored secret bruises that left them unable to exist in the same ways as others who hadn't been a part of the Holocaust . It was a tenuous balance for them to maintain, and sometimes they were more successful than others. I think most of this book centered on the very ways that the survivors tried to make their lives as plebeian and normal as possible, despite the very unusual and horrible tragedies of their past.
This was a very serious and emotionally sticky book, but one I'm glad I experienced, because it told a very well known tale from a very different perspective. While there seem to be a glut of books that deal with the WWII experience, this book felt very different, and because of that, the voices of the characters seemed fresher and more immediate. I think those readers who have a fascination with this time period and subject would do really well to pick up this book and give it a try. It was unusually beautiful, but it was also a book that made one stop and consider the impact that the war had on the victims and survivors.
---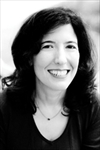 About the Author

Ghita Schwarz is a civil rights lawyer specializing in immigrants' rights. She lives in Brooklyn, New York. Displaced Persons was a finalist for the Foundation for Jewish Culture's Goldberg Prize for Outstanding Fiction.

Visit Gita at her website, gitaschwarz.com.
---
A warm thanks to TLC Book Tours for providing this book for me to read and review. Please continue to follow the tour by visiting these other blogs:



| | |
| --- | --- |
| Tuesday, August 23rd: | Reviews from the Heart |
| Wednesday, August 24th: | nomadreader |
| Thursday, August 25th: | Raging Bibliomania |
| Friday, August 26th: | Books Like Breathing |
| Tuesday, August 30th: | The House of the Seven Tails |
| Wednesday, August 31st: | Rundpinne |
| Thursday, September 1st: | Man of La Book |
| Friday, September 2nd: | Diary of an Eccentric |
| Monday, September 5th: | Life in the Thumb |
| Tuesday, September 6th: | Crazy for Books |
| Wednesday, September 7th: | Reading Through Life |
| Thursday, September 8th: | Life in Review |
| Friday, September 9th: | Diary of a Stay at Home Mom |
---
This book was provided as a complimentary review copy.