Tom Violet's life isn't what he had hoped it would be. Working for a soul-crushing company where his only jollies come from tormenting his overbearing and obnoxious coworker Gregory, Tom feels stuck and unfulfilled. He also may or may not have a crush on his pretty young assistant Katie, a woman who is as intelligent as she is beautiful. His father is one of the foremost American authors and has just won the Pulitzer, a fact which makes Tom proud and envious all at the same time. Topping it all off, Tom's penis seems to be malfunctioning, a problem exacerbated by the fact that his wife, Anna, is trying to become pregnant again. Though Tom has been languishing as a desk jockey for several years, he's just completed his first novel, a fact he's keeping secret from just about everybody, hoping he'll one day become an author of the same caliber as his father. When the economic crisis hits, Tom's job situation suddenly becomes dubiously strange, and while his feelings for Katie begin to mount, Tom's relationship with his wife is becoming more and more complicated. Soon Tom finds himself at a sticking point at work, at home, and with his novel. Will his self-deprecating wit and verve be enough to save him from sinking, or will Tom go under, desperately trying to cling to all he could possibly lose? In this hilariously funny and inventive debut, Matthew Norman gives us Tom Violet in all his goofball glory and takes us on a journey filled with laughter, absurdity and surprising poignancy.
This is another book I felt had a lot of appeal due to it's effortless comedy. In Norman's portrayal of sassy and witty Tom, there was hardly a page that didn't have me snorting with laughter. It was obvious that Tom's humor was an attempt to give himself a lot of the bravado that he felt had suddenly slipped away from his life, and that his hilarious asides were somewhat of a mask that he placed over his insecurities and self-doubt. It was a coping mechanism, and while it was intensely satisfying to read, smoothing out the narrative and giving the story its zest, it was also very humbling to witness the mental contortions that were basically keeping Tom afloat while his world began to slowly crash down around him.
And believe me, Tom had a lot going on. While at first it only seemed like one area of his life needed improvement (his job), soon all the other areas began to fray in a rapid and destructive way. I think that while the sections that focused on Tom's job provided a lot of levity, there was a realness to what he was going through that many people will recognize. I particularly loved Tom's interactions with Gregory because I think his unusual form of getting Gregory's goat was something that office denizens all over would applaud. These scenes were comic gold in my eyes, and for me, the most exciting parts of the book. Tom is also conflicted by the feelings that he has for his coworker, Katie, and though he tries to be as altruistic as possible about the trajectory of their relationship, the reality is much more unmanageable. I believe that Katie represented to Tom his fleeting youth and his desire to once again be carefree and desired. I also believe that these scenes were intensely realistic and at times emotionally tense. Every flicker of attraction that passed between them felt illicit and dangerous, though it was thinly veiled with the ever-present humor and lightheartedness that was a constant fixture of this book.
Tom's familial relationships were also areas that were filled with potential landmines. While his desire for his wife, Anna, is palpable, there was definitely something awry with their relationship, and Norman does a great job of making his readers really think about what's going on (or not going on, as it were) with them. Tom loves Anna and she loves him, but there's something just blow the surface that's causing disrepair between them, and it's not so easy for him to wish it away. Like Tom's relationship with Anna, things between Tom and his father, Curtis, aren't always easy to put the proverbial finger on either. Curtis is a arrogant and loud philanderer, and though father and son are very different, Curtis and Tom may share more traits than one might think. Add to this Curtis' new and random presence in his son's life, and Tom isn't the only one asking questions. Curtis is who Tom wishes to be, his success and magnetism both a lure and a tool for deflection, and though there are things about his father that Tom dislikes, his admiration and wonder for the man leaves him puzzling over his own life and the motives he has for writing his novel.
This was a book that managed to be both surprisingly funny yet also very deep, and it was a read that I had no problem getting invested in. It was a lot of fun to get a chance to hang out with the ever effervescent and wacky Tom, and the plot was far from predictable. I think Matthew Norman has a great career ahead of him, and he's an author whom I'll be watching. As a side note, this book also contains an author interview in the postscript that had me tearing up with laughter, and it's not to be missed. An all-star book, highly recommended!
---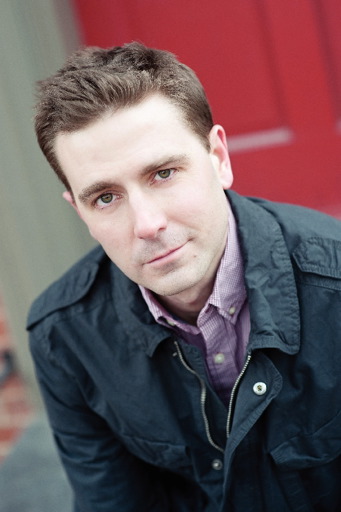 About the Author

Matthew Norman is an advertising copywriter. He lives with his wife and daughter in Baltimore. Domestic Violets is his first novel.
---
A warm thanks to TLC Book Tours for providing this book for me to read and review. Please continue to follow the tour by visiting these other blogs:



| | |
| --- | --- |
| Tuesday, August 9: | Rundpinne |
| Tuesday, August 9: | Like Fire |
| Wednesday, August 10: | Life In Review |
| Thursday, August 11: | BookNAround |
| Friday, August 12: | The House of the Seven Tails |
| Monday, August 15: | Colloquium |
| Tuesday, August 16: | Raging Bibliomania |
| Wednesday, August 17: | Book Chatter |
| Thursday, August 18: | Teresa's Reading Corner |
| Monday, August 22: | The Bodacious Pen |
| Tuesday, August 23: | StephTheBookworm |
| Tuesday, August 23: | Write Meg |
| Wednesday, August 24: | I'm Booking It |
| Thursday, August 25: | Sara's Organized Chaos |
| Friday, August 26: | Iwriteinbooks's blog |
| Monday, August 29: | A Bookish Way of Life |
| Tuesday, August 30: | My Life in Not So Many Words |
| Thursday, September 1: | That's What She Read |
---
This book was provided as a complimentary review copy.