After a whirlwind courtship, Eve and Dom decide to settle down in Provence, France in a crumbling and spacious homestead called Les Genévriers that is full of flavor and history. But from the moment the two embark on their new lives together, Eve begins to fret. While Dom was initially a very romantic and thoughtful partner, his behavior in Provence is at once puzzling and disturbing. First of all, Dom abhors any mention of his ex-wife, Rachel, and goes to great lengths to hide all facts about his previous relationship from Eve. At first Eve is gently understanding and considers Dom's relationship must be too painful to speak about. But when Dom grows ever more distant and strangely uncommunicative, Eve is forced to seek answers elsewhere. It also seems that Dom can have an explosive temper when faced with the past, and as he becomes increasingly agitated, Eve begins to wonder just what happened between him and Rachel. As Eve and Dom work to refurbish and rebuild the crumbling homestead, haunting secrets begin to come to light that begin to change the way Eve looks at Dom, and she begins to realize that she knows far less about him than she had previously thought. Alternating with the story of Eve and Dom is the tale of Bénédicte, one of the women who lived in Les Genévriers many, many years ago. Bénédicte shares the story of her life at the homestead, where she worked the land with her family as sustenance farmers. But Bénédicte's life was shadowed with unhappiness and pain, as her family was troubled in many different ways. From her sister Marthe's blindness to her brother Pierre's astonishing cruelty, Bénédicte recounts a life of hardship and dissension. Bénédicte's story, nestled in between Dom and Eve's tale, is a recounting of terrible misfortune, misunderstanding and murder. As the two tales weave together, Bénédicte and Eve will uncover some very frightening facts and come to understand that little is how it actually appears, both in the past and in the present, leaving them to deal with the ghost of their pasts, both metaphorically and literally.
From the moment this Gothic tale of suspense began, there was a subtle and nuanced atmosphere of mystery and darkness swirling about the characters and their situations. Strange occurrences, secrets, and possible ghosts all began to pop their heads up to give the story a very mystically original and inventively haunting feel. While one chapter would deal with Eve and Dom, the next would fly backwards in time to relate Bénédicte's life at Les Genévriers and the mysteries of the past. It was, I think, a successful melding of two storylines, but like a lot of dual narratives, I enjoyed one section a fraction more than the other. In this case, I slightly preferred the present tale between Eve and Dom over the historical sections, which was sort of a surprise to me because I generally tend to appreciate the historical bits that usually present themselves in a dual narrative. In this case, Dom and his secrets were the powerful and enticing glue that kept me bound to the pages, for I wanted to see just what this very mysterious man was hiding, and just what Eve would do with the information she dug up about him. Despite my preference for Eve and Dom's story, both stories were almost electrically charged with palpable suspicion and a heady dose of the macabre.
The story of Dom and Eve was very believable to me and also rather frightening in its own right. Eve was a woman who had never had a successful and long-lasting relationship with a man before, so Dom was like a dream come true for her. He was generous and giving and they had a strong chemistry that temporarily blinded Eve to Dom's peculiarities. But as time wore on, Dom became more and more secretive and all but ignored Eve in some situations. It was obvious that he was hiding something, and I grew to dislike him and feel very uncomfortable with his relationship with Eve. Dom was really a mystery to me. He would lock himself away and write melancholy music, or disappear unexpectedly when pushed for answers. He became a sinister character who was sometimes menacing to Eve and the other people around him. Eve, for her part, began to drive herself crazy with speculation and wonder, and began to suspect Dom in bizarre plots and schemes. As I was reading, I could feel so much empathy for Eve, and I could feel her apprehension and fear towards a man she loved but was unsure whether she really knew. As the story wound further and further onward, Dom became a suspicious madman who seemed to shirk from all Eve's attempts to understand him.
Bénédicte's sections were also very dark, but in a different way. As she shared the story of her childhood and maturation at Les Genévriers, she laid the groundwork for what was to be a very affecting tale of secrets, harassment, and disturbing retribution played out by the horribly manipulative and cruel Pierre. Part of Bénédicte's story centered around her sister, Marthe, and her eventual transformation from farm girl into dazzlingly successful perfumier. There were some very beautiful passages about the lavender fields of Provence, and the way the lavender was harvested to make perfume and medicinal tonics and powders, and these were sections that I lost myself in. They were sublime and very well crafted and made me feel enveloped in the sights and scents of the undulating fields of lavender that stretched across the countryside. But Bénédicte's story was unnerving as well as evocative, and as she slowly recounts the horrors she witnessed and survived, I became both horrified and saddened for this woman whose life turned out so differently than she had dreamed it would. She was pursued and haunted by the roads not taken and by the ways in which she was forced to be complicit to a man whose heart was an abyss of hatred.
It was very easy to savor and get invested in the very different but complimentary storylines that Lawrenson created, and I also really liked that the atmosphere of the French countryside was such a permanent fixture for both sections of this story. Really, the setting was almost like a character in itself. There were a lot of intriguing pieces to this tale, and I found they came together wonderfully and seamlessly. Also, the last chapter was very surprising and satisfying and made me rethink the story and applaud the author for her cleverness. If you're interested in Gothic literature and want a story with plenty of meat and mystery, this is definitely the book for you. It was the kind of read that you can't help but get lost it. Recommended!
---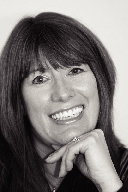 About the Author

Deborah Lawrenson grew up in Kuwait, China, Belgium, Luxembourg and Singapore. She studied English at Cambridge University and has worked as a journalist for various publications in England, including the Daily Mail, the Mail on Sunday and Woman's Journal magazine. She lives in Kent, England, and she and her family spend as much time as possible at a crumbling hamlet in Provence, France, the setting for The Lantern.

Connect with Deborah:

---
A warm thanks to TLC Book Tours for providing this book for me to read and review. Please continue to follow the tour by visiting these other blogs:



| | |
| --- | --- |
| Tuesday, August 9th: | A Soul Unsung |
| Wednesday, August 10th: | Wordsmithonia |
| Thursday, August 11th: | nomadreader |
| Friday, August 12th: | Life In Review |
| Tuesday, August 16th: | Unabridged Chick |
| Wednesday, August 17th: | Books Like Breathing |
| Thursday, August 18th: | The Road to Here |
| Friday, August 19th: | The Lost Entwife |
| Monday, August 22th: | Sara's Organized Chaos |
| Tuesday, August 23rd: | Dolce Bellezza |
| Wednesday, August 24th: | Unabridged Chick |
| Wednesday, August 24th: | Rundpinne |
| Thursday, August 25th: | Bookstack |
| Friday, August 26th: | Café of Dreams |
| Monday, August 29th: | Raging Bibliomania |
| Tuesday, August 30th: | Colloquium |
| Wednesday, August 31st: | JenandthePen |
| Thursday, September 1st: | Book-a-rama |
| Tuesday, September 6th: | Book Dilettante |
| Thursday, September 8th: | Book Hooked Blog |
---
This book was provided as a complimentary review copy.