Juana of Castile is just a girl in the court of her illustrious parents, Isabel and Fernando, rulers of the Spanish Empire, when she gets the news that she is to marry Phillipe the Handsome, Duke of Burgundy. This means traveling to a country very different from her own to live with a man she's never met, a situation that troubles her. When she's received in Phillipe's court, brave Juana is hopeful that life with her doting and handsome husband will be all she hopes it can be. And for awhile, it is. Phillipe is loving and attentive, and despite some minor flaws, treats his new wife with tenderness and love. But soon Juana is noticing that Phillipe has an eye for the ladies and would much rather spend his time hunting then with her and the royal heirs. But still Juana is patient with her husband, until the day when plans are made to transfer the power of the Spanish throne to her with Phillipe acting only as king consort. This seems to quietly enrage Phillipe, and soon he is on a campaign to smear Juana's name and reputation. When he plants rumors that she's gone mad and locks her away, Juana is confused and saddened but doesn't know how best to quash this threat. Soon Juana is alone and friendless with rumors of her madness spread far and wide. Will Phillipe succeed in taking the crown of Spain for himself and making everyone truly believe that Juana is mad? Or will someone or something help Juana overcome this disaster that seems to be shaping her future? In this breathtaking and provocative new novel by Lynne Cullen, the doors are thrown open to the past and the story of Juana the Mad is re-imagined with a fresh perspective that might be closer to the truth than anyone has ever realized.
I've got to hand it to Lynne Cullen. This is the second book of hers that has just blown my socks off. Last year, I read and loved The Creation of Eve, and was impressed with Cullen's fluid writing and gift for story creation. While it's no secret that I adore historical fiction, there are some specimens that are better than others, and Cullen's books seem to have that undefinable sprinkling of magic that make my eyes want to rove slowly and languorously over the pages. In her fictional treatment of the infamous Juana the Mad, Cullen gives us an inexpressibly human character who is caught in one of the most bizarre and terrifying situations ever to be imagined. And though the truth may be stranger than fiction, as Cullen mentions in her end notes, this book certainly captures the perplexing situation that Juana of Castille found herself in.
While at times I thought Juana was a little naive, when I stopped to examine the situation a little more fully, I realized that it wasn't really naivety that kept Juana at a disadvantage with Phillipe. it was more that she had a forgiving and optimistic heart, and that she wished to create a situation that was more peaceable not only for herself, but for her family and subjects. And I came to see then than Juana was very brave, though perhaps a little foolhardy, when dealing with her husband who turned like a chameleon from attentive and loving to domineering and controlling. It was such a complete reversal that I could see why Juana was stunned and confused by him. Where at first Phillipe didn't seem to care about becoming acting regent for Spain, his interest suddenly sharpened and began to overwhelm all the other aspects of his personality. When Phillipe begins to do the unthinkable to Juana, there is little power the woman can assert as she has been virtually isolated in this foreign land.
A good portion of this book also examined the relationship between Fernando and Isabel as seen through the eyes of their middle daughter, Juana. Because of Isabel's formidable personality as regent, Juana was never able to become close to her mother, and was never able to learn about her to any satisfactory degree. Fernando, though seemingly content, was portrayed as feeling somewhat emasculated by his strong wife whose subjects often called her King Isabel. In later chapters, Fernando is also responsible for keeping Juana's crown from her, and one wonders if this was due to the rumors that Phillipe spread about the realm or if it was his own ambition that was in play. It was sad to realize that Juana was beset by traitors from all sides, and although she felt content to relinquish her power at times, it was clearly wrong for others to try to usurp it. It angered me to see her disregarded and treated as a joke or a nonentity, and though she was tractable, it was hard not to feel that there was a degree of weakness to Juana's actions. But truth be told, there really weren't many options open to her.
In this examination of Juana's life, I came to see that the power plays between monarchs and their courts could not only be dangerous but also deceptive and controversial. In the end notes, Cullen speaks about a trip to Spain where the old myths about Mad Queen Juana are seriously offensive to some of the natives. It's in this kernel of revelation that the story in Reign of Madness really begins to pepper its readers about the accuracy of the history we've all been taught and believe. Cullen rounds out her tale with guest appearances from Cristobal Colon (Christopher Columbus) and other famous regents and religious men of the time. The effect is one of total encapsulation of the time period, and brings Juana and her life into fulsomely colorful relief, rendered with an expert's hand at sussing out conspiracy, plots and revenge.
I loved this look into the life of a woman that I knew so little about, and I thought Cullen did a wonderful job of creating a vivid representation of what might have actually happened in the life of Mad Queen Juana. Cullen has once again exceeded my expectations and delivered a flawless historical fiction novel that I fully savored and appreciated. It was a wonderful book that is sure to have its share of admirers. Highly recommended!
---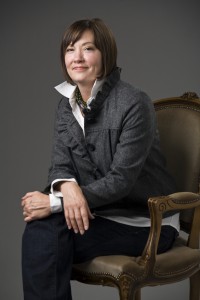 About the Author

Lynn Cullen is the author of The Creation of Eve, named among the best fiction books of 2010 by The Atlanta Journal-Constitution and as an April 2010 Indie Next selection. She is also the author of numerous award-winning books for children, including the young adult novel I Am Rembrandt's Daughter, which was a 2007 Barnes & Noble "Discover Great New Writers" selection, and an ALA Best Book of 2008. An avid traveler and historian, Cullen lives in Atlanta.

Connect with Lynn on her website and on Facebook.
---
A warm thanks to TLC Book Tours for providing this book for me to read and review. Please continue to follow the tour by visiting these other blogs:



| | |
| --- | --- |
| Monday, July 25th: | In the Hammock |
| Tuesday, July 26th: | Rundpinne |
| Wednesday, July 27th: | Unabridged Chick |
| Thursday, July 28th: | Debbie's Book Bag |
| Monday, August 1st: | The Broke and the Bookish |
| Wednesday, August 3rd: | Books Like Breathing |
| Thursday, August 4th: | Peeking Between the Pages |
| Monday, August 8th: | 2 Kids and Tired Book Reviews |
| Tuesday, August 9th: | Broken Teepee |
| Wednesday, August 10th: | Raging Bibliomania |
| Thursday, August 11th: | Cafe of Dreams |
| Friday, August 12th: | A Fair Substitute for Heaven |
| Monday, August 15th: | A Library of My Own |
| Tuesday, July 16th: | Life in Review |
| Wednesday, August 17th: | Simply Stacie |
| Thursday, August 18th: | Book Addiction |
| Monday, August 22nd: | One Book Shy of a Full Shelf |
| Wednesday, August 24th: | Starting Fresh |
---
This book was provided as a complimentary review copy.