In this frenetically charged, candid and frightening new memoir from Ned Zeman, the author compellingly relates how his battles with depression and anxiety force him into considering electroconvulsive therapy as a cure to what ails him. But the problems Ned faces when he submits to the therapy is far more damning and damaging than his initial illness, as afterwards, Ned becomes a severe amnesiac. When the journey first begins, Ned is a charismatic, if sometimes detached, reporter for
Vanity Fair
. Climbing the rungs from editor to contributing writer to screen play author, Ned is finding things difficult to manage, as his depression and anxiety are robbing him of the creativity he needs to write. After engaging a group of close friends to help him through these difficult times, Ned decides to begin medication and therapy, which seems to help him not one whit. He decides to enter a very expensive and elite hospital that at one time or another housed the crème de la crème of brilliant authors and journalists who struggled with mental illness. When he decides that electroconvulsive therapy is the direction he wants to go, friends and parents alike are alarmed. But not Ned. He is hopeful and excited, and it's only after several treatments that he starts losing short and long-term memory and begins to act in some alarming and aggressive ways. This causes his friends to become anxious and scared for him, and a system is put into place for Ned's safety. Now it's up to Ned to rebuild and repair, but with no memory from which to draw, this is tough job indeed.
The Rules of the Tunnel
is Ned's harrowing and sometimes unsettling story, from beginning to end and all the hair-raising stops in between.
I seem to be reading a lot of books that center on mental illness as of late. As the portrayal of mental illness in literature is quite fascinating to me, I certainly can't complain at my headlong rush into this subject, but I do find that some books are better at capturing these stories than others. From the moment I picked this book up, I knew I was in for a wild ride. Ned is a very impressive dude, both in his intelligence and his intensity, and reading things from his point of view not only made me feel like I was being taken by the shoulders and brutally shaken, it also was like peeking into the window of a misunderstood man's brain. All in all, an exhilarating experience, but one that also made me feel uncomfortably privy to some very sacred insights.
This book was written in the second person, and because of that, it was sometimes confusing. I can't say I liked this perspective, but the appeal and strangeness of the tale sort of overrode my annoyance at this choice in style. Aside from some confusing moments, I was able to basically ignore this aspect of the book. There was also a decidedly experimental feel to a lot of this story. Ned takes his narrative in some pretty interesting directions by injecting the stories of the eccentrics whom he is profiling into his main narrative. Each of these stories relates the life and untimely death of a few men that had some strange compulsions and who suspiciously resemble Ned in their attitudes and mental proclivities. Incorporating these stories was a gamble, but I think it paid off handsomely and gave Ned's story a heft and significance that it may not have had otherwise. I also admit to being just as fascinated by the stories Ned was investigating as he himself was, and the feeling was one of several layered stories being rolled into one poignant and relevant package.
As Ned fumbles his way towards sanity, it was easy to see that he couldn't go on in this fashion for long. One of the reasons these mental afflictions took such a toll on him was that his illness not only robbed him of his ability to function in the outside world, but it hampered his ability to have normal and functioning relationships. Ned's portrayal of his suffering was written with an erudite and punctilious style, and the self-depreciating humor he imbues his illness with was disarming and rather charming. Ned was the kind of depressive that you could easily understand and identify with because he was so deeply aware of both himself and his emotions. But his capacity for verbally communicating this to his family and friends was abysmal. Ned was a tough nut to crack in person, but in writing his story, he was both clear and creative. Clearly the pen was the perfect medium of self-expression for Ned, but as things became more and more hairy for him, even his capacity to reveal himself in his writing became limited. Sarcastic, witty and wry Ned became a shadow of his former self trapped in emotions that he couldn't understand or relate to others.
At the zenith of his mental illness, Ned opts for elctroconvulsive therapy. Otherwise known as electroshock. Otherwise known as a concept that scares the bejesus out of me. Early on, the possibility of amnesia is discussed, but it never fazes him because it's a condition that usually reverses itself rather quickly. But not in Ned's case, and that's what makes it all the more frightening. Post-procedure Ned is uncharacteristically mean and thoughtless. He's a fabulist of intense proportions and swings into a mania that is truly out of character and shocking. He can't be left alone because he has strange and alien ideas that put him in danger. As his friends form a human safety net around him, he becomes paranoid and suspicious, which are not usual side effects. Ned's life begins to crumble, but he's not as emotionally bashed as you or I would be, because frankly, he can't remember what he has lost. He can't remember significant relationships or even why he has certain mementos on his desk. Ned's brain, reacting violently to the invasive procedure, flips into a twilight zone that is both harrowing and anxiety-producing.
This was a book that took my breath away in its ability to be piercing and strange, and the way Ned related all this was elegant and astounding. Mental issues aside, Ned's voice and style was on the cusp of brilliance, and it was hard not to become just as overwhelmed as he was while reading this intense and personal tale. If you're interested in finding out just what happens to Ned in the final sections of this book, I urge you to pick this one up and give it a try. In Ned's voice you will find a man on a journey of epic proportions, and might even come to understand the unthinkable. An intense and thought provoking read that is so deftly rendered that it will have you enraptured. Highly recommended.
---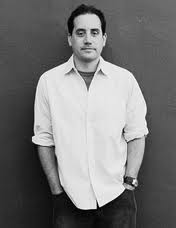 About the Author

Ned Zeman is a contributing editor at Vanity Fair, where he has covered a wide range of subjects: crime, politics, Hollywood, and outdoor adventure. He has also written for Newsweek, Spy, GQ, Outside, and Sports Illustrated. Two of his articles have been finalists for the National Magazine Award, and he cowrote the screenplay for Sugarland, the forthcoming film starring Jodie Foster. He lives in Los Angeles.
---
A warm thanks to TLC Book Tours for providing this book for me to read and review. Please continue to follow the tour by visiting these other blogs:



| | |
| --- | --- |
| Monday, August 1st: | Rundpinne |
| Tuesday, August 2nd: | The Broke and the Bookish |
| Wednesday, August 3rd: | Sara's Organized Chaos |
| Thursday, August 4th: | Chaotic Compendiums |
| Monday, August 8th: | Acting Balanced |
| Tuesday, August 9th: | Book Dilettante |
| Wednesday, August 10th: | BookNAround |
| Thursday, August 11th: | In the Next Room |
| Monday, August 15th: | A Bookworm's World |
| Wednesday, August 17th: | Take Me Away |
| Thursday, August 18th: | Bookshipper |
| Monday, August 22nd: | Luxury Reading |
| Wednesday, August 24th: | Melody & Words |
| Monday, August 29th: | Life in Review |
| Tuesday, August 30th: | Raging Bibliomania |
| Wednesday, August 31st: | My Book Retreat |
| Date TBD: | Brain Candy Book Reviews |
---
This book was provided as a complimentary review copy.