In this non-fiction work, John McWhorter explores language in all its copious forms and varieties. From languages that are so abstract as to be referred to as "tongues" or dialects, to the idiosyncrasies of some of the largest languages known today, McWhorter takes his audience on a crash course in the origin of language and the ways in which it proliferates. Here then are the strange facts about language that you may never have even thought to ask yourself, peppered between layers of language fact and lore. Sharing the way that language grows exponentially, and drawing the reader into the various complexities of pronunciation and language conversion, McWhorter attempts to explain to his readers why languages are messy and intricate. He also shares his interpretations of the upswing and realities of Ebonics and other looser and more informal styles of language. He even goes on to share his conclusions about the written language being superior to the spoken language, and why this should be patently not so. What Language Is is a heady mix of linguistic interpretation and discourse that will have some readers knee-deep in McWhorter's thoughts and revelations about the various conundrums of linguistics, past and present.
I'm going to be totally honest here and state that I didn't understand most of this book. I'm not a person who is enthralled with linguistics, but the thought of a good piece of narrative non-fiction that explores ideas I'm not that familiar with does indeed catch my fancy. Unfortunately, this was not that type of book. Instead, this book seemed to be meant for an audience that has at least some passing experience or interest in the peculiarities of linguistics. Which is not me. So let's just all sit back and see if I can explain this book in a way that all of us will understand and maybe even appreciate.
Part of the problem I had was that it was extremely erudite regarding a subject that I knew very little about. And unless you've read any of McWhorter's previous books about linguistics, it's an area that most of us would probably feel is over our heads. Being that McWhorter knows all these fabulous things about language, I had hoped he would present them in a way that a layperson could understand them, but from the moment the book rockets off, there's little patience or room for those who can't keep up. Sadly, that was my fate while reading this book. When I finally grasped one concept, McWhorter was on to another that was increasingly difficult and I was left in the dust. Perhaps I grew anxious by all the pronunciation charts and maps, but I do admit that as I got further and further into this book, I became increasingly confused and was only able to take away a smattering of all the brilliant things that McWhorter was telling me.
Some of the things that did interest me were the statements about the relevance of languages that aren't written languages, and the ways that language is so deeply tied to psychology and identity. I would have loved to hear more about that, and I have a feeling that would have made this book more like the narrative non-fiction that I had been so hoping for. McWhorter also discusses why and how languages differ from each other regionally and the idiosyncrasies of particular idioms and tongues due to fluctuations of history and the growth of populations. You see what I mean? There was some terribly interesting stuff in there, but it wasn't shared in a way that made it compelling to read, or even easy to understand, which made the book feel like a school textbook. On the other hand, if linguistics and its particulars are your bag, then this book would probably be perfect for you.
At the heart of things, I would have to say that this book is meant for a much more serious set of eyes than mine, and though I did try to sit back and take in what McWhorter was so intelligently creating here, it wasn't something I felt like I could relax and enjoy. I found the only way that I could understand a lot of it was to take detailed notes, which sometimes, upon rereading, made not a lick of sense. I opened this book with a lot of hope and curiosity but was sad to find that there wasn't much here to appeal to a lay reader. I do admire McWhorter for being so assiduously able to manage and tame his subject, but I have to admit it wasn't really a pleasant reading experience for me. And really, when it comes down to it, I read to take my mind to a different place, a place where I am challenged and I learn. But the place I was taken to while reading this book made my mind feel a little overwhelmed and small. I know that if I were just able to decode the brilliance in this book, I would have walked away a very happy reader.
I can't say that this was a reading experience that I relished, but I did like the way I could look through the book and see the very impressive way that McWhorter's brain worked. Unfortunately for me, mine doesn't work the same way and I was left with a whole lot of buzzing confusion when I was finished. I'm going to go out on a limb and say that I don't know many readers who would properly appreciate this book, but as I said before, if you're the type to get all excited about linguistics, this may be something that you would enjoy.
---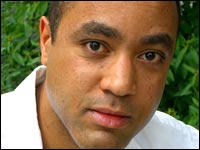 About the Author

John McWhorter is the author of the bestseller Losing the Race: Self-Sabotage in Black America, The Power of Babel: A Natural History of Language, and four other books. He is associate professor of linguistics at the University of California at Berkeley, a senior fellow at the Manhattan Institute, and a contributing editor to The City Journal and The New Republic. He has been profiled in the Los Angeles Times, The Washington Post, The Philadelphia Inquirer, and has appeared on Dateline NBC, Politically Incorrect, and The NewsHour with Jim Lehrer.
---
A warm thanks to TLC Book Tours for providing this book for me to read and review. Please continue to follow the tour by visiting these other blogs:



| | |
| --- | --- |
| Monday, August 1st: | Book Club Classics! |
| Thursday, August 4th: | One Book Shy of a Full Shelf |
| Friday, August 5th: | Melody & Words |
| Monday, August 8th: | Rundpinne |
| Tuesday, August 9th: | Lit and Life |
| Thursday, August 11th: | The Broke and the Bookish |
| Friday, August 12th: | In the Next Room |
| Monday, August 15th: | Book Dilettante |
| Tuesday, August 16th: | BookNAround |
| Thursday, August 18th: | My Book Retreat |
| Monday, August 22nd: | At Home with Books |
| Tuesday, August 23rd: | Raging Bibliomania |
| Wednesday, August 24th: | SMS Book Reviews |
| Thursday, August 25th: | Unabridged Chick |
| Friday, August 26th: | Acting Balanced |
| Monday, August 29th: | Overstuffed |
| Date TBD: | Hey I Want to Read That |
---
This book was provided as a complimentary review copy.