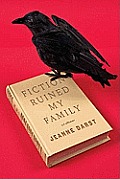 In this provocative and fast paced memoir, Jeanne Darst explores the ups and downs of being a member of a family of defunct writers, and explains how this has shaped her life as well as her ambitions. As a child growing up, Jeanne always knew that many of her relatives hailing from her father's side of the family were authors of some kind or another. Whether journalists, biographers or fiction writers, the people in her family took reading and writing very seriously. But where Jeanne really throws her focus is on the life of her father, a man who has been laboring over his masterwork on F. Scott and Zelda Fitzgerald for decades. With zany insights and an affable style, Jeanne tells the stories of her father's love of words and wordsmithing, his utter inability to make this type of life work for him, and of her mother's eventual spiral into the depths of alcoholism. Both bizarrely fascinating and humorously adept,
Fiction Ruined My Family
is Jeanne's attempt to explain her family's ever puzzling contortions through their literary creations, to her eventual decision to become an author and playwright herself. Through it all she exposes the sacrifices and stumbling blocks she faces while trying to emulate the father she loves but secretly resents at times. Startlingly funny and at times emotionally piercing, Darst takes her readers along for the ride as she explores the lightness and darkness that encompasses a family of authors both famous and obscure.
I've come to realize that I am a memoir lover. I love all types and flavors of memoir, and some of the best I've read have been those that focus on normal people who have extraordinary tales to tell. This was one of those tales. Though at time Jeanne could slip into vulgarity, most of her tale was simply too strange and involving to ignore. There was a feeling of sharing her confusion at her insistence on living a life that had proved very disastrous to those closest to her, and a sense that her drive to live this type of life almost bordered on a compulsion at times.
This book was very tightly balanced between levity and sorrow. Though there were pages and pages of funny outtakes from Jeanne's life, she would occasionally throw in a scene that would just floor me with a humble sorrow for what living this type of life had done to the members of her family. It was these glimpses into the profound starkness of living a struggling author's life that really made an impression on me. Both Jeanne and her father lived a hand-to-mouth existence most of the time, and both found themselves profoundly suffering in search of their art. This led to many uncomfortable recriminations from other members of the family. Jeanne's mother had an especially hard time with her husband's career and found herself drowning her unhappiness and disappointment in alcohol. The book was filled with an extensive array of amusing anecdotes, there is no mistaking that, but overall I got the impression that living this type of life could be extremely demanding and difficult.
Jeanne's involvement with her father and his work really became the central focus of this book. As their relationship matured over time, it was Jeanne's reflections on the struggles of his life and her fear that she would end up following in his footsteps that really drove the scope and narrative of this memoir. The angst she felt in having to deny herself a life in literature was compelling and even intensely moving at times, and one could see that these mental conundrums were painful for her to live through. I think the sections about how her father's career had decimated her mother's life were the most moving and sad parts in what was to be a very pithy but ultimately sobering book. Jeanne tells it all without censoring, and at times her honesty and candor about the life she was living made me a bit uncomfortable. But at its roots, this was a book about the alternating passion and reluctance that one person can feel about their life's ambition to become an author.
I think this book would be of great interest to anyone who nurses a spark of creativity in their heart, and would probably make a lot of people understand both the pros and cons of letting go and following their dreams to their eventual fulfillment. It was at times a distressing read, but there was a lot to recommend it as well. It certainly revealed the intricacies of a kind of life I've long been curious about, and I think those readers who take a chance on this book might be surprised at how it all works out. A very intense but thought provoking read.
---
This book was provided as a complimentary review copy.