It's the summer of 1877 in Constanta, on the Black Sea, and a very special baby has been born. From the moment she enters the world, strange and unusual prophecies begin to unfurl. Though Eleanora's mother died during her birth, her father raises her with help from her maternal aunt Ruxandra, and Eleanora winds up being a very precocious young girl indeed. Able to mentally decipher all kinds of knowledge, not only academically but emotionally as well, Eleanora is kept marginalized by her aunt who wishes to avoid scandal attaching to the family name. But talent and skill will out, and soon Eleanora is on her way to becoming a very important fixture in Stamboul, a fate she never envisioned for herself. Meanwhile, the Sultan Abdulhamid II is trying to maintain a tenuous hold on his lands and is being besieged by foreign powers that have very different political aims than he does. Beleaguered with responsibilities to his realm and employing a bevy of spies, the Sultan Abdulhamid II has his eye on a man who has become very dear to Eleanora's heart, a man who has sworn an oath to her father and who might be at the center of a secret and dangerous side of politics. When the Sultan gets word of the talented girl in his midst, everything about Eleanora's life begins to change. Infused with touches of magical realism, The Oracle of Stamboul is a whirlwind trip into the heart and mind of a very special little girl, and the people who come to shape and change her life, for better or worse.
This was a story that had two prime focuses. The first thread focused on a young girl who was wise beyond her years. In all matters, Elenora conducted herself as girl who was much more socially and academically advanced than her counterparts, and after a bit of suspension of disbelief, it wasn't difficult for me to see her as a very special sort of savant who had the ability to both meld herself to her circumstances and also to shape the world around her. I had heard some other readers thought Elenora's rapid mental progress felt a tad disingenuous, but once I realized a main motivator in this book was Eleanora's special prowess when it comes to the matters of the mind, I found that I was able to sit back and let the story flow over me more easily.
The second focus revolved around the Sultan Abdulhamid II and his political conundrum. Though these sections were no less detailed and descriptive, I found them to be the less engaging of the two parts of the book. Lucas manages to be very complex and relevant in these sections, but there seemed to be an emotional remove for me personally during these scenes. Part of what I think he was trying to do was to show the Sultan Abdulhamid's humanness and how his lofty position didn't preclude him form having the same issues as the people around him, but from my perspective, I much preferred the examination of Eleanora's humanness and splendor. During the main thrust of the book, these two spheres of storytelling continually veered towards and then away each other, eventually locking onto each other in a way that both heightened the dramatic tension of the tale and provided Eleanora a crux from which to deviate from the expectations of the others around her.
I felt it sort of strange that the magical realism in this tale was painted with such a light touch. I liked what I got but would have been tremendously pleased to have had more of it. It's not as if an inattentive reader could have missed it, but I feel there was room in the story for much more interplay between fantastical elements and the elements of the everyday, and my eyes and mind were expecting the tale to give this angle to me more fully. And I think, based on Lucas' ability to craft a genuinely eclectic and engaging story, he would have been able to pull off more of a magical realism bent had he decided to. I won't say I didn't like the direction and details that he peppered his story with, only that I had hoped there would be a more decided direction to take his tale into the depths of the magical realism genre.
I did end up enjoying this book a lot, and most of that had to do with the very creative and sympathetic creation of Eleanora. Her behavior was never fanciful, but when she was center stage, she shined with life and vigor. Even her heartbreak had the hallmarks of intelligence and aplomb, and for her sections alone, this book is one that I would recommend to a host of other readers. It was a very unusual tale and one that made me consider its heroine very deeply. Though some areas were not what I had expected, ultimately this was a charming and thought-provoking read.
---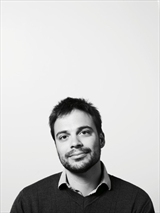 About the Author

Michael David Lukas has been a Fulbright scholar in Turkey, a late-shift proofreader in Tel Aviv, and a Rotary scholar in Tunisia. He is a graduate of Brown University and the University of Maryland, and his writing has been published in the Virginia Quarterly Review, Slate, National Geographic Traveler, and the Georgia Review. Lukas lives in Oakland, less than a mile from where he was born. When he isn't writing, he teaches creative writing to third- and fourth-graders. He is also the author of The Oracle of Stamboul: A Novel.

Find out more about Michael at his website.
---
A warm thanks to TLC Book Tours for providing this book for me to read and review. Please continue to follow the tour by visiting these other blogs:



| | |
| --- | --- |
| Tuesday, August 30th: | The Lost Entwife |
| Thursday, September 1st: | Jenny Loves to Read |
| Friday, September 2nd: | Wordsmithonia |
| Monday, September 5th: | Books Like Breathing |
| Tuesday, September 6th: | Literature and a Lens |
| Tuesday, September 6th: | Rundpinne |
| Wednesday, September 7th: | Lit Endeavors |
| Friday, September 9th: | Let Them Read Books |
| Tuesday, September 13th: | Raging Bibliomania |
| Wednesday, September 14th: | JenandthePen |
| Thursday, September 15th: | Café of Dreams |
| Friday, September 16th: | Bookfoolery and Babble |
| Monday, September 19th: | The Book Nerd Club |
---
This book was provided as a complimentary review copy.