It's the summer of 2005 and Hurricane Katrina is threatening the Gulf Coast. Fourteen year old Esch and her unconventional family are living in Bois Sauvage, Mississippi and each member of her clan is beset by their own drama. For Esch, it's is the fact that she's recently learned she's pregnant by a boy who's neither romantically inclined toward her nor compassionate. Esch's brother Randall is trying to make it to basketball camp where he's sure to be noticed by collegiate scouts, while her father is desperately trying to make their house hurricane ready in between bouts of heavy drunkenness. But it's middle child Skeetah's drama that really takes center stage. Skeet's beloved female pit bull China has just birthed 4 puppies, and it's up to him to see that these little balls of fluff survive amidst the chaos and abject poverty. Complicating matters is the fact that Esch and her brothers are basically raising themselves in desperate destitution, as their father doesn't seem capable of caring for them and things are only getting more dire. When the safety of the puppies is threatened, Skeetah goes to extreme lengths to keep them alive, while Esch tries desperately to hide her growing belly from her father and brothers. Meanwhile the hurricane reaches category 5 status and the family is unable to evacuate. Soon events begin to explode into one another upon the family, and it will take all the will they have to come out on the other side. But their future is far from certain, and where some will rise, some will fall. Deeply penetrating and hauntingly dark, this is the story of one family's desperate struggle to survive through one of the fiercest storms on record.
When I initially started reading this book, I became a little concerned. While this is ostensibly the story of one family's fight for survival amidst a chaotic storm, it was also a story that had a lot of uncomfortable subjects housed under this premise. First off, there was the issue of a pregnant fourteen year old, which when you really think about it, is a soul-sucking situation that has no easy answers. The other problem I was worried about was that the pit bull that is part of this story is a fighting dog. I'm not sure if many of my readers are aware of this, but I own a pit bull, and he's possibly the most docile and affectionate dog I've ever had the pleasure of owning. Needless to say, fighting pit bulls are very upsetting to me, and something I don't necessarily want to read about. I took a chance anyway, and alternated between thinking it was a huge mistake and appreciating the honesty of the story in equal measure.
It was neither an easy nor a feel-good read. The family is one of the poorest and most emotionally damaged I've ever come across in the pages of a book. Their home is built in a place they call the pit, and they survive on almost nothing at all. Having lost their mother many years ago, their father is ancillary to their lives, and at times he seems almost comical in his aloofness and disregard. That is, until he gets drunk and becomes violent. His four children basically fend for themselves and have created an extended family out of the other adolescents that live in their area. They run wild and free, and there's no guiding influence on them. The story is narrated by Esch, a bookish yet sexually promiscuous young girl who is as much a mother to all of them as she is a confused and scared little girl. Her attachments to her siblings is intense, and it appears that she is trying to save them all, with little success.
The second thread of this story revolves around Skeetah and his dog China. It was oddly conflicting to read about because while I think readers naturally want to identify with animal characters in the books they read, this dog was not the cute and cuddly type. She was fierce and there was a sense of unbidden violence in her attitude at all times. Even when birthing and caring for her puppies, she was aggressive and barely subdued. This doesn't affect Skeetah's love for her, and in some ways, he idealizes the dog and treats her with more love and compassion than his human counterparts. I sensed a lot of transference in Skeetah and saw the love he had for China was an offshoot of the love he couldn't give to his family. I also lost patience with him regarding the dog fighting. Those scenes weren't overly graphic, but they were highly upsetting to me. Part of me wishes I knew more about this book going in, because there was just no payoff for me to be reading such a dire tale.
When the storm rolls in, things begin to happen very quickly, and none of them are good. Emotions and tensions reach the boiling point, and secrets and motivations are revealed. As Katrina rips her way across the land, what was once a struggle for a relatively normal life becomes a struggle for survival. I think that Ward did an incredible job of making this story and her characters come to life, and though it was tough going, I was reluctantly invested in all that was going on. I sometimes think difficult and painful books can be undeniably beautiful and shake you to the core, but in this case, it was all so messy and painful that it was hard to appreciate in that way. I partially blame myself for not knowing enough about this book to guard myself against its potent powers, and I think if I were the type of reader that could hold myself at arm's length from the things I read, I would have been better served here.
I can't really say this is a story that I relished, but it did evoke some powerful emotions that I didn't even know I carried around. It's a story that was painful for a lot of reasons, and most of my disillusionment had to do with the plight of the dogs. It would be a hard book for an animal lover, I think, but it does genuinely speak to the power and impetus for human survival in the face of unimaginable tragedy. Emotionally sensitive readers might want to avoid this one, or at least be very aware of what this book contains and where it goes. It was a shocking book, but also gripping and rich with symbolism and raw human emotion. A complicated read.
---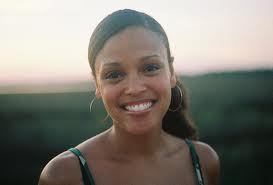 About the Author

Jesmyn Ward is a former Stegner fellow at Stanford and Grisham Writer-in-Residence at the University of Mississippi. Her novels, Where the Line Bleeds and Salvage the Bones, are both set on the Mississippi coast where she grew up. Bloomsbury will publish her memoir about an epidemic of deaths of young black men in her community. She is an Assistant Professor at the University of South Alabama.
---
A warm thanks to TLC Book Tours for providing this book for me to read and review. Please continue to follow the tour by visiting these other blogs:



| | |
| --- | --- |
| Monday, September 5th: | A Bookish Way of Life |
| Tuesday, September 6th: | So Many Precious Books, So Little Time |
| Wednesday, September 7th: | Raging Bibliomania |
| Monday, September 12th: | Wandering Thoughts of a Scientific Housewife |
| Wednesday, September 14th: | Caribousmom |
| Thursday, September 15th: | Linus's Blanket |
| Monday, September 19th: | Book Addiction |
| Wednesday, September 21st: | The Scarlet Letter |
| Monday, September 26th: | Well Read Wife |
| Tuesday, September 27th: | Unabridged Chick |
| Wednesday, September 28th: | Mocha Momma |
| Thursday, September 29th: | Peeking Between the Pages |
---
This book was provided as a complimentary review copy.