Josh Lansky is a stay-at-home dad. The father of two very demanding children, Josh takes his responsibility as caregiver to his children very seriously. But he's also a fledgling screenwriter who hasn't found much success, and his relationship with his wife, Stacy, has bee trending toward cool these days. Josh's duties are complicated by the fact that his young son, Roland, suffers from Asperger's syndrome, and though he's a winsome and lovable child, his demands and needs are unique. His other child, Maude, is an imperious three year old who seems to know just how to push everyone's buttons. As Josh deals with his children's foibles and crises while Stacy is away on a business trip, he has a lot of time to reflect on his situation as a stay-at-home dad, his relationship with the other mom's in his children's playgroups, and the insatiable gossip that comes with living in a socially progressive small town in New York. When Josh gets a dose of startling news about Stacy, he begins to discover that even though his life and day to day actions are prescribed, they are in no way guaranteed. As he navigates his way through the throng of thankless tasks that are de rigueur for a stay at home parent, Josh finds himself caught at the crossroads of a mental and emotional meltdown. In this novel, the reader gets to experience 24 hours in the life of Josh Lansky, a dad both sardonic and sly, whose take on life is truly one of a kind.
As Josh so eloquently mentions several times during this book's narrative, this is not your typical Mr. Mom story. Josh is not only a competent and capable dad, but a very keen observer of the social strata that he is himself a part of. Though he's sensitive and compassionate, there are times when enough is enough, and he lapses into some startlingly funny mini-rants over marriage, parenthood, pop-culture and life in general. Josh seems to have two warring sides to his personality: on one hand, he's a nurturer, capable of giving his all to the children and wife who need him; but at the same time he feels like he's trapped in a job that brings him no glory and is socially alienating. Olear does a great job of making Josh the kind of guy who is able to relate his grudges without being whiny, and even able to make a lot of his complaints humorously penetrating. As Josh navigates this rarefied world of caregiver daddies, he comes to realize that his is a job of small wars and hard won victories, compulsively aware of both his strengths and weaknesses.
One of the most interesting things about this book was the very realistic portrayal of life as a caregiver to an Asperger's child. In brief bits of the narrative, Olear shares a bit about the history of the disease, juxtaposing it between the fictional development of Josh's son. In Olear's narrative, Roland is amazingly intelligent and focused, and has some very interesting and strange proclivities. But he can be violent and heedless at times, not able to gauge social clues that he so desperately needs to interact with others. Josh's patience with Roland seems to be legendary, but there was a very real flavor of inscrutability and fear in Josh that had to do with Roland's success in later life. As I was reading, I was wondering if Olear had himself ever been a caregiver to a child with Asperger's, so genuine did his character's thoughts and behaviors ring. It was also interesting to see how Josh dealt with Maude, both in relation to Roland and in her own tempestuous right.
I liked that Olear peppered his tale with so many pop culture references, and was surprised that I got all of them, for I am not much a follower of pop culture. As I was reading, I was wondering if because of the inclusion of so many of these references the book might not age well. Will these references mean much to readers even five years from now? I wondered if the material would seem dated as time went on. I also liked that this story was so candidly funny. When Olear relates a day in the life of his protagonist, he goes at it with both barrels, interchanging wit and sarcasm with deft humor at the turn of a dime. It was the kind of humor that begs you to laugh and groan alongside of it, for Josh seems to ever find himself in conundrums that are both realistically recognizable and strangely unusual. I admittedly felt a kinship to Josh, and felt that as a narrator he was a combination of unforgettable and punchy in just the right measure. I also liked that this book secretly infiltrated what it was like to be in a mommy's group: the gossip, camaraderie, and rivalries all playing out effortlessly in a homage to real life.
I wasn't expecting to enjoy this book as much as I did, and most of my wonderment has to do with Olear's flair for creating his protagonist that drew my interest right from the start. The witty dialogue and inventive situations were top notch, yes, but what really enraptured me in this tale was the humanness and believability of Josh Lansky, a father who was hanging on by his fingernails, but amazingly, keeping it all under control. If you're a lover of great character driven novels, I urge you to give this one a try. It's not only highly original, but inspired as well. Recommended.
---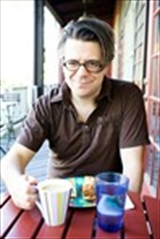 About the Author

Greg Olear is the senior editor of the lit blog The Nervous Breakdown and the author of the novel Totally Killer. His work has appeared in The Rumpus, Babble.com, The Millions, Chronogram, and Hudson Valley Magazine. A professor of creative writing at Manhattanville College, he lives with his family in New Paltz, New York.

Connect with Greg on Facebook and Twitter. Visit his blog and website.
---
A warm thanks to TLC Book Tours for providing this book for me to read and review. Please continue to follow the tour by visiting these other blogs:



| | |
| --- | --- |
| Tuesday, October 4th: | The Scarlet Letter |
| Wednesday, October 5th: | The Lost Entwife |
| Thursday, October 6th: | Raging Bibliomania |
| Monday, October 10th: | Like Fire |
| Tuesday, October 11th: | The 3 R's: Reading, 'Riting, and Randomness |
| Wednesday, October 12th: | Rundpinne |
| Thursday, October 13th: | The House of the Seven Tails |
| Monday, October 17th: | Hopelessly Devoted Bibliophile |
| Tuesday, October 18th: | Sara's Organized Chaos |
| Wednesday, October 19th: | Colloquium |
| Thursday, October 20th: | Amusing Reviews |
---
This book was provided as a complimentary review copy.