In this timeless four book collection, readers are introduced to three very special little girls who make everyday life an adventure. Beginning with
Betsy-Tacy
, Maud Hart Lovelace chronicles the life of five year old Betsy's first meeting with the new girl in the neighborhood, Tacy. As the girls go on their picnic outings and remonstrate with their pair of older sisters, they grow into the best of friends who are mischievous and busy but never quarrelsome. When they meet Tib, the newest member of their previous twosome in
Betsy-Tacy and Tib
, the three girls form a friendship of equals and the girls spend the days making the mundane seem extraordinary. From their correspondence with princes to their dawning tolerance and acceptance of others, these three always find themselves at the center of liveliness and exploration, inducing those around them to join in the playfulness and joy. As the girls turn ten in
Betsy and Tacy Go Over the Big Hill
, they realize that the world is bigger than their little corner and they find new opportunities for fun and frolicking. In the final story,
Betsy and Tacy Go Downtown
, new friends await in the world beyond and beckon to them from places far and near. As the girls go from five to eight to ten to twelve, they grow up with laughter, love, and most of all, the camaraderie that makes the Betsy-Tacy collection one of the most beloved series of all time.
Though I never got a chance to read these books when I was a child, I was introduced to them through the wonders of blogging. It seems that some of my favorite bloggers were big fans of Betsy-Tacy, and since first hearing about these books, I've been eager to get my mitts on them and see just what all the fuss was about. And believe you me, I wasn't disappointed! Though these are ostensibly children's books, the skill and playfulness of Lovelace's writing makes these books a treat for young readers and offers a comfortable refuge for older readers alike. I can't describe the delicious feeling of contentment that would steal over me when I was reading this book. The pickles the girls got themselves into reminded me of my own childhood, and I could recognize aspects of myself in each of the girls. It was delightful to curl up in my comfy chair and gobble up the stories, one right after the other.
This series is unique not only because of its timelessness but because of its innocence. I can imagine that even readers who had a less than stellar childhood would find themselves at home with Betsy, Tacy, and Tib. They are the quintessential threesome, and though they never fight, there are times when their antics become more and more daring yet remain within the realm of harmlessness. I thought it was interesting that the girls had a subtle rivalry going on with their older sisters, and thought that in itself was just so very real. And that's the thing: These books do seem very real, and even though society has changed so drastically since the time these books have been written, they speak to the little girl inside every woman. They are effortlessly entertaining and unquestionably lovely.
I was always interested in what the three little girls were going to get up to next. Sometimes they were sly and impish, like little girls often are, but their hearts were in the right place and they were never hurtful to others. While one was talkative and buoyant (Betsy), another was shy and timid (Tacy) and the third was straightforward and no nonsense (Tib). Each little girl was different, yet these differences were respected and valued within the group. There was never any awkwardness or betrayal between the three, and in a world that's dominated by separatism and elitism, this is the kind of book that can be cherished and wondered over. Every girl should be surrounded by such friends, and even reading about the special relationship between these three made my heart glad and light.
Maud Hart Lovelace made no secret that these stories were based on her real life experiences with her two closest childhood friends, and all I can say is: how lucky she must have been! I'm also aware that there's a Betsy-Tacy Society and that the books continue as the girls go to high school and beyond. Having read about their childhood, I think I'm hooked and now I'm eager to read about the adventures they have in later life as well. I might even have to join the fan club. I know this is a series I'm going to proudly present to my daughter right away as well, because every little girl should have the opportunity to get to know these special children.
I loved this book for its innocence and simplicity. It was wholesome and fun without being preachy or exaggerated, and I think most girls and women will be able to relate to the girls, regardless of their age. Not only was it a glimpse into the friendship between three remarkable girls, it was a look into an almost forgotten way of life, and in exploring it, the reader grows richer and the times that Lovelace seeks to capture grow a little brighter. Very highly recommended for readers in all age groups.
---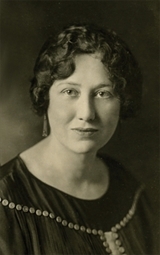 About the Author

Maud Hart Lovelace was born on April 25, 1892, in Mankato, Minnesota. Like Betsy, Maud followed her mother around the house at age five asking such questions as "How do you spell 'going down the street'?" for the stories she had already begun to write. Soon she was writing poems and plays. When Maud was ten, a booklet of her poems was printed; and by age eighteen, she had sold her first short story, for ten dollars, to the Los Angeles Times.

The Hart family left Mankato shortly after Maud's high school graduation in 1910. They settled in Minneapolis, where Maud attended the University of Minnesota. In 1914, she sailed for Europe, and spent the months leading up to the outbreak of World War I in England. In 1917, she married Delos W. Lovelace, a newspaper reporter who later became a popular writer of short stories, and in 1926 her first novel was published. Five more historical novels followed. Maud wrote two of them in collaboration with her husband.

The Lovelaces' daughter Merian was born in 1931. Maud would tell her daughter bedtime stories about her childhood in Minnesota and it was these stories that gave the author the idea of writing the Betsy-Tacy books. Maud did not intend to write an entire series when Betsy-Tacy, the first book, was published in 1940. But readers asked for more stories, so Maud took Betsy through high school and beyond college to the "great world" and marriage.

The Betsy-Tacy books were based closely upon Maud's own life. Almost all of Betsy's experiences were also Maud's. "Of course, I could make it all up, but in these Betsy-Tacy stories, I love to work from real incidents," Maud wrote.

Maud Hart Lovelace died on March 11, 1980. But her legacy lives on in the beloved series she created and in her legion of fans, many of whom are members of the Betsy-Tacy Society, a national organization based in Mankato.

Find out about the Betsy-Tacy convention in 2012 and the Betsy-Tacy Society.
---
A warm thanks to TLC Book Tours for providing this book for me to read and review. Please continue to follow the tour by visiting these other blogs:



| | |
| --- | --- |
| Tuesday, November 8th: | Amusing Reviews |
| Thursday, November 10th: | A Cozy Reader's Corner |
| Tuesday, November 15th: | Cafe of Dreams |
| Wednesday, November 16th: | Teresa's Reading Corner |
| Thursday, November 17th: | Laura's Reviews |
| Tuesday, November 22nd: | Sidewalk Shoes |
| Wednesday, November 23rd: | Books Like Breathing |
| Monday, November 28th: | Reading Lark |
| Tuesday, November 29th: | Reviews from the Heart |
| Wednesday, November 30th: | Raging Bibliomania |
| Thursday, December 1st: | The 3 R's: Reading, 'Riting, and Randomness |
| Friday, December 2nd: | Book Hooked Blog |
---
This book was provided as a complimentary review copy.