Chloe Pinter is a social worker employed by a private adoption agency. Bringing together birth mothers and potential adoptive families always makes her feel useful and necessary, but lately, her job and clients are taking more and more of her time and the situations surrounding the adoptions are becoming more intrusive and dangerous. When the book opens, Chloe is working with Jason and Penny, a couple of teenage grifters who are trying to bully Chloe and the agency into paying exorbitant fees for the adoption of their child. Chloe is reluctant to work with Jason, for he's not only menacing but manipulative and dangerous as well. When their son is finally born and placed with Francie and John McAdoo, Jason begins a campaign for compensation that will embroil not only Chloe and the Chosen Child agency, but a handful of unexpected players as well. Meanwhile, Eva and her husband, Paul, have just brought their new child home from the hospital after a difficult birth. Eva and Paul were once clients of Chosen Child, but not having been picked as adoptive parents, their luck changed when Eva finally got pregnant. But now something isn't right, for as Eva and Paul attend to their new baby, Eva slips into a dangerous bout of postpartum depression and it's all Paul can do to hold it all together. When Chloe unexpectedly bumps into Paul, he learns of the difficulties she's having with her adrenaline junkie boyfriend, just as Chloe learns of Eva's difficulties with the new baby. Slowly, and with great precision, all these people will become enmeshed and entwined in a strange and violent story revolving around the newborns in their lives, both the unwanted babies and the ones who have been longed for so desperately.
One of the things I liked most about this book was the gritty and slightly malevolent feel it had. From the instant I picked it up, the action and plotting were tight and felt expertly handled. The narrative was split between a handful of characters, and this, too, made the book feel very cohesive and suspenseful. The prose wasn't filled with pointless and aimless wandering, but instead, there was a directness that some would even call bluntness about the story, and it made for highly engrossing reading. There were several points-of-view shifts in this tale and each built layers upon layers of intrigue and mystery into an already compelling story that left me feeling slightly unbalanced and introspective throughout the whole ride.
None of the characters in this book were extremely likable. Except for Chloe, I had a hard time relating to anyone, but this proved to be an excellent decision in terms of Hoffman's orchestrating of people and events. These people were selfish, violent and demanding, and they could never see their blessings, even when they got the things they had been dreaming of for so long. A lot of them lived just to cause drama and confusion, and I found them all to be manipulative, cruel and mentally warped, which provided a lot of fireworks on the page. Hoffman isn't afraid to examine the darker sides of people's personalities and get to the bottom of those emotions that we all hide deep in our mental closets. Grasping, savage and mercurial would be a few words I would use to describe the characters that made their homes between these covers.
This book highlighted the underside of the adoption industry, and when you read it, you'll understand why I call it an industry. Birth mothers on drugs hoping for a payout that will enable them to effectively sell their children; adoptive parents who are prejudiced and can't be happy even when they receive the child they've always wanted; and agency honchos who see gestating children as a source of revenue: they were all here, popping up their nefarious little heads to populate this tremendously scintillating and dark tale. In between bouts of adoption drama, Chloe is trying to make sense of her life, her career and the man whom she's fallen in love with. Though there was a very dramatic and fulfilling conclusion to all this drama, one couldn't help but ask questions about the very strange processes that are the hallmark of a private adoption agency. Hoffman does a great job investing her damaged characters with real emotion and creates for them a catharsis of sorts, though it didn't turn out at all like I expected it to.
This was a book that I picked up during a busy week and devoured in no time at all. It was haunting and gripping, and though the reader never really knows where Hoffman is going with her audacious and gritty story, I can tell you that you won't be disappointed with its strange developments and intrepid conclusion. The pugnacious characters were something to be savored as well. If you've ever wondered about the hidden underbelly of adoption, then this is definitely the book for you. It will keep you in its clutches until that final page is turned.
---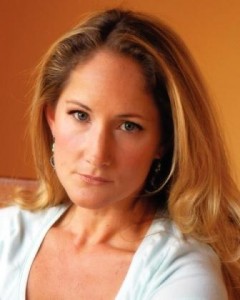 About the Author

Chandra Hoffman has been an orphanage relief worker in Romania, a horse trainer in the Caribbean, a short order cook in a third world hospital, the director of a U.S. adoption program, and an event planner for Philadelphia's Main Line elite. A graduate of Cornell University and Antioch's MFA program, she has settled back in her hometown outside of Philadelphia with her husband, three young children, and an ever-changing menagerie. Chosen is her first novel.

Visit Chandra at her website, and follow her on Facebook and Twitter at @chandraKhoffman.
---
A warm thanks to TLC Book Tours for providing this book for me to read and review. Please continue to follow the tour by visiting these other blogs:



| | |
| --- | --- |
| Wednesday, November 9th: | The House of the Seven Tails |
| Thursday, November 10th: | Books Like Breathing |
| Friday, November 11th: | Iwriteinbooks's blog |
| Monday, November 14th: | As I turn the pages |
| Wednesday, November 16th: | Raging Bibliomania |
| Thursday, November 17th: | Life In Review |
| Monday, November 21st: | Wandering Thoughts of a Scientific Housewife |
| Tuesday, November 22nd: | In the Next Room |
| Wednesday, November 23rd: | Review from the Heart |
| Monday, November 28th: | The Book Chick |
| Tuesday, November 29th: | A Cozy Reader's Corner |
| Wednesday, November 30th: | A Bookish Way of Life |
---
This book was provided as a complimentary review copy.