Detroit, 1911. Will Anderson is going through an amazingly tough time after the murder of his best friend, Wesley, at the hands of the gangsters controlling the city streets. Now Will is looking for answers and prepared to take revenge, but he has another problem as well: although Will seems to be focused on revenge, he's also addicted to the morphine that helps ease the pain of the hand that was mangled and disfigured in the fight that took Wesley's life. Will is also unsure of what has happened to Elizabeth, the woman he loves, who has also battled against abuse. When Will discovers that one of the henchmen responsible for Wesley's murder has been killed and that he is the prime suspect, the game is on to escape the mobsters and the police in an increasingly dangerous cat-and-mouse game where nothing is what it seems and everyone is suspect. With the help of friends on both sides of the law, Will goes on the offensive and comes to realize that to erase the taint from his name and to find the peace he's been looking for, he may indeed have to bargain with the very men he had hoped to destroy. Both fast paced and gritty, this sequel to
The Detroit Electric Scheme
shares the continuing story of Will and his desperate struggles to be free of the painful grip of the past and the terrible specter of the possible future.
I wasn't able to read the first book in this series,
The Detroit Electric Scheme
, and there were a few reasons I think this affected my enjoyment of this second installment. First off, there was a lot of backstory that I wasn't privy to and I had to guess about a lot of things that were eluded to and figure out a lot for myself. I also didn't know why these various players were so important, and would have been better served to have read the first book so my knowledge of past events could have helped me understand Will's motivations and his relationship with Elizabeth better. I also would have liked to have read the first book because this was such a rip roaring story that I think I would have enjoyed seeing it from its inception.
This was a dark and gripping tale that didn't pull any punches or baby its readers in the slightest degree. There wasn't a lot of bad language but the story was very violent and full of a portentous picture of what life was like in Detroit around the turn of the century. I liked that the narrative moved with such precision and speed, and I grew to understand that Will's resolve to find justice on his own was a byproduct of not only his own injuries, but also his loyalty to his friends and family. Will was a character that I could sympathize with deeply, and his persistence in putting himself in danger didn't really surprise me. He seemed to be an honorable man who was at the height of despair, and though I raised my eyebrows at his behavior more than once, I never felt the way he acted was unbelievable or out of character.
This was a story that kept its readers on their toes. The action was quick and shifting, and there were a lot of players to keep track of. Once again, I think I did myself a disservice by not having read the first book, because there were significant revelations that it seemed were meant to strike the reader in a powerful way that were lost on me, but I was still able and eager to follow along. The rawness and grittiness of the story was heightened by the seemingly calculated violence that all of the characters engaged in, and the addition of real life historical characters embedded into the plot was another touch that helped Johnson's story seem like a very accurate historical period piece. I was flabbergasted by the way everything turned out and felt that a more unexpected conclusion to this story could scarcely be possible, but Johnson handles it all with finesse and a great sense of style that I both appreciated, and at times, underestimated.
There were slight tinges of romance along with the intrigue, as Will again joins up with Elizabeth. For the most part, this romance was filled with the piquancy of verbal sparring and a deeper emotional resonance that's not typically a hallmark of these types of hardboiled reads. I really liked Elizabeth and felt her presence did a lot to stabilize Will during the more dangerous exploits that he engaged in, but I also felt at times that she herself could be a loose cannon, capable of exploding at the wrong moment. Their romance and predicament was not only a tantalizing little tidbit that was embedded in a story of deep treachery, it also provided a smoother and more emotional component to a read that could sometimes be dominated by depravity and rancor.
Though I'm not sure if this book works that well as a standalone novel, it did provide me with a lot of moments when I was glued to the page with eagerness and anticipation, so overall, I would have to say the narrative was a success. If you're the type of reader who enjoys gripping and engaging crime novels with punch, I would say to run right out and add both
The Detroit Electric Scheme
and
Motor City Shakedown
to your list. I can vouch that the second book in this series was both engrossing and entertaining.
---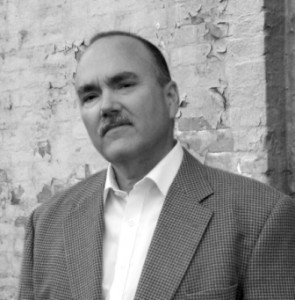 About the Author

D.E. (Dan) Johnson, a graduate of Central Michigan University, is a history buff who has been writing fiction since childhood but had to hit his midlife crisis to get serious about it. His first novel, a historical mystery entitled The Detroit Electric Scheme, was published in September 2010 by St. Martin's Minotaur Books. The Detroit Electric Scheme has garnered excellent reviews (including being named one of Booklist's Top Ten First Crime Novels of the year) and also won a 2011 Michigan Notable Book Award.

Motor City Shakedown, the first sequel to The Detroit Electric Scheme, was published by St. Martin's in September 2011. Dan is married, has three daughters, and lives near Kalamazoo, Michigan.

For more info, visit Dan's website.
---
A warm thanks to TLC Book Tours for providing this book for me to read and review. Please continue to follow the tour by visiting these other blogs:



| | |
| --- | --- |
| Monday, October 10th: | A Bookish Libraria |
| Tuesday, October 11th: | The Rap Sheet – guest post |
| Thursday, October 13th: | Crime Fiction Lover |
| Friday, October 14th: | Life in Review |
| Monday, October 17th: | Joyfully Retired |
| Wednesday, October 19th: | Unabridged Chick |
| Thursday, October 20th: | Mockingbird Hill Cottage |
| Friday, October 21st: | The House of Crime and Mystery |
| Monday, October 24th: | Life in the Thumb |
| Tuesday, October 25th: | The Literate Housewife Review |
| Wednesday, October 26th: | Murder by Type |
| Thursday, October 27th: | Fiction Addict |
| Tuesday, November 1st: | Dan's Journal |
| Tuesday, November 8th: | Book Reviews by Elizabeth A. White – guest post |
| Wednesday, November 9th: | Book Reviews by Elizabeth A. White |
| Thursday, November 10th: | Raging Bibliomania |
| Monday, November 14th: | Wordsmithonia |
---
This book was provided as a complimentary review copy.