Upon the unexpected death of the great composer and musician Wolfgang Amadeus Mozart, the city of Austria is overwhelmed with sorrow. For Mozart's sister Nannerl, a woman separated from him by past recriminations and familial grudges, the loss is almost more than she can bear. When Nannerl discovers that Wolfgang may not have succumbed to disease as she had once suspected but may have been murdered, she leaves her loveless marriage and five children in the country to travel to the heart of Austria. Nannerl hopes to learn the truth behind her brother's death, but upon her arrival, she discovers that there was more to Wolfgang than his music. It seems that Wolfgang's involvement in a secret masonic society may have put him in greater danger than he had ever imagined. Now it's up to Nannerl to ferret out the truth when deception lies around every corner and to discover the secrets of the masons and those of the highest echelons of Austrian nobility and society. Soon, Nannerl is buried deep in secrets, discovering along the way that her passion and talent as Wolfgang forgotten sister has not diminished over the many years that Nannerl spent forgetting about him. In this historical novel full of suspense and intrigue, the passion of Mozart's music comes alive with ferocity alongside the strange secrets and nuances of his death.
This book was a bit of a blended experience for me. While I didn't know the strange facts surrounding the composer and musician's death, I had assumed this book would be more of a historical novel that dealt with his life, and his music in particular. I was very surprised to discover that this was more of a mystery novel than I had originally anticipated. While I usually enjoy these types of novels, there were some strange things about this book that kept me from buying into the story completely. Part of it had to do with the mood of the book and part of it had to do with the scope of the story that Rees was trying to tell.
First off, this was a
very
melodramatic book. There was swooning and weeping galore, and sometimes I grew weary of it. Everything was done with the utmost emotion and it made me tired just to contemplate the vast amount of emotional energy that everyone was expending. Perhaps it was a case of being hit with a very dramatic book at the wrong time, but time and time again, I grew bothered that everyone in this tale was so hypersensitive. There was always great weeping and gnashing of teeth at every turn, and frankly, it was overdone and bothersome. I get that one would be overwhelmed at the passing of a great man, but this felt a little shlocky to me, and as it drew on and on, I lost interest in what I felt was an overabundance of sentimentality in what could have been a solid and tight read.
I also felt that the mystery was too complex for me to fully become engaged in the story. The players became muddled in the intricate framework of the mystery and I wasn't quite sure why some of these things seemed to have such a strong impact and importance. It took a lot of explaining from the author to pat it all into shape, and because of that, I felt that the writing was a little heavy-handed. Personally, I don't like to feel like I'm being led and directed by an author so diligently towards the things that he or she feels are important. After awhile, I ceased to be intrigued and became annoyed at the over-execution that was taking place. A reader shouldn't be able to spot a red herring the minute that they step into the story, but that's what happened here. There was a feeling of intense orchestration in this tale that left it void of spontaneity and curiously, robbing the mystery of its significance and power.
Though things were definitely amiss in my experiences of this book, I really enjoyed the historical aspects and details that were imbued in the plot. I liked getting to know the background story of Mozart and his sister, and learning about the things that kept them apart for so long. The book was rich in historical detail that I found to be pitch perfect, but that was marred by the inclusion of so many drama-laden tangents. After reading the author's notes at the end of the book, I discovered that all these events were based on historical fact, yet this story is not what has been proven to be true and it's mostly speculation. I felt that as a reader, I had been led down a path that was not only frustrating but that hindered my enjoyment of the more sedate aspects of Mozart's life and death. I usually don't have a problem with historical embellishment, but this book took things in a direction I wasn't pleased with, and I felt that I would have been much happier had the story not been so far-fetched and dramatic.
Perhaps my reactions to this book have something to do with my utter lack of knowledge of Mozart and his life before picking this book up. Perhaps it's only that the book and I didn't get on well together, but whatever the case may be, I found this to be a book that I alternately loved and loathed in equal measure. Readers who are fascinated by secret societies and theories of conspiracy would likely have a very different reaction than I did, and if you're that type of reader, then I would say to go for it! If not, this one might better be left alone.
---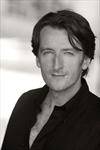 About the Author

Matt Rees is an award-winning crime novelist and foreign correspondent. He is the author of the internationally acclaimed Omar Yussef crime series, including The Collaborator of Bethlehem. He is also the author of Cain's Field, a nonfiction account of Israeli and Palestinian society. Matt lives in Jerusalem.

You can visit Matt at his website, read his blog, and follow him on Facebook and Twitter.
---
A warm thanks to TLC Book Tours for providing this book for me to read and review. Please continue to follow the tour by visiting these other blogs:



| | |
| --- | --- |
| Thursday, November 3rd: | Life In Review |
| Monday, November 7th: | Raging Bibliomania |
| Tuesday, November 8th: | Reviews from the Heart |
| Wednesday, November 9th: | Book Hooked Blog |
| Tuesday, November 15th: | Unabridged Chick |
| Wednesday, November 16th: | The Road to Here |
| Thursday, November 17th: | Book Drunkard |
| Wednesday, November 23rd: | The House of the Seven Tails |
| Monday, November 28th: | Life Is Short. Read Fast. |
| Wednesday, December 7th: | Reading Lark |
| Thursday, December 8th: | Life in the Thumb |
| Monday, December 12th: | That's What She Read |
---
This book was provided as a complimentary review copy.