Feng is just a young girl who's family is trying to climb the social ladder of Shanghai by marrying their oldest daughter into a wealthy family. Though Feng and "Sister" are constantly at odds with each other, they're destined for very different lives: Sister as the wife of a wealthy and influential man; and Feng first as a companion to her grandfather and eventually coming to care for her parents in their declining years. Then, on the eve of the wedding, Sister becomes very ill, and to prevent a loss of face to her fiance's family, it's young Feng who must take her place in the new marriage. Trying desperately to hold onto her beliefs and individuality among a new family of coldness and brutality, Feng rapidly undergoes a change for the worse. When she is repeatedly harangued about securing the family's fate by producing an heir, Feng does the unthinkable. As the years pass and the old Feng slowly fades away, she's replaced by a woman who will stop at nothing to get what she wants, and though she has fulfilled her familial obligations, she keeps secrets that live just under the surface of her icy resolve. When Feng's secrets begin to come crashing down around her one by one, she flees her once privileged life to the unknown terrors that are consuming the Chinese countryside under Chairman Mao. Both penetratingly and emotionally astute, this is the story of a girl who must give up her dreams in the blink of an eye, and the way that the loss of her future warps her into a shell that few would recognize and many would find repugnant.
At its heart, this was a story about how the loss of your dreams and the unexpected vagaries of life can shatter a once peaceful soul. Feng is not a horrible woman, and as a reader, it's easy to understand why she ends up the way she does, but some of her actions and their repercussions really turned my stomach. I wouldn't categorize Feng as unduly selfish or self-serving, and one could argue that it was a myriad of devastating and traumatic events that forced her into a design not of her own making. There was very little left to chance in her life, and the choices she did make were swift and terrible. I was almost at war with myself reading about Feng's situation, because while I understood her heartbreak and the bitterness she carried over the life she was forced to give up, I also thought that she was wrong to emulate the coldness and calculation that surrounded her.
With Feng's removal from her old life and her abrupt entry into her new surroundings, she's constantly at odds with herself and the others around her. Feng finds solace and friendship in her new maid, but even that is defeated by the hands of time and the changing attitude that she embraces. There is a significant plot element that I'm leaving out of this review for fear of spoiling the whole book, but suffice it to say that when this event took place, I was so angry with Feng that I almost decided to give up on her. It was her humble struggle that eventually led me to forgive her, and my realization that she was never able to forgive herself for what she had done. Her ill-conceived action hunted her like a slavering dog for all of her days, and it was hard not to feel empathy for her when I realized that she was being torn apart by her anger and sadness.
While I did enjoy the book, I felt that there was a bit of an imbalance in the depths of the character portrayals. Though Feng was drawn with a full brush and a compliment of literary colors, the others seemed more like stock characters and had no obvious dimensionality to them. I would have liked for them to have stepped out a little further into their space, but for some reason, they were not fully realized and they remained a little hard to relate to. This isn't to say that some of the others didn't play pivotal roles, just that they were a little washed out in terms of their personality and motives. Had the book been a little longer, I feel sure that Jepson might have developed them a little further.
I did enjoy this book and fell into the pages quite easily. It was a story that was chock full of strong emotions and starred a character who made difficult and unpardonable choices. In the end, I think that readers of this book will grow to understand Feng and the sacrifices she made in order to preserve the very heart of herself. A very interesting offering that somewhat surprised me.
---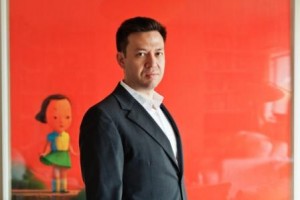 About the Author

Duncan Jepson is the award-winning director and producer of five feature films. He has also produced documentaries for Discovery Channel Asia and National Geographic Channel. He was the editor of the Asia-based fashion magazine West East and is a founder and managing editor of the Asia Literary Review. A lawyer by profession, he lives in Hong Kong.

Visit Duncan at his website, www.alltheflowersinshanghai.com.
---
A warm thanks to TLC Book Tours for providing this book for me to read and review. Please continue to follow the tour by visiting these other blogs:



| | |
| --- | --- |
| Tuesday, December 20th: | Unabridged Chick |
| Wednesday, December 21st: | The Lost Entwife |
| Thursday, December 22nd: | Books Like Breathing |
| Tuesday, December 27th: | Book Hooked Blog |
| Wednesday, December 28th: | Raging Bibliomania |
| Thursday, December 29th: | Life in the Thumb |
| Monday, January 2nd: | Jo-Jo Loves to Read! |
| Tuesday, January 3rd: | Broken Teepee |
| Wednesday, January 4th: | Savvy Verse & Wit |
| Friday, January 5th: | BookNAround |
| Monday, January 9th: | Reflections of a Bookaholic |
| Tuesday, January 10th: | Col Reads |
| Wednesday, January 11th: | Bloggin' 'Bout Books |
| Monday, January 16th: | The Adventures of an Intrepid Reader |
| Tuesday, January 17th: | Peeking Between the Pages |
| Wednesday, January 18th: | The House of the Seven Tails |
| Thursday, January 19th: | Library of Clean Reads |
---
This book was provided as a complimentary review copy.