Ree is your quintessential city girl who loves sushi, shoes and designer jeans. When she breaks up with her longtime boyfriend J after spending years just getting by on the fumes of romance, she heads back to her parents' home in rural Oklahoma, where she's planning to get her act together before moving to Chicago for the next great adventure in her life. But all that changes the night she goes out for a glass of wine with a group of friends and is caught up in the mystique of a mysterious cowboy whom she can't seem to stop thinking about. As Ree prepares for her move to Chicago and tries to shake off J's unwanted intrusion into her future, the unexpected happens: the cowboy reappears and sweeps Ree off her feet. In a whirlwind romantic courtship, Ree begins to learn about the realities of love and comes to crave the nearness and perfection of the cowboy she calls "The Marlboro Man." As Ree adjusts to the change from city socialite to a woman who relishes the quiet and outdoorsy way of life, she begins to discover that the Marlboro Man is more than just a fling: He's the real thing. But Ree's life is far from calm, and when severe relationship problems begin to crop up for her parents, Ree becomes scared of the life she is embarking upon. But Marlboro Man won't let that stop him because Ree is the woman he wants to spend the rest of his life with. In this memoir from award winning blogger and Food Network star Ree Drummond, readers get to hitch a ride on a star as they traverse the course of the early days of the relationship between Ree and her cowboy, the irrepressible and quietly solid Marlboro Man.
Though I'm not very familiar with Ree Drummond's blog or television show, I have heard her name bandied about enough to have been curious about her memoir. Despite not being much of a romance reader, the fact that this story is written as a memoir really enticed me, and at a time when I'm rather busy and harried in my real life, I thought it would be a perfect escape to read about the journey into love that Ree never saw coming. For the most part, this book was enticingly romantic, but there were also deft bits of humor surrounding the story of Ree and Marlboro Man that I couldn't help giggling over. This was a book to be savored and remembered, if only to prove that real romance does indeed exist and is found in the most unlikely spots.
I would have to classify Ree as something of a princess when the book starts, and I admit that I didn't really feel a closeness to her. I don't know if it's just me, but I can't really relate to a woman who's main focus is clothes, shoes and hair. I initially thought Ree's treatment of her longtime boyfriend, J, was a little cruel, given the fact that she had lived with him for so long, and I wondered what I got myself into with this book. It wasn't until I began to see the little insecurities hiding behind Ree's fancy facade that I began to take her a little more seriously and grew to like her. When Ree decides to introduce herself to the handsome cowboy at the bar, I knew the story was just taking off, and it was with a mixture of trepidation and curiosity that I watched this woman transform from a cynical fashionista into a love struck woman who became completely transparent and utterly likable.
Ree's romance with Marlboro Man was recounted from its first precarious steps to its satisfying conclusion with lot of heat in between. I grew to see Marlboro Man from her perspective: a kind and romantic man with no time for games or foolishness. He takes his relationship with Ree very seriously but isn't afraid to poke fun at her when he gets the chance, and the chemistry and heat between these two seems to gush off the page. All this is not to say that there weren't problems along the way, for there were some issues between the two lovers that seemed insurmountable. Gently and with great care, these two moved together seamlessly to overcome the difficulties that plagued them while learning to lean on each other for support and strength that no one else could give. I was touched by the concern and compassion they showed for each other, and have to admit that I swooned a time or two over the Marlboro Man.
As Ree and her man become more and more enmeshed, questions of permanency and marriage begin to crop up, and unexpectedly, the situation is upon her. In the last section of the book, Ree decides to leave her old life behind and bend her existence to the love of her life, whom she seems to have discovered by fate and chance. This was my favorite section of the book because I remember asking myself many of the same questions as I took the plunge into married life that Ree struggles with as well. But through all the ups and downs, (and there are plenty) the loving and attentive man by her side never gives her reason to doubt, and with all her soul, Ree longs to become one with him. I was surprised at how this section turned out, because while the two had an almost perfect love, the situations surrounding them were far from perfect. When it weighed the most heavily on them, the two found strength in each other.
This was a very sweet romantic memoir to fill my February with, and I was glad that I had the opportunity to read it. Though it's not my genre or subject choice very often, sometimes a girl just needs to escape into a blissful and extravagant tale of love and passion. If you're looking for a book to warm your heart and make you feel a rush of tenderness in your soul, this is the book for you. A really endearing read.
---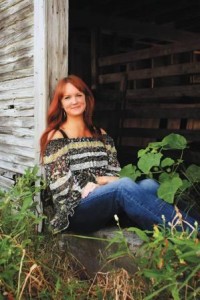 About the Author

Ree Drummond, an award-winning blogger since 2006, is the star of the hit Food Network show The Pioneer Woman. In addition to her #1 New York Times bestselling cookbook, The Pioneer Woman Cooks, Ree is the author of Charlie the Ranch Dog and The Pioneer Woman Cooks: Food from My Frontier. She lives on a working cattle ranch near Pawhuska, Oklahoma, with her husband and their four children.

Blog | Facebook | Twitter
---
A warm thanks to TLC Book Tours for providing this book for me to read and review. Please continue to follow the tour by visiting these other blogs:



| | |
| --- | --- |
| Friday, February 17th: | Chick Lit Reviews and News |
| Monday, February 20th: | Hospitable Pursuits |
| Tuesday, February 21st: | Book Club Classics! |
| Thursday, February 23rd: | Joyfully Retired |
| Monday, February 27th: | Laura's Reviews |
| Tuesday, February 28th: | Raging Bibliomania |
| Wednesday, February 29th: | Jenn's Bookshelves |
| Thursday, March 1st: | Books Like Breathing |
| Tuesday, March 6th: | BookNAround |
| Wednesday, March 7th: | Amusing Reviews |
| Thursday, March 8th: | girlichef |
| Monday, March 12th: | Tina's Book Reviews |
---
This book was provided as a complimentary review copy.