The Baylani family is slowly disintegrating. When matriarch Rosalie discovers that her husband, Abdullah, has taken another wife and has been hiding this secret from her for over two years, she's understandably distraught and furious. Rosalie is an American, and it's been decades since she left her home in Texas to share a life with Abdullah in Saudi Arabia. Diluting her foreignness down to almost imperceptible levels, Rosalie has embraced her new culture and has pinned all her dreams and happiness on Abdullah, who has betrayed her in the worst way possible. Meanwhile, Rosalie and Abdullah's children, the severe and stoic Faisal and the more whimsical and free-spirited Miriam, are spinning off into their own private orbits of loneliness, confusion and, in the case of Faisal, extreme religious pliability. But with Abdullah's secret out in the open, the family, once close and loving, begins to slowly unravel into a group of people fighting for emotional survival at the expense of one another. When Rosalie decides to take her future into her own hands, she sets off a devastating chain of events that will lead to one member of the clan contemplating and executing the unforgivable. Now it's up to the people around them and the family themselves to pull themselves back from the brink where they've been teetering for so long. In this provocative and gripping look into a Saudi marriage that's falling apart, the reader watches as each piece of the puzzle rapidly falls away, leaving only heartbreak and emptiness behind.
Recently I've seen a lot of reviews of this book and the majority of them have been tepid. I had wondered, after reading them, if my experience would be the same, and had concerns about what I was getting myself into. I think part of the reason that my opinion differed from most of the other reviewers' was because as I was reading, I became imminently aware that each of these characters was deeply flawed in one way or another. I became engrossed in an attempt to understand where their motives lay and invested in learning whether they would find the redemption that they were so longing for. While I do agree somewhat with the reviewers who felt the book was a bit salacious, I found the scandals that were created in the narrative to have the qualities of a motivator that lent the plot credibility and justified the characters' suffering and ire.
I really felt for Rosalie. Here was a woman who left America behind to follow her soul mate into the desert and begin a family with him, only to be strung along into a multiple marriage by the man she trusted most int he world. Rosalie was no shrinking violet, but her helplessness at the situation she was in made me feel a deep thrum of compassion for her. Sure, she could have been a little less focused on herself and more in touch with her kids, but what parent couldn't? In Rosalie's desperate mental revolutions, she felt that she was trapped, indeed knew that she was. Though she was a spitfire, some of her life force seemed to drain away from her in her struggle to understand why Abdullah had strayed from their marriage and into another woman's arms. It was not only that he had strayed, but had *married* another woman without her knowledge that both scandalized and shocked me.
Abdullah, on the other hand, was a very disagreeable character for me to deal with. He was absurdly selfish in all that he did and his rationalizations for his behavior stuck me as not only crude, but strangely immature. When faced with a chasm of growing separation from Rosalie, what does Abdullah do? Why, he goes out and gets another wife, of course! Though Saudi custom doesn't forbid this, in modern day Saudi Arabia, this is a behavior that is frowned upon. The fact that he keeps this woman a secret from his family is an indicator of just how wrong he knows his behavior is. Abdullah is self centered and indulgent with himself. He gives what is in his pockets and bank accounts, not in his heart, and it was very repugnant to me to have to spend time with him on the page. I grew tired of him rather quickly and wondered how it was that Rosalie ever fell in love with such a man.
The third point of this plot triangle is Faisal, Rosalie and Abdullah's son. As he matured, his belief system has become radical, and I got the feeling that he was in the throes of a moral and ethical search that really had no answer. He was adored by his mother and complicit with his father, but at some level, Faisal believed that he was beyond them in his spiritual capacities. This isn't so different than a lot of teenagers in the West feel, but in a country that's ripe with fanatics and whose religion demands such a total giving of one's entity, Faisal does much more than just lose his way. He becomes dangerous to some degree and his moral indignation at his parents' plight results in a twisted form of retribution that is meted out in intense ways. Faisal's basic struggle is one for acceptance, and when the wrong people start to accept him, his psyche begins to become warped and unstable.
This was a great novel for those readers who like deeply resonant and dramatic looks into dysfunctional families. The setting provides a new and almost unprecedented look into a culture that is beset with very different ideals and dangers than those posed in the West. While the book does provide a heightened level of drama, it's a story that many will find intoxicating due to its exposure of issues that are explosive and that target themes of forgiveness, culpability and regret. A very thought-provoking read; Recommended.
---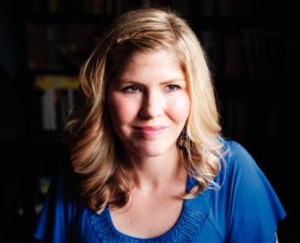 About the Author

Keija Parssinen was born in Saudi Arabia and lived there for twelve years as a third-generation expatriate. She earned a degree in English literature from Princeton University and received her MFA from the Iowa Writers' Workshop, where she held a Truman Capote Fellowship and a Teaching-Writing Fellowship. For The Ruins of Us, her first novel, she received a Michener-Copernicus Award. She lives with her husband on the edge of a quarry in Missouri.

Website | Facebook | Twitter
---
A warm thanks to TLC Book Tours for providing this book for me to read and review. Please continue to follow the tour by visiting these other blogs:



| | |
| --- | --- |
| Tuesday, January 17th: | Book Hooked Blog |
| Wednesday, January 18th: | Take Me Away |
| Thursday, January 19th: | Broken Teepee |
| Friday, January 20th: | Bibliosue |
| Monday, January 23rd: | Book Club Classics! |
| Tuesday, January 24th: | Wandering Thoughts of a Scientific Housewife |
| Thursday, January 26th: | Peeking Between the Pages |
| Tuesday, January 31st: | Col Reads |
| Wednesday, February 1st: | The House of the Seven Tails |
| Thursday, February 2nd: | Raging Bibliomania |
| Monday, February 6th: | Library of Clean Reads |
| Tuesday, February 7th: | Man of La Book |
| Wednesday, February 8th: | 2 Kids and Tired Book Reviews |
---
This book was provided as a complimentary review copy.