When Hannah Benson left her small town twenty years ago, she vowed never to return. Running from terrible abuse and an uncertain fate, Hannah struggled long and hard to create a life of normalcy and independence far away from her horrible origins. But when she gets a call one day telling her that her mother and sister have both died, leaving her sixteen year old niece without a family, Hannah must put aside old demons and painful memories to become the mother of a girl who is just as frightened and confused as she is. Though Hannah tries to kept the secrets of her past buried, her old flame Grady, now sheriff of the town, isn't just going to let her waltz into town and take charge of her niece. He wants answers about the reasons for her disappearance, and most of all, he wants to let Hannah know that his feelings for her never died. But this old life and the people left in it are almost too much for Hannah to bear, and though she grows increasingly attached to her young niece and dreams of taking her far away to a new life, some of the things she has long kept hidden are starting to work their way out of the cracks and crevices where she once left them buried. Now it's only a matter of time before Grady gets to the bottom of Hannah's painful past. Will her memories and past actions turn the town, and most importantly, her niece, against her? In this novel of secret shame and painful reckoning, one woman will confront potent demons and hair raising abuse in order to break the cycle and reclaim a life that she thought she had given up forever.
When I first picked up this book, I had thought I was in for another light women's fiction read that was heavy on the romance, with a side of drama that would keep me invested in flipping the pages. What I got was much more startling and direct, and in her efforts to create a moving and fluid story, I found that McComas created a vibrant and eclectic set of characters all impacted by the terrible events that happened in their midst twenty long years ago. It was intriguing to watch the layers and layers of secrets peeled back like tissue paper, finally exposing the brutality and fear nestling within. As I grew more and more invested in the book, I came to care for Hannah in an immediate and urgent way.
The Hannah that shows up on these pages is not very much like the Hannah of old. Sure, they were both filled with spunk and fire, but this new Hannah was a lot more vulnerable and fearful about the past that she left behind, and for good reason. When Hannah left town that dark night, she took with her a secret that she went to great lengths to hide, a secret that would change the shape of her future and the people that she left behind. For all her running and removal, Hannah wrestled with herself, both within her heart and mind, against the terrible monstrosity that claimed her that night. This is why the call to come back home so destroys her. Not only is she shielding her mind from the life that she lived, but she has reason to believe that someone else may know just what she did and that her secret may not be safe.
When Hannah first meets her niece, Anna, her namesake, she's unsure of how to care for the girl, and it's not a surprise to find that mothering comes hard to her. With the gentle pressure of Anna's need, Hannah finds her way and begins to form the attachments to family that she never was able to form in the past. A lively group of teenagers, close friends of Anna, are there to provide the social and emotional lubrication in this new and fledgling relationship, and it's the verisimilitude of the group's social interactions that uncover pivotal strengths and weaknesses in Hannah's character. As she grows closer and closer to Anna, she grows more and more fearful of her secrets coming to light, and she realizes that for the two to break away and be free, she must reveal all, much to her terror.
It's really Grady who sets these events in motion, for his love for Hannah has never abated and he feels more than responsible for the events that lead her away in the night. But he has no idea what really happened. Once a popular rebel, time has brought Grady perspective, and at last he realizes that Hannah can't slip away again. At times, I felt that he was pushing her too hard and that he was too fierce when it came to uncovering her secret, but Grady was only trying to break down the walls that Hannah put up so that she would finally let him love her. His strength and pushiness was a balm to her wounds, and though he was impatient to get to the bottom of things, his timetable turned out to be right on target. Though Hannah felt him to be pursuing her in more ways than one, what she couldn't see was that his motive was always his love for her and the blame he shouldered for not protecting her.
This was a rather intense read, which made it all the sweeter when it's denouement arrived. The force of so many strong willed people in such small confines could have been disastrous, but in this case, it all worked out really well. Character development never took a backseat to plot, and emotion ran high throughout the story. It was the kind of book that left me eager to uncover each development, and McComas had me eating out of her hand from the first paragraph. A lovely read with a lot of heart. Recommended for those who like fiction that's got a little meat on its bones.
Great news! Mary Kay McComas did a wonderful interview over at Book Club Girl, and if you'd like the chance to check it out,
click here
!
---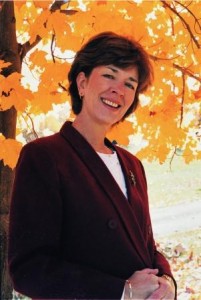 About the Author

Mary Kay McComas started her writing career twenty-five years ago. To date she's written twenty-one short contemporary romances and five novellas; What Happened to Hannah is her second novel. She was born in Spokane, Washington, and now lives in a small town in the beautiful Shenandoah Valley of Virginia with her husband, three dogs, a cat, and her four children nearby.

Website
---
| | |
| --- | --- |
| | A warm thanks to TLC Book Tours for providing this book for me to read and review. Please continue to follow the tour by visiting these other blogs: |
---
This book was provided as a complimentary review copy.