Ian Hunt is a police dispatcher in a small city of East Texas. Though not a bad fellow, Ian is living a life punctuated by alcohol, resentment and regret. Then while on duty one morning, Ian gets a call that will change his life. The call comes from his daughter Maggie, who has been missing for seven years and whose memory was laid to rest in an empty coffin only four months ago. Knowing that he has no time to waste, Ian sets off on a dangerous mission to reclaim his now fourteen year old daughter. Meanwhile, the man who took Maggie is growing increasingly violent and volatile. In his very broken mind, Maggie's abduction was necessary and he will fight to the death to keep her. When Ian takes the law into his own hands and decides to try to rescue Maggie on his own, he discovers that this mission is going to be lot harder than he ever imagined and that he is very quickly running out of time. In this fast paced and thrilling read, the plot twists itself into a tense knot that grows tighter and tighter leading up to an explosive and shocking conclusion.
While I'm not normally a fan of thriller/suspense novels, there seemed to be something a little different about this book and I eventually became very eager to read it. I do have to admit that the cover is a little silly and the blurb on the front jacket copy is clearly sensationalistic. Overall, this was a book that I sped through because the plot was just so engaging. Frankly, the story was sometimes implausible, but by suspending my sense of disbelief just a fraction, this book and I got on together very well. If I had to describe this book to someone, I'd say it's like a mash-up between any Quentin Tarantino movie and No Country For Old Men. It was gritty and dark and at times bizarre, and all that led me to flip the pages faster and faster to see how things would turn out.
Ian Hunt isn't the most healthy person you're likely to come across in a book, neither physically nor mentally. Losing his daughter seven years ago has turned him into a man who seems not to care about much of anything anymore. Adding to his apathy is the fact that his career is more than a little stuck. He's a police officer, yet he must sit and man the phones in a two-bit backwoods town. Ian leads a pretty grim life, yet when he receives that phone call from Maggie, everything takes an electric and vibrant turn for him. Ian feels that he can get the job done better and faster than the investigators around him. This leads him to a place of vigilante justice, where he makes the rules and anyone in his way is likely to get hurt. The ethics of his behavior are more than a little sketchy, but it was clear to see why he was acting as he was, so the inner turmoil that I felt towards the unfolding events was justified but also a little squirm-inducing at times.
Maggie's situation was awful to behold. I'm not going to go into great detail because I don't want to spoil the book for anyone out there, but I found her plight to be heartrending, and the mental games and exercises that she makes up to survive this day-to-day life seemed heartbreaking. I will say one thing: Maggie was a survivor, and there is no amount of suffering or squalidness that she couldn't endure. I found her to be sassy and strong, and it was easy to root for her and wish that better things were coming for her after that secret call to her father. Jahn creates Maggie with care and gives his readers a character to care about and worry over; a girl caught up in a maelstrom of violence, abuse and rancor. She was the bright spot in this book for me, and she had a tremendous share of the action, which I also liked.
There were a few parts of the book that felt somewhat implausible, and because of this, I hesitate to give it a top notch rating. Things sometimes seemed very coincidental and certain aspects of the plot were more than a tad unbelievable. But the the main thing that held this story together was that it had a great structure; great bones from which to drape a pulse-pounding story. After awhile, I knew that I was going to have to suspend my disbelief and let some things go in order to enjoy the book, which is exactly what I did. I feel that this needs to be mentioned because some readers might not be comfortable doing this and it could lead to serious disappointment with the book.
I liked this fast paced and dramatically rich read, and hear that Jahn has another book out there for me to check out, so I will be doing that soon. Those readers who love suspense novels that aren't part of a series might give this one a try and see what they think. If dark and violent thrillers are your thing, then this is something that you might enjoy. Just be prepared to let a few things go in service to the tale. Not perfect, but a riveting read nonetheless.
---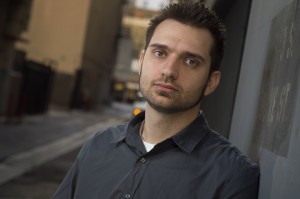 About the Author

Ryan David Jahn won the Crime Writers Association debut novel prize for Good Neighbors (Penguin, 2011). He left school at sixteen to work in a record store and subsequently joined the army. Since 2004 he has worked in television and film. He grew up in Arizona, Texas and California and recently moved from Los Angeles to Louisville, Kentucky, where he plans to set his next novel.

For more info about Ryan and his work, please visit his website.
---
A warm thanks to TLC Book Tours for providing this book for me to read and review. Please continue to follow the tour by visiting these other blogs:



| | |
| --- | --- |
| Monday, February 13th: | Chaotic Compendiums |
| Tuesday, February 14th: | Ted Lehmann's Bluegrass, Books, and Brainstorms |
| Thursday, February 16th: | A Bookworm's World |
| Monday, February 20th: | Life in Review |
| Wednesday, February 22nd: | Reading on a Rainy Day |
| Wednesday, February 29th: | Dan's Journal |
| Thursday, March 1st: | Wordsmithonia |
| Monday, March 5th: | Book Reviews by Elizabeth A. White |
| Tuesday, March 6th: | Man of La Book |
| Thursday, March 8th: | Crime Fiction Lover |
| Monday, March 12th: | Book Addict Katie |
| Tuesday, March 13th: | The House of Crime and Mystery |
| Wednesday, March 14th: | A Library of My Own |
| Wednesday, March 14th: | Unabridged Chick |
| Thursday, March 15th: | Mockingbird Hill Cottage |
| Wednesday, March 21st: | Fiction Addict |
| Friday, March 30th: | Raging Bibliomania |
---
This book was provided as a complimentary review copy.