Lillian is in an acute state of mental crisis. After attempting to take her own life with a lethal cocktail of pills and alcohol, she's taken to a psychiatric facility. While Lillian may seem like a normal young woman, her mind is filled with strange sexual delusions and hallucinations that make every day seem like a nightmare to her. As Lillian's mind slowly unravels, pieces of her past come racing to the forefront of her consciousness. An overbearing and emotionally unstable mother who clings to Lillian like a life preserver is only one of the things that's holding her back. Lillian is also dealing with the ever consuming sense of guilt over her father's stroke and brain damage, which is undoing both him and her as she is confined to the padded room of the ward. As Lillian learns more about the people who share the facility with her, she discovers more about herself and the shaming fantasies that are crumbling her. It's only when she begins to trust her doctor and to begins digging into her torturous past that Lillian is able to find some semblance of normality among the refuse that is her mind. In this intensely provocative new novel, Leora Skolkin-Smith presents her readers with a woman who's helplessly trapped inside the memories of her life; memories that are day by day eating away her sanity.
Over the past few years, I've read a lot about various mental states in literature. In one way, I think my curioisity about other people has extended outward to such a degree that I felt it was necessary and even important to read these types of books, and in another way, I also read these books as a way to understand some of the people in my life who deal with issues like these. Often these types of books can be scary and depressing, and so for awhile now, I've been backing away from them in an effort to keep from overwhelming myself. As I read
Hystera
, I came back to a lot of issues that I had read about before, but in some ways this book felt less than genuine and less representative to me.
Lillian is obviously troubled with delusions and hallucinations that keep her from functioning normally. I won't get into what exactly these hallucinations are, only to say that they are sexual in nature and extremely odd. When I came across the first scenario of her illness, I was worried that this was going to be a book that was so out there that I would have trouble with it. Eventually these delusions seem to calm down and I was able to look past them into the story itself. I had been wondering if the particular delusion that Lillian was suffering from had some symbolic meaning, but you know what? Sometimes a cigar is just a cigar, and I was beyond the point of trying to scrutinize the weirdness in search of the meaning of these symbols. Suffice to say that Lillian was not well and that a lot of the ideas she had were ramifications of her helplessness and passivity.
Another thing that I found strange was the absence of pharmaceuticals in the ward that Lillian is assigned to. Everyone is pretty much out of control over there and there are incidents of disturbing behavior, both sexual and violent, but nobody is getting medication. This hardly seems believable to me. When Lillian begins to have strange delusions and reacts with violence towards the nurses and doctors, their way of handling things is to lock her in a room instead of giving her medication that may calm her delusions. Now, I'm not advocating for flagrant pill-pushing because often that's not the answer, but in some cases medications can be a useful tool that enables patients to get over debilitating mental afflictions. It just didn't ring true to me that all these people were just running around all over the place, not being medicated. I especially felt this way when one of the characters threw himself out of a window and fell to his death.
This book is set in the mid 70s, and as such, a lot of the societal issues that were in play during that time made their way into the plot. There were numerous discussions about Patty Hearst. The patients inside the ward were usually consumed by the things that went on in the world outside the locked doors and spent a lot of time speculating about them. As Lillian comes to break down her mental barriers and learns to be guided by the intrinsic truths of her emotions and mind, she begins to see that the genesis of these delusions is in her fear of her mother and her culpability in her father's accident. As she struggles to normalize her worldview, things begin to fall into place and the shadowy recesses of her mind are scoured with a bright and healing light that expunges the fear and delusions that she has lately become enveloped in.
While this was an artistically interesting book, I felt that it didn't feel authentic in a number of ways. Having read quite a few books on the plight of the mentally ill and their road to recovery, I felt that this book was a little bit of a lightweight. That's not to say that I didn't enjoy it or that there weren't some really interesting perspectives and ideas thrown into the mix. Though it wasn't a favorite, I do have to admit that the strangeness of some aspects of the story was a tad addictive. An interesting, if not entirely genuine, addition to the genre.
---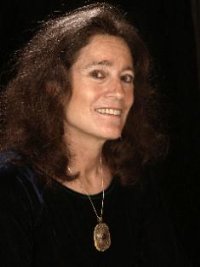 About the Author

Leora Skolkin-Smith's first published novel, Edges, was nominated for the 2006 PEN/Faulkner Award by Grace Paley. Edges is in pre-production under the name The Fragile Mistress.

Leora was recently a panelist at The Haitian Cultural International Book Festival, The Miami International Book Fair, The Virginia Festival of the Book and The National Women's Association. She is currently a contributing editor to readysteadybook.com and her critical essays have been published in The Washington Post, The National Book Critic's Circle's Critical Mass, Conversational Reading and the Quarterly Review, among other places.

Website | Facebook | Twitter
---
A warm thanks to TLC Book Tours for providing this book for me to read and review. Please continue to follow the tour by visiting these other blogs:



| | |
| --- | --- |
| Monday, March 5th: | Veronica M.D. |
| Tuesday, March 6th: | Jenn's Bookshelves |
| Wednesday, March 7th: | Raging Bibliomania |
| Tuesday, March 13th: | Book Hooked Blog |
| Wednesday, March 14th: | Life In Review |
| Thursday, March 15th: | A Bookish Way of Life |
| Monday, March 19th: | The House of the Seven Tails |
| Tuesday, March 20th: | Stiletto Storytime |
| Thursday, March 22nd: | I'm Booking It |
| Tuesday, March 27th: | "That's Swell!" |
---
This book was provided as a complimentary review copy.