Clementine Pritchard is a very successful and lucrative artist who has decided that she's giving herself a thirty day countdown to suicide. Caustically funny, irreverent and wickedly inventive, Clementine has secrets buried in her past that are so devastating and horrific that they have affected her day to day life as long as she can remember. She's also decided to abandon the medications that were keeping her raging mental illnesses at bay and is slowly sinking into deeper and darker pits of apathy and self-abuse. But Clementine has given herself these thirty days to tie up loose ends: things like finding her poorly behaved cat a new home and buying herself a cemetery plot overlooking the city. She also wants to find her father, the man who abandoned their fledgling family many years ago and left no trace behind. As she embarks on her plan, things begin to go awry as unexpected events begin to change things in drastic ways. When two secrets in particular begin to disrupt Clementine's plans for a painless and well considered suicide, she's left reeling, and must decide if she can ever forgive and learn to live on or if she'll carry her new knowledge to the grave. In this poignant and darkly comic novel, the reader comes to meet the enigmatic and pragmatic Clementine Pritchard and to see things from the perspective of a damaged woman who's just too tired to hold on anymore.
Clementine was a really interesting character. Though she's irascible and ill-behaved, there's a lot about her to admire. Her chutzpah and assertiveness were things that I greatly admired, and despite her situation being dire, Clementine was oddly relaxed and competent in the plans she was making. In order to gain the support she needs, she lies about having a terminal illness. While ordinarily that would make me dislike a character, it was oddly fitting for Clementine and I could see her mental wheels spinning on why this could be acceptable. She has people in her life that she wants to spare, and for that reason, she can't tell them of her plan. She wants to say goodbye before it's too late, but nothing is going to change her mind and she wants no opposition to the plans she's made for herself.
The secrets of Clementine's origins were painful and grotesque. When I realized what her childhood was like, I was floored that she was able to have gone on this long. Mental illness ran in the family and was only a precursor to what inevitably took her childhood away before its time. Critical thought went into her plan, and when I finally realized why she had made this final plan, it stirred a deep well of sympathy in me that never abated. As she goes about putting her plan into action, she finds herself the star of many misadventures and discovers that the life she's giving up isn't what she had first thought it to be. I liked her because she was bitingly funny and acerbic, but on a deeper level, I found her to be a tragic figure, masking her iniquities with sarcasm and wit.
Food plays a big role in this book as well. Now that Clementine is off her medication, food is suddenly appetizing again and she begins to share luscious and exotic feasts with her friends and family. As a reader who loves foodie books, this aspect of the novel was surprising and very welcome. It was easy to mentally slip into the seat beside her and vicariously enjoy the amazing treats that she was serving up for herself and her guests. I suppose her reasoning was that she wanted to have one last taste of everything, and this in itself was wonderful; but it was also a reflection of the seriousness of her plan and her desire to really go through with it. I got the feeling that there were some elements of emotional hunger that were being fed bodily, which was satisfying to her for awhile but left lingering feelings of resentment.
I know this is going to sound strange, but this book had some really great instances of comedy strewn about it that really got my attention and made me realize that it was much more than a book of deep seated tragedy. Clementine was just so plucky, and with so little time left, she didn't take crap from anyone. This meant that she did a lot of wild, unpredictable, funny and outrageous things that not many would do. I think she figured she had nothing to lose. The conclusion packs a serious punch, and when Clementine reaches her suicide deadline, a new problem arises that could never have been predicted. With all she finds out about herself and her family, this new revelation rocks her to the core. Will Clementine go through with it and finally be at peace, or will she give life another chance and discover a hidden reserve of power she didn't know she had?
I loved this book for its mix of the comedic and the deeply resonant way in which Clementine struggled. It's a serious book for sure, but there are some blissful moments of laughter among the brambles of pain and heartache. It's also a must for foodies out there. In capturing Clementine's dilemma, Ream does what few authors manage to do: turn a tragic decision into something that reveals the deep inner strength of her protagonist. A very smart and involving read. Recommended.
---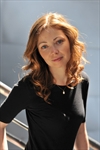 About the Author

Ashley Ream got her first job at a newspaper when she was sixteen. After working in newsrooms across Missouri, Florida and Texas, she gave up deadlines to pursue fiction. She lives in Los Angeles and works at a nonprofit.

Website | Facebook | Twitter
---
A warm thanks to TLC Book Tours for providing this book for me to read and review. Please continue to follow the tour by visiting these other blogs:



| | |
| --- | --- |
| Wednesday, March 14th: | A Musing Reviews |
| Thursday, March 15th: | As I turn the pages |
| Friday, March 16th: | Sara's Organized Chaos |
| Monday, March 19th: | Peeking Between the Pages |
| Tuesday, March 20th: | A Soul Unsung |
| Wednesday, March 21st: | The Lost Entwife |
| Thursday, March 22nd: | Book Hooked Blog |
| Monday, March 26th: | Life In Review |
| Tuesday, March 27th: | Raging Bibliomania |
| Wednesday, March 28th: | Tina's Book Reviews |
| Thursday, March 29th: | Into the Hall of Books |
---
This book was provided as a complimentary review copy.