Lilia and Hector live in a small village in Mexico, though Hector has other dreams for his family's future. Leaving Lilia behind, Hector embarks on a risky illegal journey to America under the dangerous protection of a coyote who will smuggle him across the border. Hector plans to arrive first and set up a life for his wife and infant daughter and then send for the two as soon as possible. Hector's crossing is both unpleasant and frightening, but when he finally makes it to the U.S., he quickly finds a new job and shelter awaiting him. But Lilia, not content to wait on Hector's plans, unwittingly accepts help from an old friend of a dubious nature. What happens to Lilia and her child as they cross from Mexico to America is tragic, horrifying and bewildering. Meanwhile, Hector, knowing nothing of Lilia's new plans, is slowly gaining the trust and respect of his employer, who wishes to help him start a new life. When Lilia calls him saying that she has indeed crossed the border, Hector is both furious and heartbroken by the fate that his wife and daughter have suffered. Things have now gone seriously awry, and their small family will never be the same again. With broken hearts and damaged souls they struggle forward, making their painful way in America, until one day an unthinkable tragedy threatens to devastate their new lives. In this haunting and provocative new novel of one family's struggle to live new lives of opportunity and prosperity in America, Michel Stone submerges her readers in a world of the vivid horror and dangerous treachery of a journey across the border.
I was thrilled to get a chance to read this book because it's published by one of my favorite publishers, Hub City Press. About a year ago I wrote a
post
about the awesome Hub City Books and their truly innovative store and small press. Their wonderful manager, Erin, sent this book along to me and assured me that it was an incredible read, and I'm pleased to say that I agree fully. In this spare novel, Stone manages to capture all the intensity and drama in a book that I was unable to put down. It's also a story rooted in a reality that I don't think many Americans who speak about illegal immigration ever really consider. It is a book of extreme importance and undeniable impact.
When Hector leaves his family behind, he is secure in the knowledge that he will one day be reunited with them, which makes his dark and twisted journey somewhat more bearable. He leaves Lilia and his newborn daughter behind with a heavy heart but knows that he must save in order to employ a safe and reliable coyote for them to cross. Though optimistic, Hector is also pragmatic, and his journey towards the land of opportunity is one that is initially fraught with a tension that gradually morphs into a steady and sustaining life that will enable him to realize his plans for his family's future. Hector is smart and resourceful, quickly gaining allies and friends, and soon becomes indispensable to his employer. As he toils away day after day, he dreams of the day that he will be reunited with his fledgling family. Hector believes that the worst is over and that he can create a life for them that is safe and secure. He believes that a sunny future awaits them in this new place.
Lilia is not as patient as her situation requires, and due an unplanned circumstance, she feels she must move quickly. As she rushes to join Hector, she unwittingly puts herself and her daughter in the hands of a coyote that is not to be trusted. Her crossing is brutal and violent and she comes to America having lost much that she can't replace. My heart broke for Lilia and her suffering, and in only a few moments the light and freedom that resided inside her was gone. This drove a further wedge between herself and her husband, who is already embittered by her decision to entrust her crossing to a stranger. It's Lilia's naïveté and innocence that become liabilities to be manipulated and exploited in her journey, and she arrives a broken shell, altered both inwardly and out, to her new home in South Carolina.
Stone has a way of making her characters extremely vulnerable while not robbing them of their sincerity or hope, which makes the plights of Hector and Lilia all the harder to assimilate. The originality of this book and the knowing voice in which the narrative is imparted forces even hardened readers to look deeper into the plight of illegal immigrants and to put names and characteristics to these precious people who are treated as a commodity. It's a hard tale to read, but it's honest, raw and powerful. The chances these characters take are mirrored into infinity every day by those who seek to better themselves and live lives of consequence and meaning in America. The statements that this book makes are not to be squandered or overlooked.
Though it's hard to say that I loved a book that was mired in tragedy, I was completely awestruck by Stone's incredible narrative voice. It's a tremendously moving and carefully constructed book overflowing with pathos, and it chilled me to the bone. This is an important book that needs to be read by many, and in her attempt to tell the story of one small family, Stone manages to capture the heartrending plights of hundreds, if not thousands. A viscerally enveloping read. Highly recommended.
---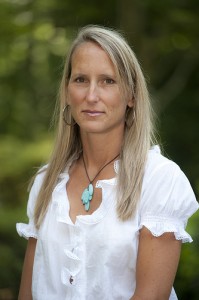 About the Author

Michel Stone has published more than a dozen stories and essays in journals, magazines, and books. Her work has appeared numerous times in the Raleigh News and Observer's emerging Southern writers series and she is a 2011 recipient of the SC Fiction Project Award. Raised on the South Carolina coast, Michel now lives in Spartanburg, S.C.

To learn more about The Iguana Tree, visit the publisher's website, www.hubcity.org, or visit Michel's website, www.michelstone.com.
---
A warm thanks to TLC Book Tours for providing this book for me to read and review. Please continue to follow the tour by visiting these other blogs:



| | |
| --- | --- |
| Monday, April 2nd: | Luxury Reading |
| Wednesday, April 4th: | Book Chase |
| Thursday, April 5th: | Life in Review |
| Monday, April 9th: | Unabridged Chick |
| Tuesday, April 10th: | The Feminist Texican [Reads] |
| Wednesday, April 11th: | The Picky Girl |
| Thursday, April 12th: | Indie Reader Houston |
| Friday, April 13th: | Raging Bibliomania |
| Monday, April 16th: | Book Addiction |
| Wednesday, April 18th: | Colloquium |
| Thursday, April 19th: | Jenn's Bookshelves |
| Monday, April 23rd: | Book Club Classics! |
| Tuesday, April 24th: | Estella's Revenge |
| Wednesday, April 25th: | Book Chatter |
| Monday, April 30th: | Suko's Notebook |
---
This book was provided as a complimentary review copy.