In this kaleidoscopic and avant garde novel of life in and around the opium dens of India, Jeet Thayil gives his readers a peek into the underbelly of Indian society. Thayil presents the struggles of a handful of characters who have given up their lives, dreams and ambitions for the drug that helps each to escape their mental and physical plights. Dimple, also known as Zeenat, is a eunuch who is living as a woman, sharing her time between a brothel and an opium den where she is a mistress of the pipes. Hers is a story of unexplored and diverted life, and as she tries to claw her way out of the holes she's been sucked into, she discovers the beauty of life hiding behind the ugliness she sees everyday. Rumi is an addict who will do anything to get his next fix and is hiding a habit for dangerous violence that he thinks only he is aware of. Rashid, the man behind the most successful opium den in India, is struggling to keep up with the bribes, familial obligations and forward march of time in order to keep up with the ever changing demands of his customers. As the unnamed narrator tells the story of each of these characters, he also partakes of the pipes and comes to form a bond with each of them. At times shocking and eyebrow raising,
Narcopolis
gives a name and a voice to the denizens of the hidden side of India and and cleverly shows its readers the differences and similarities we share with this unique cast of characters.
I was initially skeptical of this book. Most of this had to do with the fact that the first chapter was written in an entirely stream of consciousness style that I had trouble assimilating and understanding. I've never been one to appreciate stream of consciousness writing and I worried that the rest of the book would be a struggle for me. You can imagine my delight and relief when I reached the second chapter and things became more stylistically clear. I'll be upfront and say that while this is a very interesting and engrossing book, it's not for everyone. Some of the topics and descriptions were very sexually graphic and there were some aspects of glorifying the drug culture as well. Despite these things, I really feel that this book did an outstanding job of penetrating the seamy underbelly of India's opium dens and getting into emotional areas that were sometimes uncomfortable but that also caused me to become quite reflective.
This is not a story that's told in a traditional way. There is a scant sense of running timeline and the narrative fluidly jumps forward and backwards in time. This was somewhat easy to read because the book was helpfully broken up into sections that allowed the reader to follow along without much trouble. There was also not much of a linear plot to follow. Ideas, emotions and characters were on full display, but as far as an overarching plot goes, the book seemed to be lacking. There were also areas of narrative that dealt with extremely unsavory aspects, so readers with delicate sensibilities should indeed look elsewhere.
Narcopolis
felt very much like an artistic rendering of what life might be like for a handful of people who frequent and own opium dens. The narrative has an almost dreamlike or hallucinatory quality, and while it was at times starkly disturbing, I also found myself falling headlong into the strange tale that Thayil was sharing with me.
Themes of religion and fanaticism, familial bonds, and addiction were deftly pursued within the story. Although it didn't feel like a book that harped on its messages, a careful reader will be able to pick up on some of the wisdom that Thayil seeks to convey, using his colorful cast of characters to impart his beliefs. I do admit that some of the scenes were disturbingly raunchy and had me a little uncomfortable, but as I don't consider myself a particularly sensitive reader, these aspects didn't make me unwilling to go forward with the book. Each of Thayil's sections seems to hone in on one particular thematic aspect and character, and though those characters do appear in subsequent sections, they only appear as sideline guests in the larger structure of the narrative.
Thayil's rendering of this book is very skillful, but as a reader, I kept wondering what the ultimate message of the book was. Yes, there was a lot to digest intellectually but I felt that some of the power of what he was saying was lost in the bizarre and seedy aspects of life in an opium den. If the author thought to shock and scandalize, then he did a great job, but I can't help but feel that the statements he was trying to make were muddied by the inclusion of so much darkness and strangeness. If this was simply a book that sought to capture the alienation of life as an opium addict, then it must be judged on different criteria. There were things about this book that I loved and things that had me very uncomfortable. It was a fine line drawn in the sand that I was constantly straddling in order to move forward in the story.
This isn't a book for everyone, and if you're the type of person who is disturbed by depictions of flagrant sexuality or drug use, you should probably stay away from this one. But if you're a reader who can get past that, this is a brilliant book that gives a singularly unique look behind the doors of opium dens and brothels, which is unflinchingly real and powerfully addictive in its own right. A very strange trip of a read.
---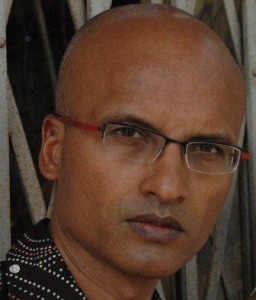 About the Author

Jeet Thayil was born to a family of Syrian Christians in Kerala, India, in 1959. He was educated in Jesuit schools in Bombay, Hong Kong and New York, cities in which his father worked as an editor and writer. He worked as a journalist in Bombay and Hong Kong before returning to New York in 1998 to read for an MFA in poetry at Sarah Lawrence College. He then worked as a journalist with a newspaper in New York City, until, in 2004, he moved from the United States to India to write. His books of poetry are: These Errors Are Correct (2008), English (2004), Apocalypso (1997) and Gemini (1992); and he is the editor of The Bloodaxe Book of Contemporary Indian Poets (2008). As a musician and songwriter, he is one half of the contemporary music project Sridhar/Thayil. His libretto for the opera Babur in London will tour internationally in 2012. He lives in New Delhi. Narcopolis is his first novel.
---
A warm thanks to TLC Book Tours for providing this book for me to read and review. Please continue to follow the tour by visiting these other blogs:



| | |
| --- | --- |
| Tuesday, April 17th: | The Year in Books |
| Wednesday, April 18th: | Chunky Monkey |
| Thursday, April 19th: | Unabridged Chick |
| Friday, April 20th: | Raging Bibliomania |
| Monday, April 23rd: | The Feminist Texican [Reads] |
| Tuesday, April 24th: | Stiletto Storytime |
| Wednesday, April 25th: | Reading on a Rainy Day |
| Thursday, April 26th: | A Novel Source |
| Monday, April 30th: | Conceptual Reception |
| Tuesday, May 1st: | A Reader of Fictions |
| Monday, May 7th: | Chaos is a Friend of Mine |
| Tuesday, May 8th: | Beastmomma |
| Thursday, May 10th: | What She Read… |
| Thursday, May 31st: | Poet Hound |
| Date TBD: | Ted Lehmann's Bluegrass, Books, and Brainstorms |
---
This book was provided as a complimentary review copy.