Nell Slattery has survived a horrific plane crash but due to the accident, she has a severe case of amnesia. As the press hovers around her and the only other survivor, a famous actor named Anderson, Nell suspects that her family is not being open and honest about her life before the crash. Nell, though, is starting to discover that her pre-crash personality was one of studied aloofness and harsh judgement. When she gives full access to one reporter to dig into her past and surface with the answers she's looking for, she gets more than she bargained for. As Nell and Anderson grow closer, she also grows more and more estranged from both her mother, a woman who seems to be guiding her into dangerous waters, and her sister, Rory, whose anger and jealousy threaten to destroy the progress that Nell is making. As Nell slowly begins to remember her past with the help of a music playlist that her sister put together for her, painful and devastating secrets rise to the surface. When a particularly vicious reporter gathers a tidbit of information about Nell's old life that pushes her over the edge, she makes an escape with Anderson to finally put all the pieces of her life back in order. In this emotionally charged and powerful novel, Allison Winn Scotch slowly fills in the blanks of a life that was forgotten in an instant.
There seem to be a plethora of books out about memory loss at the moment, but Winn Scotch makes her story unique with the inclusion of a devastating plane crash that suddenly deletes Nell's memory and leaves Anderson with mental scars as well. Though the actual crash isn't covered in the narrative, there are some flashbacks to the incident and some very real fears and problems that crop up because of it. Nell's memory loss isn't the only injury she sustains and, due to the physical trauma she suffered, she spends a tremendous amount of time in the hospital trying to heal, and becoming closer to Anderson.
Nell is confused at what her life has become. For instance, there's something eerily wrong with the way she feels towards her husband, Peter. When it's revealed that their marriage was on the rocks, Nell feels even more awkward and uncertain and feels that he's hiding something from her. Nell's mother is aiding and abetting this situation in a terribly manipulative way, and even Rory, her sister, lacks the empathy that is normal between family members. The truth is that I found Nell's family to be pretty repugnant and horrible. They're all hiding things from her and they spend their time tricking her and being emotionally unavailable to her. All Nell needs is for someone to take her under their wing and tell her the truth but there's nobody to do that for her and it's heartbreaking.
Anderson is alive because, at the last minute, Nell saved his life, which created a bond between them that nothing can break . It was extremely gratifying for me to see that there was someone in Nell's life who was willing to toe the line for her and give her the time and space she needed to come back to herself. Things are mostly platonic between them due to some unintended circumstances that Anderson has involved himself in, but as time passes, Nell begins to lean on Anderson more and more. She's able to get from him the love and care that her family seems unable to give her. He is solid and true, and in her life, Nell finds that he is about the only one she can really trust.
As Nell navigates backwards into her memory, troubling memories begin to surface that revolve around her long absent father. He is a reclusive artist who left the family years before and he has a hidden secret that Nell feels she must uncover. Nell has always felt close to her father and because they share the same artistic sentiments she feels that she can somehow find him and compel him to be part of her life. What she finds instead will shake her to the core and make her family's betrayal all the more irreversible and complete. I really felt for Nell throughout the entire book. Though she was strong and definitely resilient, there was a great deal of hypocrisy and emotional sabotage going on around her. It was hard to read through her struggles without feeling as if there was a sore spot in my heart for this girl who fell out of the sky and into a huge mess.
This is a darker read than what I had been expecting but it was expertly crafted and really took me into the heart and mind of its protagonist. I can't say that everything wrapped up neatly at the end because there were some situations that were left open and raw, but the book ends on a hopeful note of strength and completion that I found to be vindicating in the end. It was the kind of read that, while angering, still fosters hope and sympathy, and I enjoyed it a great deal. This book would be perfect for those readers who love a good family drama that is chock full of dysfunction but still ensnares with a wonderful protagonist.
---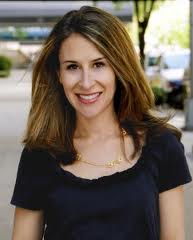 About the Author

Allison Winn Scotch is the bestselling author of Time of My Life. A former freelance magazine writer, she has written for Glamour, Parents, and Men's Health. She lives in New York City with her husband and their two children. To learn more about Allison Winn Scotch, please visit www.allisonwinn.com.
---
A warm thanks to TLC Book Tours for providing this book for me to read and review. Please continue to follow the tour by visiting these other blogs:



Tuesday, March 27th:
Well Read Wife
Wednesday, March 28th:
DBC Reads
Thursday, March 29th:
Colloquium - Guest Post
Tuesday, April 3rd:
Amused by Books
Wednesday, April 4th:
Chick Lit is Not Dead – Guest Post
"5 Things I'd Tell the Teen Me"
Thursday, April 5th:
Peeking Between the Pages
Monday, April 9th:
Library of Clean Reads
Tuesday, April 10th:
Reading with Martinis
Wednesday, April 11th:
A Musing Reviews
Thursday, April 12th:
Reviews from the Heart
Monday, April 16th:
Books Distilled
Tuesday, April 17th:
She Treads Softly
Wednesday, April 18th:
Suko's Notebook
Wednesday, April 18th:
Raging Bibliomania
Thursday, April 19th:
Chick Lit Reviews and News
Monday, April 23rd:
I Am A Reader, Not A Writer – Author Q&A
Tuesday, April 24th:
Books Distilled
Wednesday, April 25th:
All Grown Up?
---
This book was provided as a complimentary review copy.