In this multi-generational saga, the lives of a family of an extremely devout Jewish sect range from extreme joy to unmitigated tragedy as one transgression sets off an unstoppable chain of events. When two young children, Josef and Mila, are left orphaned by the horrendous events of the Holocaust, they travel a great distance to join the family of the religiously extreme Torah scholar Zalman Stern. Their new caretaker has a large brood of children, including a free thinking daughter named Atara. As time marches forward, Josef eventually leaves the Sterns to become a Torah scholar as well, while Atara and Mila become as close as sisters. When Zalman begins to look for prospective mates for both his ward and his daughter, the two young women are parted under very unusual circumstances. But it's Mila's destiny to be married to Josef, who hasn't forgotten the young girl he left behind. Though the two are very much in love, Mila will shatter Josef's heart and destroy the futures of her children and grandchildren with one misguided act—an act that she believes has been consecrated by God and the Torah. But redemption will come from an unlikely place, though it may not be enough to save what has been so tragically torn asunder. Will the silken cords of belief be unbound to prevent further heartbreak, or will they continue to tighten and strangle this loyal yet hopelessly estranged family?
Powerful, haunting and tragic, this novel elegantly weaves its narrative with precision and care, and creates a dark look into the lives of a family who's religion seems to strangle them. The ferocity of the Judaism in this book was almost frightening, and each character living within this community seemed to lack the freedom to even think for themselves. All were bound to the writing of the Torah and its interpretation by a man with total control and questionable ethics. The Rebbe who ruled this particular sect was a man that dominated not only the Sterns but a whole community that looked to him for guidance. The only character who seemed to be suspicious of the Rebbe was Atara, who paid the ultimate price for going against the wishes of her pious father.
Many reviewers have mentioned the fact that the religious ritual was both fascinating and oddly striking, and I would have to agree with that assessment. I've read a fair amount about Hasidic Judaism, but the details that Markovits captures in her tale were not only new to me but sometimes shocking in their severity. There are fringe groups within every religious denomination, but never before has each rule and idiosyncrasy been documented with such clarity and care. I grew both angry and stricken while I read, knowing that one false step could result in complete isolation from the group, and that one's every action had to be thoroughly examined in order not to break the rules and guidelines that the Torah specifies.
Though the love story between Josef and Mila was romantic and beautiful, it was also full of pathos and pain. I won't reveal the crux of the situation for fear of spoilers, but it was saddening to see the rose of their love bloom so beautifully, only to painfully wither away in an instant. What was maddening to me was that there was no redemption to be had. Though the two loved each other beyond compare, there was nothing they could do to erase the stain on their relationship. Though Mila acted in a completely rational and acceptable way, the rules set down by the Torah and the Rebbe forbade her forgiveness to an extreme degree. The impact that her act had was so far reaching and horrible that I felt my heart shrivel in my chest as I read the book's final pages.
Forgiveness is a major theme in this book, and those seeking it never have the satisfaction of receiving it fully. There is a measure of redemption given to Atara, Mila and her offspring, and Josef, but there is never complete absolution for any of the characters. Suffering and pain is masked as religious adherence and filial duty, but there is no reprieve. In my opinion, Atara is the only character who ever really found a measure of peace, though even that is tainted by Mila's unwise action.
This was a brilliant and beautiful book that sought to explain a way of life which is unfamiliar to most, populated by vivid characters who were placed under severe duress amidst stolen moments of joy. An incredible read that will leave an impression on even the most severe critic. Highly recommended.
---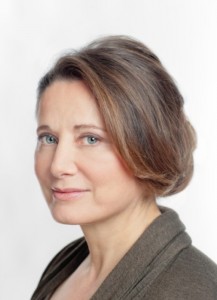 About the Author

Anouk Markovits was raised in France, one of fifteen children of Hasidic Jewish parents. She was sent to a religious seminary in lieu of high school. After she left home at the age of nineteen to avoid an arranged marriage, she attended Columbia University's School of General Studies and graduated with a Bachelor of Science. She has a Master of Architecture from Harvard and a PhD in Romance studies from Cornell. Her first novel, Pur Coton, written in French, was published by Gallimard. I Am Forbidden is her English-language debut.
---
A warm thanks to TLC Book Tours for providing this book for me to read and review. Please continue to follow the tour by visiting these other blogs:



| | |
| --- | --- |
| Monday, May 7th: | Unabridged Chick |
| Tuesday, May 8th: | Dolce Bellezza |
| Wednesday, May 9th: | nomadreader |
| Thursday, May 10th: | Life in Review |
| Friday, May 11th: | Peeking Between the Pages |
| Monday, May 14th: | Diary of an Eccentric |
| Tuesday, May 15th: | The Literate Housewife Review |
| Wednesday, May 16th: | Jenn's Bookshelves |
| Thursday, May 17th: | A Bookish Affair |
| Monday, May 21st: | Raging Bibliomania |
| Wednesday, May 23rd: | The 3 R's Blog |
| Thursday, May 24th: | Stiletto Storytime |
| Tuesday, May 29th: | Luxury Reading |
| Monday, June 4th: | Suko's Notebook |
| Date TBD: | Melody & Words |
| Date TBD: | She is Too Fond of Books - guest post |
---
This book was provided as a complimentary review copy.