Friends for only a brief amount of time, Gwen, Mickey, Sean, Tim and Gordon spent every moment together. The five spent their time playing made up games, foraging in the woods, and making connections that they thought would last a lifetime. Now, many years later, Gordon is dead under suspicious circumstances, and as the others try to understand what happened to their gregarious and troubled friend, secrets about the night the group's closeness melted away begin to surface. Although the four have kept a horrible secret hidden for many years, it seems that before his death, Gordon set off a chain of events that may lead to the exposure of a tragedy that none of them fully understand. One by one they begin to realize that though their lives have changed drastically since that night in the woods, they've carried over the suspicion and sadness into their current existences, and as each one moves forward, they have no choice but to regress. Following the clues that Gordon left behind, they ultimately reveal the truth behind that night that will force them to once again bind themselves together, against their better instincts. A tale of five friends whose secrets and redemptions lie within each other, Lippman creates a story unlike any she has written before, one full of both generosity and manipulation, combined in just the perfect proportions.
Lippman is an author whom I love. Although I've not read any of the books in her
Tess Monaghan
series, I've read
almost
all of her standalone novels, and she never fails to impress me. This book is a departure for Lippman, as it combines a multifaceted coming of age tale with the suspense and mystery that she is known for. It was the kind of book that I love reading: complex characters juggling inner turmoil and outward nonchalance, and a mystery that seems clear cut but is anything but. Lippman's new direction fascinated me and kept me very eager to untie the knot that she so skillfully ties.
This was not only the story of five friends hiding a secret; it had the added aspects of a multi-generational tale as well. As Lippman explores the lives of this group, she also dissects the relationships of their parents, which turns out to be a brave move. This story could have been much too messy and overpopulated, but in fact, there was a succinct and interesting weaving of each character into the ever-undulating plot, making this a very exciting mixed genre read. The parents of each member of the group have a huge role to play here, and the importance of their actions and interactions was not lost on me.
It was interesting that these five came together, as they were very different and seemed to have no common ground. Sean, Tim, and Gordon were brothers, but that doesn't mean they were friends. In fact, there was a lot of competition between Sean and Tim, with Gordon, the youngest, following behind in a cloud of adoration and mimicry that each member of the group exploited. The women, Gwen and Mickey, were different as night and day. Gwen, the more refined of the two, never knew where she stood with the others, while Mickey, the uniquely beautiful tomboy, never really cared. All of these characters were somewhat unlikeable, but their behavior and actions made it difficult not to be interested in them.
Lippman does a lot in this novel. While she manages to capture the moment when a child loses their innocence, she's also very adept at tackling themes that are sure to hit home with every reader. To say more would be spoiling the plot. Suffice it to say that Lippman manages to be on the cutting edge of relevancy, and her characters turn out to be surprisingly forward thinking and forgiving. The last few pages of this book were mesmerizing, as I felt that Lippman was tackling issues that I had not seen written about before.
This was another case where Lippman hit it out of the park for me. I've grown to love her writing and the style she utilizes in telling her stories, but I think this one was my favorite by far.
Rhapsody Jill
has already enticed me with her reviews of the
Tess Monaghan
series, so I better get movin', time's a- wasting! A great read that will keep you wondering until the final pages. Recommended.
---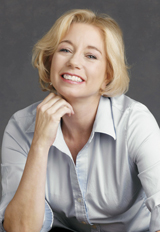 About the Author

Laura Lippman grew up in Baltimore and returned to her hometown in 1989 to work as a journalist. After writing seven books while still a full-time reporter, she left the Baltimore Sun to focus on fiction. The author of two New York Times bestsellers, What the Dead Know and Another Thing to Fall, she has won numerous awards for her work, including the Edgar, Quill, Anthony, Nero Wolfe, Agatha, Gumshoe, Barry, and Macavity.

To learn more about Laura's work, visit her website or connect with her on Facebook.
---
A warm thanks to TLC Book Tours for providing this book for me to read and review. Please continue to follow the tour by visiting these other blogs:



| | |
| --- | --- |
| Tuesday, May 1st: | Wordsmithonia |
| Wednesday, May 2nd: | Sara's Organized Chaos |
| Thursday, May 3rd: | Book Journey |
| Monday, May 7th: | Life in Review |
| Wednesday, May 9th: | Life is Short. Read Fast. |
| Monday, May 14th: | Kritters Ramblings |
| Monday, May 14th: | Raging Bibliomania |
| Tuesday, May 15th: | Colloquium |
| Friday, May 18th: | Laura's Reviews |
| Monday, May 21st: | Proud Book Nerd |
| Friday, May 25th: | Book Him Danno! |
| Tuesday, June 5th: | Drey's Library |
---
This book was provided as a complimentary review copy.