When Grace Miller finds herself living in Macau, a peninsula of China, she's caught up in feelings of isolation, brokenness and fear. Grace and her husband, Pete, have been trying to have a child for years, but the latest news is heartbreaking for her: Grace, still young at 43, is infertile and is staring into the face of early menopause. Feeling emotionally adrift, Grace open a café named Lillian's, named after her mother, and begins to try to salvage the pieces of her life. At the café, Grace serves the delicate and delicious macarons, a tiny French confection that the locals and expats both seem to crave. But the business is pulling her further and further away from her husband and the infertility that they both cannot seem to speak of. Realizing that the café is too much to handle on her own, Grace decides to hire help, and before she even realizes it, both the café and Grace's life are infused with a handful of amazing and resilient women. Like Grace, each woman carries a secret, yet they all seem to find themselves slowly turning towards each other for support, secrets plunging out to reveal their inner wounds and scars for the others to see. As Grace navigates these new and unfamiliar waters, she will finally discover if there's a future for herself and Pete, and if she can truly recover from her tenacious sadness. Intermingled with this crisp and moving story are the fragrant and rich depictions of the foods that pass through Grace's shop, giving the reader a story that resonates exquisitely, both in the heart and in the palette.
This is a story that had several layers folded into it, and each was just as satisfying and remarkable as the last. Stories of abuse, mental illness and infertility vie for balance amongst the tales of Grace's café and the staff she employs. The book isn't a light romp through the streets of China, but a fully realized and minutely rendered world that is equal parts love and sadness. Grace's story melts in between the stories of the other women she has chosen to help her at the café, and what begins as a soft dance of loss becomes a quick-tempoed push and pull between Grace and those surrounding her.
The other women surrounding Grace add the flavor to her life that had been nonexistent and lost for so long. Rilla, a young woman who is hiding secrets that mirror Grace's in complexity, is the first to be hired, and it's with great gusto that the two women bond, Rilla's quiet and proud efficiency matching Grace's quiet watchfulness. The café is patronized by many, and the confections they serve are constantly being reworked and redesigned to the delight of everyone who visits. Though Rilla is the last to reveal her secret, she is the first in the café, and her polite attentiveness masks a deep fear and a secret resolve.
Gigi is just another straggler until one day she shows up at the café with a suggestion for Grace's business. Gigi is full of energy and spunk, the perfect catalyst for Rilla and Grace, who are more prim and cautious. Though Gigi tries mightily to keep her skeletons deeply in the closet, she cannot do so for long, and her painful secret breaks Grace's heart. She is taken on, and her fire and energy are quickly put to use in the business' supply negotiations. But Grace can clearly see that Gigi is a foodie like herself, and soon she's in the kitchen creating delicious new macarons in exotic and tempting flavors. Gigi has a gift for the business, but will she have to leave it all behind to placate her demanding mother?
Rounding out the group is Margery, another expat who is shunned by the other wives for being more risqué and less uptight than the others. She provides the emotional support for all the women and helps each move along towards their paths of self healing and acceptance. Margery is the rock upon which the others stand, and she's clever and very perceptive. It's within the walls of the café that ailing hearts begin to heal and cavernous pits of despair begin to morph into something more malleable and less malignant. The love that each of the women give and experience transforms their lives into a place where hope shines through and broken dreams can be recrafted and repaired.
I loved this book for its ability to be blunt and brutal at times while still maintaining shreds of optimism that were artfully arranged into whispered promises of hope and healing. It was a book that had me in tears and laughing with joy, right along with the women, and while the subject matter could indeed be dark and shadowed, there was sweet release when the final page had been turned. Lovers of foodie literature will be wanting to seek this book out for its amazing descriptions and mouth-watering scenes of extravagant delicacies. Recommended to all types of reader.
---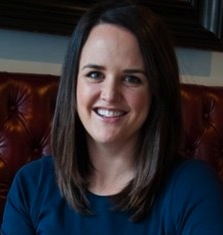 About the Author

Hannah Tunnicliffe was born in New Zealand but is a self-confessed nomad. After finishing a degree in social sciences, she lived in Australia, England, and Macau. A career in human resources temporarily put her dream of becoming a writer on the back burner. The Color of Tea is her first novel.
---
A warm thanks to TLC Book Tours for providing this book for me to read and review. Please continue to follow the tour by visiting these other blogs:



| | |
| --- | --- |
| Monday, July 9th: | Book Club Classics! |
| Tuesday, July 10th: | BookNAround |
| Wednesday, July 11th: | girlichef |
| Monday, July 16th: | Book Addiction |
| Wednesday, July 25th: | Stiletto Storytime |
| Thursday, July 19th: | Twisting the Lens |
| Monday, July 30th: | A Bookish Affair |
| Thursday, August 2nd: | Suko's Notebeook |
| Friday, August 3rd: | Raging Bibliomania |
| Monday, August 6th: | Savvy Verse and Wit |
| Thursday, August 9th: | Southern Girl Reads |
| Tuesday, August 14th: | The Written World |
| TBD: | Regular Rumination |
---
This book was provided as a complimentary review copy.