In this third installment of
The Shadow of the Wind
series, young Daniel Sempere is all grown up and about to discover the mysterious and painful history of one of his oldest friends, the ever jocular and romantic Fermin. As Fermin's wedding day approaches, he appears to be suffering greatly, not only in body but in spirit as well. When the nature of his problem is revealed, Daniel agrees that he must help his friend at any cost and give the gift of existence to the man he loves like a brother. As Fermin relates the story of how he became a man with no history, his shocking past comes to light: a past that began when he was arrested in pre-Franco Spain and underwent brutal torture, callous manipulation, and even became involved in the murder of someone whom Daniel once loved and cherished. While this yarn is being spun around the reader, glimpses of the genesis and importance of the second book of the series,
The Angel's Game
, begin to coalesce into a very densely woven portrait of the Sempere family, beginning many years before Daniel's birth. Labyrinthine in its construction, the book brings cohesion to the series and further deepens the mysteries that can only be solved in the Cemetery of Forgotten Books. And though this is a complete and definitive work, it leaves the reader with the scent of the hunt on the wind, for some damages cannot and should not be forgiven.
I've been a major fan of this series since reading the first book,
The Shadow of the Wind
, many years ago. I was lucky enough to get a chance to
review
The Angel's Game
, and though
Shadow
truly knocked my socks off,
Game
blew me away with a skill and cunning that I had never known the likes of before. To say that I had been eagerly awaiting this book's release is an understatement. This is a series that I never fail to recommend to serious readers who are looking for a way to blow their minds wide open, and from what I've read in this book, I can already see that there will be another installment in this masterful series. There will be more waiting and more anticipation, for while this book set the stage, I think the real fireworks will be forthcoming in the next installment.
Anyone who has read
Shadow
will remember Fermin as the garrulous and charming foil to Señor Sempere and young Daniel; but in this book, he is the star. Fermin is universally loved in the city and is treated as a friend and confidante to all who know him. But this Fermin is not the same man he was only a handful of years ago, when he was imprisoned in Fascist Spain and made to dwell in a hovel with others who were captured fleeing the country or for their intellectual beliefs. This Fermin was starved and debased, and utilizing an insane amount of willpower and help from other inmates, he was able to escape that brutal life. But no amount of cleansing can wipe away the horror and stain of nonexistence from Fermin, who is about to be married to the love of his life.
When Daniel agrees to help Fermin create an identity for himself, he gets a lot more than he bargained for. He discovers that one of the men that Fermin was imprisoned with was very ill and was secretly penning a novel called The Angel's Game, telling his story in the only way he knew how before madness stole his mind. This man not only holds great power in Daniel's life, he is a source of great shame and sorrow, blowing Daniel's world apart when Daniel discovers that all the clues lead back to him, again and again. All three books build on each other, and as Zafón beautifully demonstrates again and again, all our stories are tied to each other in ways we can see and ways we cannot.
By the time I reached the final stages of this book, I knew there had to be more coming. From what I read in the last few chapters alone, I'm fairly certain that the next book will be the one that ties all four together in a tapestry of amazing syncopation and terse, tense drama. A lot of what came out of this book was tame compared to the messages in
The Angel's Game
, but after reading that book and following through to this one, the implications were not only chilling but downright disturbing. Not at all what I was expecting, but very, very tantalizing. This book gives a roundness and a fullness to what has already been published and sets up some dire situations for the next installment.
As far as recommendations go, I would suggest that readers who enjoy deeply psychological and human stories go straightaway and read all three of these books. The wordplay is sharp, the ideas sharper, and taken as a trilogy soon to expand, there's a lot here to love. Besides, I need more people to chat with about these intense books. A winner all around.
---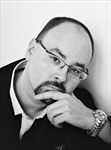 About the Author

Carlos Ruiz Zafón, author of two critically acclaimed and internationally bestselling novels, The Shadow of the Wind and The Angel's Game, is one of the world's most read and best-loved writers. His work, which also includes prizewinning young adult novels, has been translated into more than fifty languages and published around the world, garnering numerous international prizes and reaching millions of readers. He divides his time between Barcelona and Los Angeles.

Website | Facebook | Twitter
---
A warm thanks to TLC Book Tours for providing this book for me to read and review. Please continue to follow the tour by visiting these other blogs:



| | |
| --- | --- |
| Thursday, July 5th: | No More Grumpy Bookseller |
| Monday, July 16th: | A Bookish Affair |
| Tuesday, July 17th: | Man of La Book |
| Monday, July 23rd: | Drey's Library |
| Tuesday, July 24th: | Col Reads |
| Thursday, July 26th: | Jenn's Bookshelves |
| Friday, July 27th: | Wordsmithonia |
| Monday, July 30th: | Broken Teepee |
| Monday, July 30th: | A Book Geek |
| Monday, August 6th: | No More Grumpy Bookseller |
| Tuesday, August 7th: | A Novel Source |
| Wednesday, August 8th: | My Two Blessings |
| Thursday, August 9th: | Raging Bibliomania |
| Friday, August 10th: | Kritters Ramblings |
| Monday, August 13th: | Book Him Danno! |
| TBD: | Just Joanna |
| TBD: | Bookworm's Dinner |
---
This book was provided as a complimentary review copy.