Luisita and Elizabeth are both prime players in the newspaper industry. While Luisita works at the foreign correspondents desk sending reporters all over the world, Elizabeth is a foreign correspondent hoping for a prime assignment. When the two meet, there's an undeniable attraction. Elizabeth is not free, however, as she is married. But this doesn't stop the covert flirting and the undeniable attraction that both women feel toward each other. When Elizabeth is sent to the Philippines to document the fall of Ferdinand Marcos, Luisita longs for her and the letters that come with both urgency and frequency. Soon Luisita has found her way to Manilla to be with the woman she loves. But their romance is a stormy one, with Luisita being prone to moodiness and rancor and Elizabeth being just as prone to silence and distance. As their courtship moves along one halting step at a time, both women discover themselves as individuals and as a part of their blustery relationship. To friends, the writing is clearly on the wall, but the two young lovers must find their way alone. As each flies off to cover crisis after crisis all over the globe, the relationship that they cherish so deeply begins to crack. Will the women be able to stave off the many threats to their relationship? Or will space and time give them the means to reflect on what is and what once was? In this haunting memoir written by Luisita Torregrosa, all questions will be answered and all emotions probed—from the first blush of love to the last stinging blisters of doubt.
This was one of those books that I'm not sure what I felt about it. While I loved the intimate portrayal of a relationship between two women and the secrets and doubts that they both shared, there seemed to be a dearth of passion in the writing. For me to really have had enjoyment out of this book, there needed to be more substance and more detail about the relationship between Luisita and Elizabeth. I'm not saying that I needed graphic bedroom scenes, but the fact that this memoir is written with absolutely no romance at all left me feeling a bit distanced from the story.
Luisita as a partner seemed a bit on the needy side, which is one of the things that Elizabeth didn't like. I don't want to say she was whiny, but she did frequently complain about both her job and her relationship. She had always longed to write a book but could never get her dreams up and running. She was often lost in a sea of emotion when Elizabeth wasn't there, and her bouts of moodiness got to me as well. I didn't really enjoy spending all this time in her head.
Elizabeth was more of a go-getter, and though she tried to be the woman that Luisita wanted, she was often distanced, both emotionally and physically, by Luisita's moods and her trips around the globe. I wanted to like her, but she felt more like an object in this story rather than a character, which puzzled and bothered me. Ostensibly, this was the story of a love affair, but the participants never visibly exhibited love to one another. It seemed more like possessiveness and territorialism.
One thing I did enjoy about this book was the fact that there was so much coverage of recent history woven into the story of the relationship. From the fall of Marcos to the rise of Corizon Aqino, Torregrosa allows these parts of the tale to break through like the sun from her cloudy and tempestuous relationship with Elizabeth. Those were the parts of the book that I enjoyed most and wished there had been more of.
While I didn't love this book unabashedly, It was a rather interesting story to take in. I think the author and I would quibble over what we think a relationship is exactly, but I do appreciate the honesty and unguarded spirit with which this book was written. I can imagine that there was a huge emotional toll taken in its crafting. A troubling book, but one that I found strangely enthralling.
---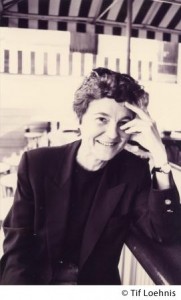 About the Author

Luisita López Torregrosa is the author of The Noise of Infinite Longing and was an editor at the New York Times. As a special correspondent for the San Francisco Chronicle she reported firsthand on the coup attempts against President Corazon Aquino, the communist insurgency in the Philippines, and the protests in South Korea that led to the fall of authoritarian rule. Her articles also have appeared in Vanity Fair, New York Times, Condé Nast Traveler, and Vogue.

Follow Luisita on Twitter.
---
A warm thanks to TLC Book Tours for providing this book for me to read and review. Please continue to follow the tour by visiting these other blogs:



| | |
| --- | --- |
| Wednesday, August 22nd: | Unabridged Chick |
| Monday, September 3rd: | Dreaming in Books |
| Thursday, September 6th: | A Reader of Fictions |
| Monday, September 10th: | Between the Covers |
| Tuesday, September 18th: | Book Club Classics! |
| Monday, September 24th: | Sophisticated Dorkiness |
| Tuesday, September 25th: | Bonjour, Cass! |
| Wednesday, September 26th: | Silver & Grace |
| Thursday, September 27th: | Stuff as Dreams are Made On |
| Friday, September 28th: | Raging Bibliomania |
| TBD: | The Written World |
---
This book was provided as a complimentary review copy.