Shanghai 1920s. After a young girl is taken from an orphanage to train as a spy within a secret Chinese gang, she finds a cover identity as a beautiful songstress at a popular nightclub. Winning over the attentions of Master Lung, the man she is hired to assassinate, Camilla lives a life of luxury and danger. But when two other "skeleton women" come onto the scene, Camilla's job becomes even harder. The first is Miss Shadow, a remarkably talented magician who seems to want to steal the limelight from Camilla and her patron, Master Lung. The other is Rainbow Chang, the androgynous queen of the gossip column who has the potential to make or break Camilla's singing career. As Camilla fights for advancement in her craft and for the secrets that Master Lung has been hiding, her real boss, Master Wang, is getting impatient and wants Camilla to destroy Lung and take over his empire immediately. But what Camilla doesn't count on is falling in love with two very different men, both tied to Lung in unbreakable bonds. As the young skeleton woman arranges her life to be stealthy at times and ostentatious at others, she unwittingly sets off a chain of events that puts everyone in danger, not only Lung and his men, but the other skeleton women who have befriended her.
I have to admit that I started off hating this book. From the first chapter, I had to hear all about how beautiful Camilla and her enviable twenty-one inch waist was over and over again. This, unfortunately, was a long string that threaded through the book, never letting up. Yes, Camilla, I get it, you are beautiful and men desire you while women wish they could be you. It was at times more than a little disgruntling. The story was also very repetitive, with Chinese proverbs thrown in for good measure, some appearing two or three times.
The book started off slow and I was really unhappy to have to wade through the whole thing, but the action started to pick up midway through and the story became a little more inveigling. I thought the angle of spy vs. spy was a little overdone, but I was slowly becoming invested in it. It wasn't a great read but it did leave me wondering what would eventually happen to Camilla. Unfortunately, there were other problems with the book that could not be ignored.
First of all, there was a lot of thinly veiled erotica in this book, and it didn't sit well with me. If I had to read one more passage about "his stone-like member entering my pleasure gate," I thought I was going to have to put the book down. The author also chose to give Camilla the gift of contortionism, so this added a lot of raunchiness to the sexual scenes as well. I am afraid that I am just not the right person to read this type of book and become titillated. There were many sexual scenes in the book and I felt that if they indeed had to be there, they should have been cut by at least half.
Another problematic aspect is that is seemed to lose direction towards the second half. The plot turned into something a bit unbelievable, and the denouement was rather easily achieved and predictable. While I found the book to be enjoyable in small doses, I couldn't get over the obvious inconsistencies, like the Chinese men talking like American gangsters, or the impossible and unrealistic love triangle. I felt that the other "skeleton women" didn't get much page space, and I really wanted to hear more of their stories, rather than the self-flattering Camilla's.
I can't say this was a favorite read for me by any stretch, but it did enliven me for a few pages here and there, and some of the more shadowed plot elements did capture my attention. I think I started off offended by the obvious egotism of the main character, whose endless cogitation of her own beauty and her unfeeling destruction of everyone around her bored me and made me equally underwhelmed. Not a favorite by any means.
---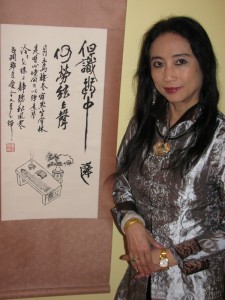 About the Author

Kensington author Mingmei Yip believes that one should, besides being entertained, also get something out of reading a novel. Her new novel, Skeleton Women, is about survival, letting go, and finding love and compassion.

Her debut novel, Peach Blossom Pavilion, is the story about the last Chinese Geisha and also that of courage and the determination to succeed and attain happiness. Her second novel, Petals from the Sky, a poignant Buddhist love story, is about wisdom, compassion, when to persist and when to let go. Her third novel, Song of the Silk Road, is an adventure love story between an older woman and a younger man with a three million award on China's famous, dangerous route.

Visit Mingmei at www.mingmeiyip.com to learn about her books, music, paintings and calligraphy. You can also connect with Mingmei on Facebook and Twitter.
---
A warm thanks to TLC Book Tours for providing this book for me to read and review. Please continue to follow the tour by visiting these other blogs:



| | |
| --- | --- |
| Tuesday, September 4th: | Life in Review |
| Wednesday, September 5th: | Raging Bibliomania |
| Thursday, September 6th: | Unabridged Chick |
| Monday, September 10th: | Twisting the Lens |
| Wednesday, September 12th: | Broken Teepee |
| Thursday, September 13th: | Bookish Whimsy |
| Monday, September 17th: | The Written World |
| Tuesday, September 18th: | Between the Covers |
| Wednesday, September 19th: | Man of La Book |
| Thursday, September 20th: | Chew and Digest Books |
| Friday, September 21st: | Simply Stacie |
| Monday, September 24th: | Sweet Southern Home |
| Tuesday, September 25th: | Savvy Verse and Wit |
| Wednesday, September 26th: | Fiction Addict |
| Thursday, September 27th: | Drey's Library |
---
This book was provided as a complimentary review copy.